Departing for the Mandarin Oriental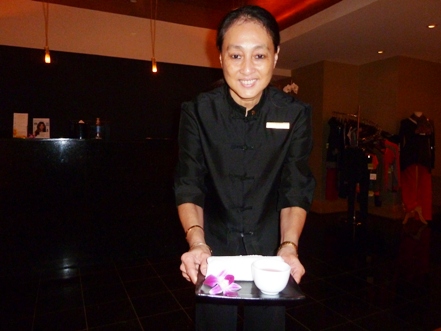 Prepare to land in a tranquil oasis where your arrival is met with orchids and cranberry hibiscus tea, a most welcome sign that anything herein that buzzes or vibrates will be invigorating, not an interruption from the office.
This first visit was about starting to turn back the clock …. naturally. Nothing invasive or aggressive. No chemicals, no injectables, no down time.
Mission: to infuse my skin with vitamins while re-educating the muscles beneath the surface to regenerate cells.
As Mandarin Oriental Spa director, Penny Kriel explains, "The Mandarin has always had a reputation for being very holistic and committed to 100% natural and paraben-free products. With a desire for more results-driven treatments, we researched CACI, which has been quite popular in the U.K., and discovered this incredible non-invasive treatment."
The Spa has partnered with the Somme Institute, which uses "Molecular Dispersion Technology 5 (MDT5) a revolutionary vitamin/protein delivery system that allows highly engineered vitamins (A, B3, B5, C and E) to go deep within the skin, repairing years of sun damage …"
Mary Kong, my friendly aesthetician with flawless skin, invited me into her treatment room as she described the treatment. "CACI (Computer Aided Cosmetology Instrument pronounced Casey) brings your face back to what it once was. Like workout for the body, it's a workout for the face. It lifts, tones, tightens, smoothes and resurfaces, It treats light scars and pigmentation, peels and exfoliates." To be precise, the Mandarin uses the CACI ULTRA model which combines facial toning with skin regeneration technologies.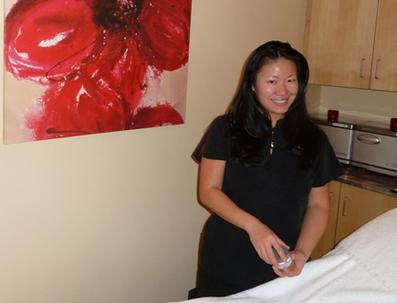 Before she started, Mary said the texture of my skin was good and well hydrated. Diplomatically she asked if I was getting enough sleep and whether I was under stress. No and yes. Dark circles, wrinkling around the eyes, all areas she wanted to focus on. She was candid. "I could sell you a new eye cream but there's no substitute for rest, managing stress and a good diet." So the good news, my moisturizers were working. But my hair was dry so a Moroccan Oil mask was in order, left in during the 80 minute CACI facial.
With the Mandarin since it opened in 2004, Mary was as enthusiastic as if she had just started with the five-star luxury hotel group. "It's a wonderful spa, a mix of the holistic and results-driven, where aestheticians have the creative freedom to customize treatments for all our guests."
As I reclined on a firm bed covered in fluffy white towels, Mary applied the ultrasonic handset "vibrating at 27,000 vibrations per second." Soundlessly applying pressure, the wand exfoliated while it power cleaned.
This time, A-Bomb, a Somme Institute moisturizer, was applied. Using the same micro-currents, my face was left super-hydrated after the cream was infused deep into my skin.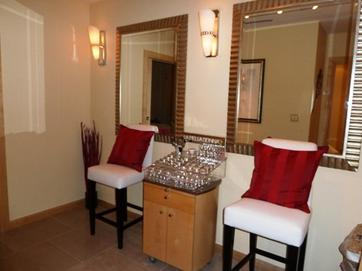 Next, LED light therapy to soften lines. With a "wrinkle comb" resembling a metal spatula, Mary painlessly plumped out and softened deep lines, especially around the eyes.
Immediate result: Skin refreshed, firm and no signs of redness. For maximum benefits which are expected to last over a year, a series of at least six facials within two months is advised. Basically the muscles are retrained to generate new cell growth after repeated treatments.
The most appealing part is that results are entirely based on my face. No artificial plumping, no changing the original facial proportions with fillers or Botox to mimic a younger version of me. Love the principle of restoring youthful firmness using my own muscles.
Meet me back here in January for a full report.
The Mandarin Oriental Spa offers customizable treatments for the face and body and carries (exclusively to Washington, D.C.) La Bella Donna, a line of anti-aging mineral make-up.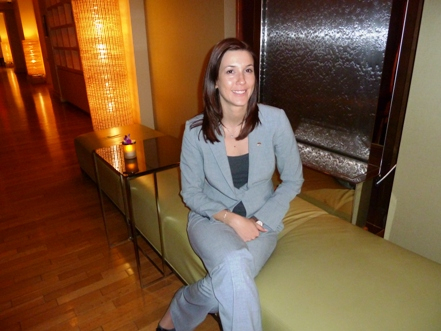 The Mandarin Oriental Hotel is located at 1330 Maryland Avenue, S.W. Tel: 202.787.6101