Dent Place House May be Demolished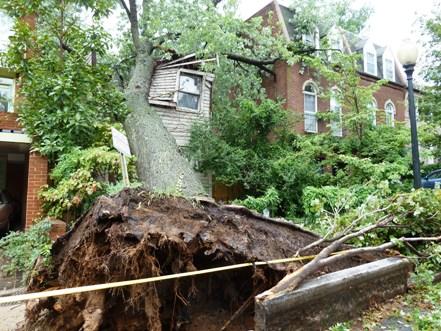 By Brady HoltCurrent Staff Writer
When is it all right to tear down a 19th-century home in Georgetown, a federally protected historic district? According to the community's advisory neighborhood commission, the standard is reached when a tree crushes an already dilapidated structure, and rainwater subsequently rots away what remains — and even then it's a close call.
But the commission voted unanimously to support a raze permit for 3324 Dent Place at its meeting Monday. An engineer for the owner said the small wood-frame home was not salvageable, and immediate neighbors pleaded for speedy action on a building that they said has been an eyesore for years and a downright hazard since September 2011.
In an interview after the meeting, owner Deyi Awadallah said he would act to raze the home within a week of getting the required permits. He still needs approval from the Old Georgetown Board and the D.C. Department of Consumer and Regulatory Affairs, which could come as early as this month. Awadallah doesn't yet have specific plans for a replacement home, but he told commissioners it would be similar in size to the existing house.
Commission chair Ron Lewis, whose single-member district includes the property, said he was torn between neighbors' interests and a reluctance to go along with any plan to raze a historic Georgetown building.
"We rarely get raze permits, as you can imagine," he said. "Tearing down a house in the Georgetown Historic District is not something we take lightly."
Lewis said he found that the previous owner of the house had also sought to tear it down — in 1978, long before it fell into disrepair and then into utter shambles. The Old Georgetown Board found at that point that the building had historic merit, he said, and was a rare example of a wood-frame house.
Neighbors said the house had been vacant for at least five years. The longtime previous owner, they said, lived elsewhere. The home is unpainted and even has holes. It was classified as a blighted property in 2011 even before the tree damage, raising its property tax bill to more than $80,000 per year, D.C. records show.
"It's very frustrating because it looks like a classic case of demolition by neglect," Lewis said. "Had the tree not fallen, we could have required the owner to restore it."
But in August 2011, during Hurricane Irene, the tree did fall, crushing most of the home's second story. A plastic tarp draped across the damage, which is still in place, didn't keep out more than a year of rainwater; engineer Musaddeque Hossein reported that the structure and floorboards were rotted and that many interior walls had collapsed.
"All of the surfaces inside of that house have standing water in them," a next-door neighbor said at the meeting. "Calling it a 'house in disrepair' is not right — the house has ceased to exist as habitable."
Furthermore, neighbors said, the house and its backyard pool have attracted infestations of rats, raccoons and mosquitoes, and even break-ins by "dope smokers" and "ghost-seekers."
"The demolition caused by the tree simply compounded the demolition by neglect in progress … to the extent that we do not believe it would be appropriate to attempt to restore this structure," the neighborhood commission's resolution reads.
And to expedite the razing process, commissioners said they didn't need to first see the full plans for a new structure on the site. They emphasized, though, that its height and footprint should be consistent with the modest scale of the building it's replacing. Because Georgetown is a historic district, plans for that building will also come before the neighborhood commission and Old Georgetown Board for design review.
Awadallah, of the D.S.A. Properties & Investments firm, bought the property from longtime owner Margaret Cheney this spring for $560,000, records show. He had intended to rehabilitate the house, he said, but the engineer's assessment convinced him to instead seek the raze permit. Awadallah noted that he has no objection to building a modestly sized replacement.
There were few objections at the commission meeting to the plan to raze the home, but some residents said the gradual decay should have been prevented.
"This thing doesn't just happen overnight, and now we are just crying over it," one resident said. "Why didn't anyone take action sooner?"
"In retrospect, we all should have," replied Lewis.
This article appears in the Oct. 3 issue of The Georgetown Current newspaper.