Delaware Beaches are the Place to Be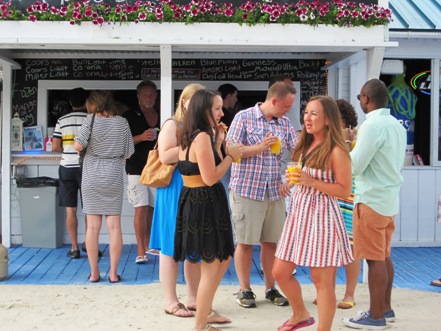 For many the official opening of the beach season after that taste of summer on Memorial Day is July 4th. This year it unfortunately falls on a Wednesday so there is the question of how to make it a long weekend. This past weekend at the beach I found that many solved the problem by planning to stay the entire week. While it was 100 degrees in Washington and Baltimore and not a lot cooler at the beach there is something about sitting on the beach facing a big wide ocean that makes it easier to suffer the heat. From Dewey to Bethany to Rehoboth to Lewes the beaches were jammed. Whether you are gay, straight, single, married, have kids or not, there is something for everyone.
The first step in planning a beach getaway is deciding how much traffic you can tolerate. According to AAA there will be close to a million people in the DC Metro area traveling more than 50 miles away from home over the holiday week and many of them heading to the beaches. There is no limit to the number of people that can go to the Delaware beaches even if you think there should be when you get stuck in traffic either at the Bay Bridge or on Rte.1 going past 133 Tanger Outlet stores.
My favorite summer get-a-way for the past 28 years has been Rehoboth Beach. Rain or shine it is always fun. This year is no exception and the weather while hot his past weekend was spectacular. It is usually about 10 degrees cooler than DC and often less humid.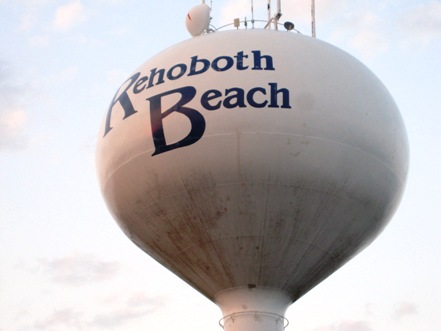 Like many I find that crossing the Bay Bridge lowers ones blood pressure and you can suddenly breathe a little easier. No matter the weather just open the car windows as you cross the bridge and smell the fresh air and feel the breeze off the water.
I am one of the lucky ones and can often leave town early enough before the weekend and spend a day working from the beach. I often head out on a Thursday morning leaving Dupont Circle at 6:45 am and turn the key in the lock at my place at the beach by 9:00am. Not the way it is for some friends who can't leave the District till after 2:00pm on a Friday afternoon. But even they find it more than worth the trip once happily ensconced in their homes, hotels or rentals for the weekend or a longer stay.
The mile long boardwalk in Rehoboth was packed all weekend from early morning with cyclists and dog walkers, (allowed till 10am) till late at night for those needing some cotton candy, French fries or a dose of Funland with their kids or who just wannabe kids.
I had breakfast at Arena's on the highway one morning (they do a great $8.99 all you can eat brunch on the weekends). Other days I met friends for coffee at 7:30am at the Coffee Mill in Rehoboth Mews, just around the corner from Browseabout bookstore with its newspapers from up and down the East coast. For those like me still like the feel of newsprint you can get the DC, Baltimore and Philly papers and not miss a beat. Dr. Jill Biden will be doing a book signing there on Thursday, July 5th.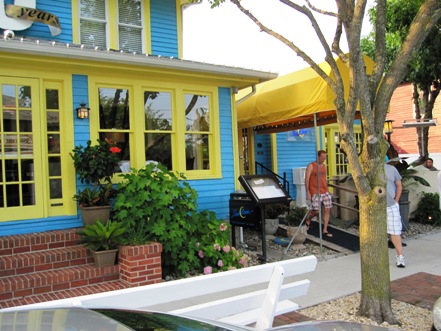 I spent Thursday during lunch and a coffee break from work walking in downtown Rehoboth saying hello to old friends and seeing what's new since last year. Rehoboth always has a few new restaurants and shops. I started and ended the walk mostly on Baltimore Avenue. Just the short walk on Baltimore Avenue in Rehoboth, the stretch from the beach to second street you will pass the Philip Morton Gallery, Ward Ellinger Gallery and Lori's Café in the CAMP Courtyard, Universal Gear (with stores also in New York and Washington, DC), and the best and biggest gay bar with an outdoor deck in Rehoboth, Aqua Grille. Then Touch of Italy (Italian specialty cheeses, meats, pasta and hero sandwiches) and Elegant Slumming (fine jewelry and home furnishings). Also the grand ole lady of Rehoboth gay bars the Blue Moon, which is still swinging and a real crowd pleaser with the sounds of Pamela Stanley many nights. The beach block has great restaurants including Eden and the slightly less expensive but just a nice Jam by the same owners. Then there is the new a(muse), a restaurant from the owner's of NAGE (they have a place on the highway outside Rehoboth and another in DC on Scott Circle). On Baltimore Avenue or within a five minute stroll are the old but still great Rehoboth restaurants like the always satisfying and fun Blue Moon, Back Porch, Zebra and the Cultured Pearl to name just a few. You could live on Baltimore Avenue or within a few steps of it for the entire weekend and eat, shop and party to your hearts content.
I recommend to anyone that hasn't been that you add Rehoboth Beach to your summer vacation plans this year. You will be back again and again.