Debate Over, Let's Party
The Black Cat night club on 14th Street, just below uber-trendy U Street, played host to another political debate on Tuesday evening. So while the candidates – Peter Shapiro, Vincent Orange, Gail Holness, Sekou Biddle – tried to make their best points about why each should be the Democratic nominee for an at-large city council seat, the political junkees in the audience had really good reason not to pay attention. The bar was fully functional and you could hang out and just talk politics and sports and the weather.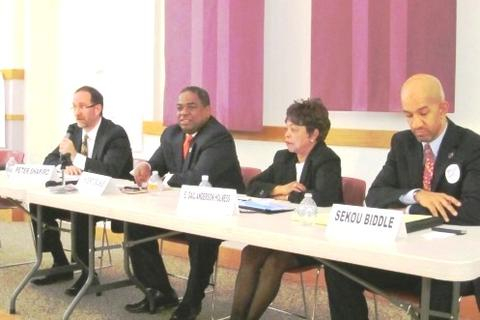 And of course, after the debate, sponsored by Washington City Paper, what did the moderators -- Alan Suderman, City Paper's Loose Lips, Chuck Thies of The Georgetown Dish and WPFW and NBC4's inimitable Tom Sherwood -- and the others do? They partied with everybody else, joining in asking: who were the winners and losers that evening, who should drop out, who was ahead and how will this contest and the others in the District be affected by the latest Wilson Building scandals?
Some of the answers will come in two weeks, on primary day, Tuesday, April 3rd, with early voting already started.