The Dead Waffle Society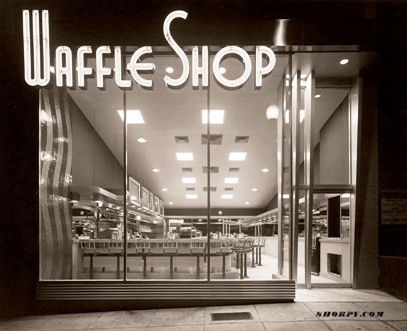 Washington was not known for, nor ever cared to be, a café society until very recently, but one thing that it had plenty of was greasy spoons, soda fountains and all-night breakfast and grill joints starting in the 1930's.
One in particular was The Waffle Shop located across the street form Ford's Theater on 10th Street in Penn Quarter. It was built in 1954 and was still in operation until a few years ago.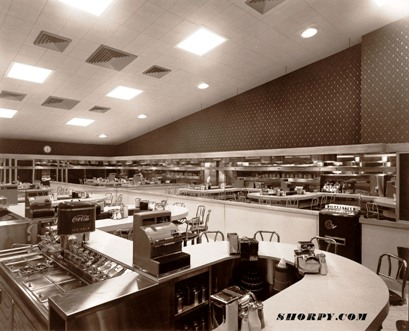 The unique design of the store front incorporates elegant period and high styled signage and a flowing organic tile design that moves uninterrupted from the interior of the shop to the exterior and surrounding buildings. What is marvelous about the whole visual experience is that it is so modern and beautifully thought out. The iconic letters of the exterior visually encompass the building giving it a wonderful layering effect that entices one to come in and experience the urban waffle society. The stainless and aluminum glass spandrels were of the latest technology of the time and show the optimism and progressive attitude of post-war America and its desire for change. The interior has no tables, just a serpentine long Formica counter, the stools, waffle irons and equipment are all original and they sit in the dark gathering dust on the thin layer of grease that such a place would have after so many years of 24 hour waffle production.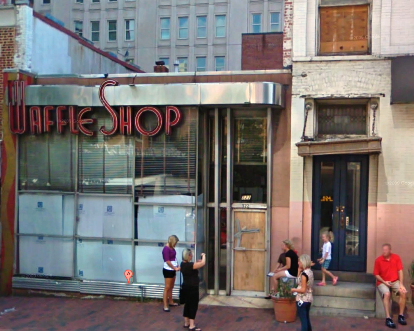 The fate of the Waffle Shop is not certain. It has been granted landmark status just as a developer was seeking to remove it for an office building.
A deal has been reached where the building and its unique design, facade and signage will be preserved, but its ability to thrive as a business remains to be seen.
For more examples like this and to those gems that were never saved, visit The Ruined Capitol.