DDOT Will Redesign Side Streets in Glover Park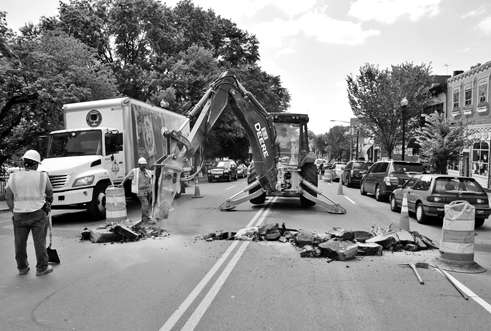 By Deirdre BannonCurrent Staff Writer
The D.C. Department of Transportation announced last week that it plans to redesign the intersection at 37th Street and Tunlaw Road in Glover Park — a longtime item on the neighborhood wish list.
The attention to the old problem was prompted by rising concerns about a newer one: increased traffic from vehicles cutting through the neighborhood to avoid construction on Wisconsin Avenue. Now neighbors worry that even if the intersection is improved, the traffic congestion might not go away.
Data released by the Transportation Department show that in April, an extra 2,840 vehicles diverted to 37th Street to get around traffic on Wisconsin during streetscape construction hours from 9 a.m. to 4 p.m. Residents fear that drivers are establishing new and permanent driving habits that won't change once construction ends and Wisconsin Avenue, as planned, is reduced to one lane of traffic each way during non-rush hours.
Due to the high number of complaints about 37th and Tunlaw, the Transportation Department will begin a study of the intersection this month, according to chief traffic engineer James Cheeks. He told the Glover Park advisory neighborhood commission at its June 14 meeting that work could begin on the intersection in September.
Official recommendations to fix the intersection date back to 2006, when the D.C. Office of Planning commissioned the Glover Park Transportation Study — but changes have yet to be implemented. While the study found a number of traffic safety concerns throughout the neighborhood, only the Wisconsin Avenue commercial corridor from Whitehaven Parkway to Cathedral Avenue was included in the current streetscape improvement project.
Cheeks said his agency would use the 2006 and 2009 Office of Planning studies as a starting point to assess the 37th and Tunlaw intersection, adding that his department plans to conduct a survey starting this month that would analyze current vehicle and pedestrian traffic patterns.
Cheeks estimated that the survey could take a month, and the design could take six weeks. But he noted that recommendations for the intersection would not be finalized until after the Wisconsin streetscape project is complete. That way, he said, the assessment could reflect post-construction traffic patterns.
"We don't want to fix one problem to only create another problem for another block," said Cheeks.
He assured residents that the community would have a chance to weigh in on proposed changes prior to approval; Glover Park commissioners said they expect to discuss any proposals for the intersection at their September meeting.
As Cheeks was peppered with questions from residents about this and other traffic safety concerns in the neighborhood, commissioner Brian Cohen weighed in on the discussion.
"There are parts of this project that numerous people have been asking for for years," Cohen said, directing his comments at Cheeks and the six other Transportation Department staffers at the meeting. "We feel like our concerns are falling on deaf ears, and we're frustrated. We don't want to hear that you're going to look at it again — we want you to throw us a bone" and fix longstanding problems.
Residents asked the Transportation Department to address a number of locations where they said there are safety issues, including the often-gridlocked triangle where Wisconsin Avenue, Calvert Street and 37th Street intersect; Benton Street and Tunlaw Road, where residents have asked for years that a crosswalk be painted; and 37th Street and Manor Road, where they say another crosswalk is needed.
Residents also asked the Transportation Department to look at the streetlight timing on Wisconsin, noting that pedestrians often do not have enough time to cross the avenue before the light changes.
Paul Hoffman, Transportation Department project manager for Ward 3, said the Wisconsin Avenue streetscape project, which began in April, is now 35 percent complete and on schedule to be finished in September. The first of six new traffic lights was installed at Whitehaven, and Washington Globe streetlights are being installed along Wisconsin. The scope of the project includes widening some sidewalks, resurfacing Wisconsin Avenue and improving the curb appeal of the streetscape.
For more information about the project, visitwisconsinavenueproject.com.
This article appears in the June 20 issue of The Georgetown Current newspaper.