DDOT Issues Publication on Restoration of Historic Georgetown Trolley Tracks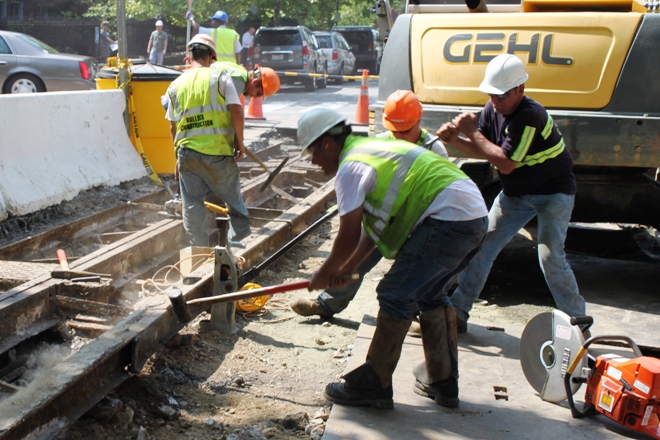 The District Department of Transportation (DDOT) recently released an illustrated booklet on the rehabilitation of O and P Streets in west Georgetown, a project notable because the original streetcar tracks were painstakingly restored, including the "central-slot" underground power system that was used instead of unsightly overhead wires. The publication describes the often disruptive 18-month-long project, the lengthy, often contentious discussion over preserving the tracks, a history of Georgetown streetcars and a description of the complex power system.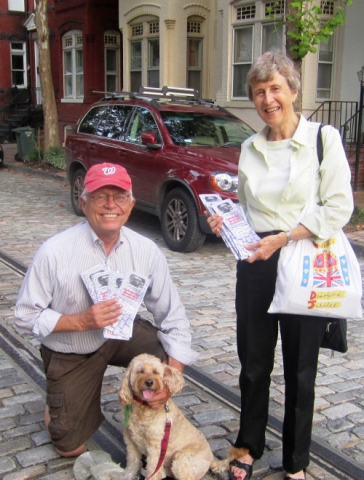 The O and P Street restoration project is important because, among other things, it preserves the last visible example of the original citywide streetcar system that served the city for 100 years until 1962.
To acknowledge impact on the immediate neighbors, last week Hazel Denton, a P Street resident and board-member of the Citizens Association of Georgetown, organized a distribution of the booklet into some 200 doorways on O and P Streets, between Wisconsin Avenue and 37th Street. A personal thank-you letter from DDOT Director Terry Bellamy was included. "In making the trip down these streets smoother, we also made the trip down memory lane easier and preserved and enhanced the indelible history of the neighborhood … and I can't thank you enough," he said.
"As a resident on P Street, after two-plus decades of petitioning for making our streets safe, it is wonderful to have fully restored tracks in place. DDOT did a truly commendable job of historic preservation, and has supported publication of a booklet describing why these tracks represent such a major piece of Washington history," said Denton. "I come from London, and while there this summer, visited the only other remaining pieces of track that used a similar mechanism - in a unused tunnel at Kingsway in central London. Ours are in better shape."
The DC Historic Preservation Office and the DC Preservation League recognized DDOT for its O and P Street projec with a preservation award earlier this year. CAG submitted the nomination for the award, which was supported by Advisory Neighborhood Commission 2E.