DCNY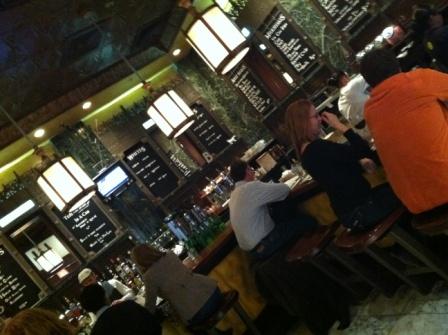 I had a busy week. Meetings, travel, design events, etc. A jam-packed schedule isn't necessarily enjoyable mid-stream, but I always love the results. I meet new people, see interesting things, get inspired, and in general, shake things up a bit. Between DC and New York, I stumbled upon some fabulous finds this past week. Whether it was design or fashion, food or art, it seemed that new and exciting things were available and in abundance. Of course there is never enough time to take it all in. It's a good thing I am able to document it all with my trusty iphone and enjoy the fruits of my labor long after my work and the week is done.
- SOURCING RUGS & TEXTILES -
I love beautiful textiles and rugs. Especially when they are assembled together in a stunning collection. Subtle, graphic, textural or glamorous – it doesn't really matter to me. Gorgeous is gorgeous regardless of content or genre.
- WINDOW SHOPPING -
Fall is always a delicious time for fashion. Even if you can't purchase everything you see behind the glass, you can certainly draw inspiration from the displays and create new, eclectic ensembles within your existing wardrobe. I personally am all over this season's bold colors, layers, baggie pants and fur jackets.
- SCOUTING FOR VINTAGE FURNISHINGS -
You can troll all day on the internet, but there is nothing like seeing the real thing. I can't get enough of unique yet elegant, statement-making furniture. Unfortunately, I need another chair like I need a hole in the head. It was hard to resist these stellar vintage finds.
- DROPPING BY AN ARTIST'S STUDIO -
I'm a big fan of Julie Wolfe's work. So to see her paintings and jewelry in-residence was quite a treat. Plus Julie is such a cool chic – interesting, laidback and irreverent. The evening was hosted by George Hemphill and marked by contemporary artwork, incredible jewelry, wine and a "deconstructed food installation". Loved it.
- BELLYING UP TO THE BAR -
It wasn't my last stop this weekend, but it was definitely one of the more photogenic. Ted's Bulletin is a throwback to yesteryear with the style and ambiance to match. If dining, I would stick to the burgers and shakes. If you're there for a cocktail, order a Jessie Clark. Besides the delicious concoction of chamomile-infused scotch, orange marmalade and chocolate bitters, the drink is served with a perfectly round ice cube produced in seconds by The Macallan ice ball machine. An entertaining and purposeful gadget whether you're a scotch aficionado or not.
Tricia xo