DC Youth Orchestra Concert at THEARC Feb. 15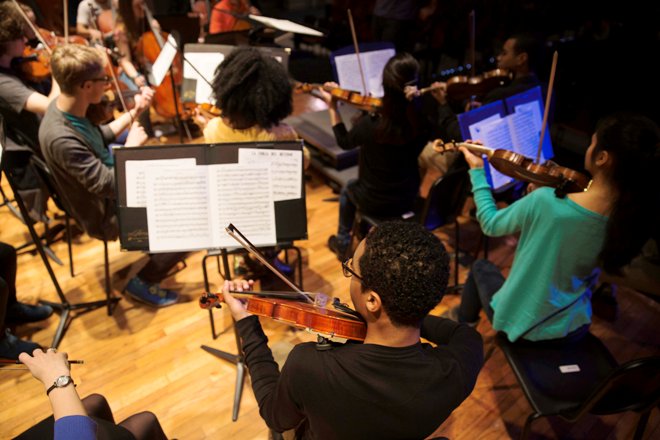 The DC Youth Orchestra with conductor Luke Frazier, will perform Forever Free, a joint concert including the Manhatttan Girls Chorus on Sunday, February 15th at 3:00 pm and 6:00 pm at THEARC in Southeast Washington, D.C.
Tickets are $7-$20 and on sale here.
Forever Free features music of the Civil War era as well as music from the 1960s Civil Rights Movement, telling the story of Americans Abraham Lincoln, Harriet Tubman, Dr. Martin Luther King, and Rosa Parks and their contributions to the Civil Rights Movement. This diverse musical program includes narration and projections.
Image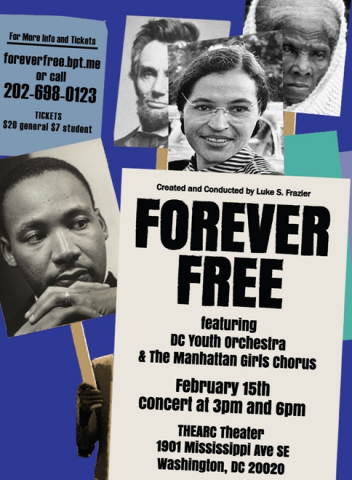 The DC Youth Orchestra Program (DCYOP) is the leading curriculum-based classical music education program in the Washington, DC metropolitan region. Founded in 1960 by Lyn McLain at the request of DC Public Schools, the mission of DCYOP is "music for young people; achievement for life!" DCYOP offers group lessons and ensemble training on all orchestral instruments for students ages 4 to 18. The program consists of six ensembles including the renowned Youth Orchestra.
The Manhattan Girls Chorus is a nurturing community of young women grades five through twelve from all ethnic and socio-economic backgrounds seeking an extraordinary music education and opportunities for performing excellence. In addition to helping each singer realize her full musical potential, the organization encourages mentoring relationships with women in the arts and other professions.
Considered a rapidly rising star in the pops world, conductor Luke Frazier has established himself as both an innately musical conductor and a sensitive pianist. His commitment to re-envisioning pops programming has quickly established him as a dynamic force across the music community.
THEARC Theater is located at 1901 Mississippi Avenue in SE, Washington, DC.