DC: You Are No European Bike City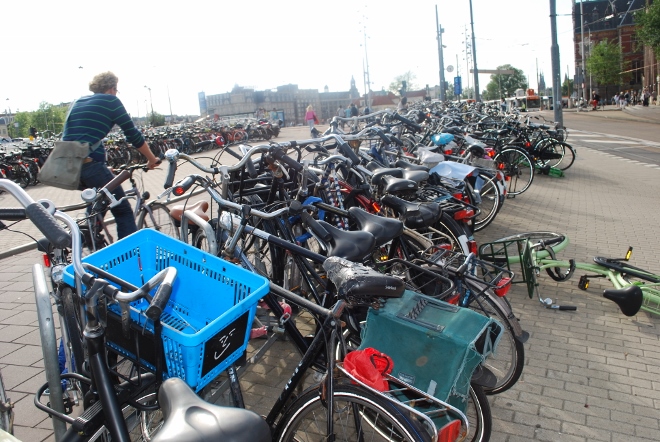 Memorandum
To: Mayor Vincent C. Gray
CC: All Mayoralty Candidates
From: A DC resident who grew up riding a Schwinn.
Subject: Bikes
So most of you seem to be buying into the idea of turning D.C. into a European biking city.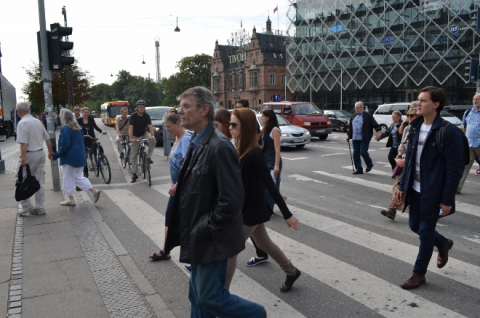 You may be advised to take a short trip to Amsterdam, where two wheelers rule and it's survival of the most wary. Walk! Don't ride around in cabs or government-provided limousines.
"Pedestrians are the lowest on the totem pole," a guide warned a group of tourists. "You have to be extremely careful."
She wasn't blowing smoke. Bikers zip right by with abandon, often challenging those who want to cross the streets on foot and in accordance with walk signals. Traffic lights are ignored by many bikers.
Bikes, from high-end to beat-up, are chained everywhere. Some rusted relics must have been there for years.
There are an estimated 600,000 bikes in the city. The train station vicinity seems to be a popular bike dumping ground (for an hour, a day or a lifetime), but that's only one area of Amsterdam where bikes are in piles of three or four – or even much deeper. A lot of them are locked together to make what seems to be permanent sculptures.
Amsterdam bikers make D.C. cyclists tame by comparison.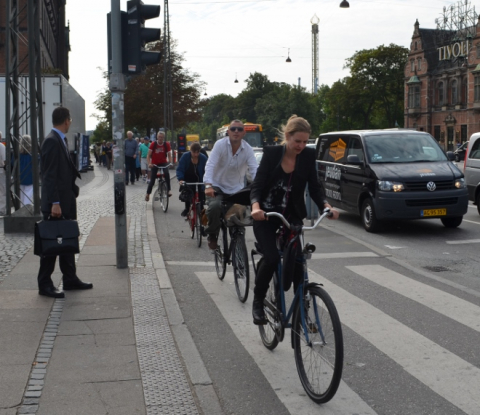 It is a beautiful city in many ways. But pedestrians are fodder. They can be hissed at for not yielding to bikers turning right on red. After a tour of the city, one recent visitor woke up yelling; "Watch out!" in her sleep.
There's a much-used photograph of single bike learning against an iron railing banking on a canal. Ah, so cool. It's also selective PR.
Imagine Georgetown with bikes tearing thru the intersection of M and Wisconsin. If so, walking Georgetowners could be marching on City Hall with lit torches.
Of course, private enterprise in D.C. has a rental bike system that works well, and is expanding to the nearby suburbs. However, too many D.C. bikers ignore stop signs, traffic lights and skim close to pedestrians. 16th Street is just one example of bikers riding on the sidewalk and getting too close to walkers. There is no bike lane on 16th.
Merely painting a new lane with bike symbols or putting up a handful of rubber pole dividers is not the way to go. (This comes from a person who has a son who regularly bikes to work from Petworth to Penn Quarter, and another son who was a bike courier in DC.)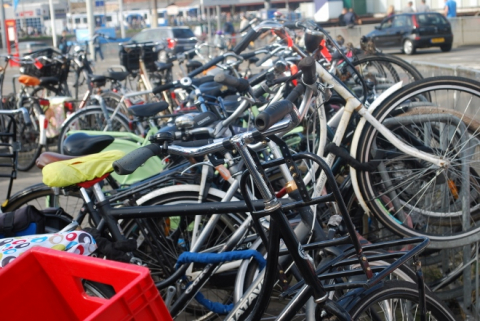 Let's be futuristic. Perhaps sidewalks could be widened on boulevards such as 16th, Massachusetts, Wisconsin or Connecticut and bordered off with small raised bricks to separate pedestrian from devil-may-care cyclists, and cyclists from cars. Costly, yes, but safer, certainly. Currently, bike lanes are not on these major streets.
In many places, but not all, that's what they have in Amsterdam – bike lanes physically separated from car lanes, and distinguished from the pedestrian lanes. Works great, until you get to the intersections and crossovers, where the bikers' me-first attitude prevails.
Copenhagen is another biking city. From a tourist's point of view, Copenhagen's biking world is calmer and takes pedestrians into consideration with clearly marked, wide bike lanes. Pedestrians here don't seem to have targets painted on their backs at crossing intersections.
Which raises the point of what to do about biking scofflaws.
D.C. could add a dedicated bike cop patrol that writes stiff fines for ignoring traffic laws. If there is such a patrol, it would be news to a lot of pedestrians. Earmark that money for safer, more sensible bike lanes.
That'll be a platform to park on.