DC Water Aims to Scale Back Tunnel Plan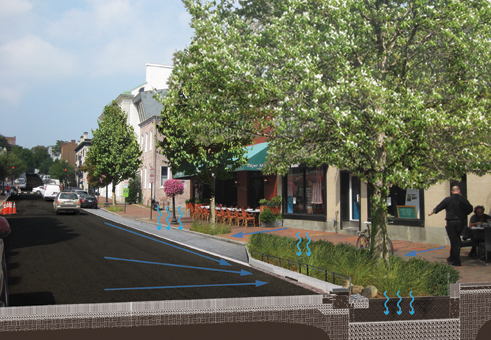 By Katie PearceCurrent Staff Writer
"Green infrastructure" solutions could alter two major tunnel projects to control sewage overflow in Rock Creek and the Potomac River, according to the D.C. Water and Sewer Authority's latest proposal.
The sewage tunnel originally planned to divert wastewater from Piney Branch in Rock Creek could be scrapped entirely, while the planned Potomac River tunnel could be shortened to exclude the Georgetown waterfront. Instead, in those areas the city would invest in $90 million worth of green infrastructure — technologies such as rain barrels, green roofs and permeable pavement that help absorb rainwater.
This new proposal represents a significant change of course for DC Water's $2.6 billion original "Clean Rivers Project" for sewage overflow, which federal environmental law requires to be in place by 2025. The proposed modifications — which would delay the timeline for some projects until 2032 — will require approval by the U.S. Environmental Protection Agency, the U.S. Department of Justice and ultimately a federal court.
Carlton Ray, director of the DC Clean Rivers Project, said the sewer authority (also known as DC Water) intends to work with the federal agencies to get the new plan finalized by the end of this year. The public has until March 14 to comment on the new proposal.
Ray said DC Water has so far devoted $1.3 billion to complying with the original 2005 federal "consent decree." That includes starting construction of a sewage tunnel system serving the Anacostia River, running from around RFK Stadium to the Blue Plains Advanced Wastewater Treatment Plant.
None of the plans have changed for that tunnel, which is still set to start operating in 2022 — and should provide some relief to repeated flooding problems in Bloomingdale and LeDroit Park. The rest of the project, however, is now in flux.
For Rock Creek, DC Water wants to spend $60 million on green infrastructure — including bioretention devices, rooftop rainwater collection systems and large-volume underground storage — instead of building the Piney Branch tunnel. Installation in neighborhoods mostly northeast of the Piney Branch Creek, such as Brightwood, would be phased throughout separate contracted projects from 2015 to 2032.
For the Potomac River, DC Water would spend $30 million in similar projects in the Georgetown area, including parts of Glover Park, between 2016 and 2028. Instead of the originally proposed tunnel running from the Kennedy Center to the Key Bridge, a smaller tunnel would stop short of the Georgetown waterfront, to be completed by 2030.
Such projects are necessary to stop excess stormwater from leading to sewage spills from the District's combined tunnels — an outmoded system that's still in place in about a third of the city.
But when the original "consent decree" for controlling overflows was developed in the early 2000s, green infrastructure technology wasn't advanced enough to play a big role, according to DC Water materials.
Chris Weiss, executive director of the DC Environmental Network, said to the contrary, environmental advocates were already pushing for green infrastructure back then. "We were screaming and yelling for it. … They almost laughed at us," he said.
Now, he said, although advocates fully support the use of green infrastructure, there are concerns about the delayed timeline. "It's taken so long to bring some real relief to the Anacostia River," Weiss said. "We're still not convinced that adding another seven years is going to be good for the District — especially the Potomac River and Rock Creek, which will bear the brunt of any delay."
Ray of DC Clean Rivers said that the staggered implementation of green infrastructure projects means the rivers will see relief earlier than the 2025 finish date slated for the original tunnels. "We'll start addressing and improving water quality in 2015," he said.
He added that although his agency is "confident in the technology of green infrastructure … it does take us longer to pull all the pieces together, to work with our colleagues in D.C. agencies and [the National Park Service]. There's a lot of moving parts."
DC Water has emphasized that green infrastructure could bring a number of perks the tunnels would not, like creating green jobs, improving property values and enhancing community spaces. Green infrastructure advocates call that "the triple bottom line," said Bethany Bezak of DC Water, referring to the environmental, social and economic benefits.
The city has already launched its first major round of green infrastructure projects through a design challenge that will devote more than $1 million to up to four winning teams. The challenge will see the projects through construction in 2015.
DC Water hopes to incorporate those projects "into our strategy for green infrastructure for the sewersheds in Piney Branch and the Potomac," according to Ray.
The overall strategy might also involve providing financial incentives to private property owners, including homeowners, to install their own green infrastructure. "We feel strongly that we have to be successful both in the public space and private space," said Ray.
According to DC Water, extending the schedule for the Clean Rivers Project, along with deferring other capital projects, would also help reduce the financial burden to D.C. ratepayers.
The public can review more information, and submit feedback, at dcwater.com/green.
DC Water will host public meetings on the plan on Feb. 18 at 7 p.m. at Georgetown Visitation Preparatory School (1524 35th St.)
This article appears in the Jan. 29 issue of The Georgetown Current newspaper.