D.C.-Trained Rowers Set to Compete in Olympics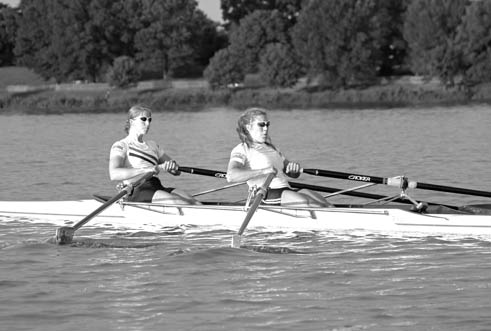 By Brian Kapur
Current Staff Writer
As the sunrise broke over the horizon of the Potomac River Monday, rowers Margot Shumway, 32, and Sarah Trowbridge, 29, were already sweating as they did core exercises and stretches at the Potomac Boat Club. The duo then headed to a narrow white boat to cover 12 miles over the next hour and a half, part of their training for the London Olympics.
The games, which begin July 28, are an opportunity that almost never came.
In the spring, the pair traveled to Chula Vista, Calif., to compete for a spot on the U.S. Rowing team before the last-chance qualifier in Switzerland. Shumway and Trowbridge finished in third place, seemingly dashing their Olympic dreams. But nearly two hours after the race was over, the top two U.S. boats passed on their opportunity to compete in the double and took a chance at making the quad boat.
This gave the Shumway and Trowbidge one more chance. "It was like wow, second life," said coach Matt Madigan.
"We thought it was over and then we got a call saying no, you've got a second chance," said Shumway. "We were very shocked that it happened because typically in rowing if you lose a race, you're done and you don't get another chance."
It also gave them the opportunity to reflect on what went wrong in Chula Vista.
"The way it happened, we just weren't expecting it," said Trowbridge. "It was really good for us to kind of be able to analyze what went wrong before we realized we had the opportunity to make it right."
That near-loss experience lit a fire under Shumway and Trowbridge as they trained for what their coach called the "Regatta of Death" in Lucerne, Switzerland. The duo won gold at the final Olympic qualifier May 23 to punch a ticket to the summer games.
"We carried a very distinct sense of urgency through the next five weeks of training," said Shumway. "When we got to the qualification regatta, we came full circle from this very low place to this very high place."
The two future Olympians first met in 2006 as members of the Potomac Boat Club in Georgetown. They became fast friends, even though they stand at opposite ends of one of the biggest rivalries in college sports: Shumway attended Ohio State University, while Trowbridge went to the University of Michigan.
Despite attending opposing colleges, the two athletes traveled similar paths to reach their current shared goal.
Trowbridge grew up in Georgetown and attended Holy Trinity School before her family moved to Connecticut when she was 15. She was always very athletic, but didn't pick up rowing until her senior year of high school. She went on to help Michigan win two Big 10 championships.
"I had to start as a novice at Michigan," said Trowbridge. "But I really loved the team. It worked out really well for me."
Shumway, who competed in the 2008 Beijing Olympics, was also a late bloomer when it came to rowing. The Ohio native didn't get involved with the sport until she reached college.
Since meeting each other, the two have continued to train at the Potomac Boat Club under Madigan's tutelage. As the games near, they will move their practices to a buoy course in New Jersey.
Chemistry between the two will be paramount if they hope to medal in London — and luckily, their connection is strong.
"I know that we would die for each other out there," said Shumway. "We know each other so well that we are good at breaking the tension if things are rough."
"Something that we rely on for racing is the strength of our friendship," added Trowbridge. "We have a similar desire, and we ended up using that a lot in Lucerne."
The pair will have their work cut out for them in London when they take on Great Britain's top duo, who won the last three world championships. But it's a challenge Stumway and Trowbridge welcome with open oars.
"We've given a lot of thought to that," said Trowbridge. "Great Britain is definitely a fantastic double. … But that really doesn't determine how our race is going to go. We are going out there to put together the fastest race that we can and continue the momentum that's been building. We're going to climb the ladder and see how high we can get."
This article appears in the June 6 issue of The Georgetown Current newspaper.