D.C. Shirt-maker is Georgetown's Hugh & Crye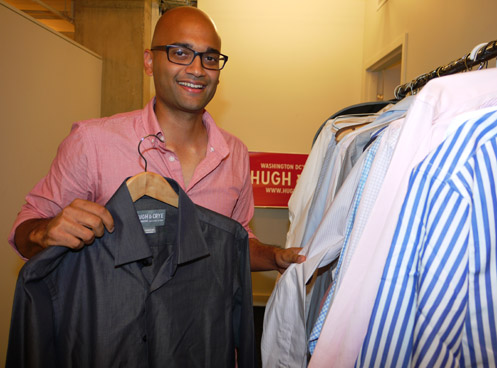 "It all starts with the torso," says Pranav Vora. An Indiana native who's spent the last 10 years in D.C. and considers it home, Vora started his Georgetown-based apparel business with co-founder Ernest Chrappah over a year ago. Consider Hugh & Crye a call to action against ill-fitting ready-made shirts. With degrees from Indiana University and London School of Economics, and after conducting research as a visiting scholar at the Wharton School, University of Pennsylvania, Vora was ready to lend his business acumen to a cause close to his torso. Following completion of sewing classes (including instruction on making patterns, buttons and the all-important collar), he was ready to make his first shirt, which, as Vora described it, brought a smile to his face. Suffice it to say, a few more tries were needed before the first sample run in India. Dedicated to making shirts he'd want to wear, Vora concentrated on all the critical details: thread count (120-140), material (Italian 2-ply Egyptian cotton), easy-care (light environmentally friendly chemical finish), construction (single needle gusset thread), and of course, fit. "Most off-the-rack shirts from mass brands aren't designed for the lean or athletically built guy. They're designed to fit the masses, and thus fit very few of us well." After interviewing 300 men, Vora found that 85% fit into one of six sizes. Thus a new sizing system for lean, average and athletically built men was introduced.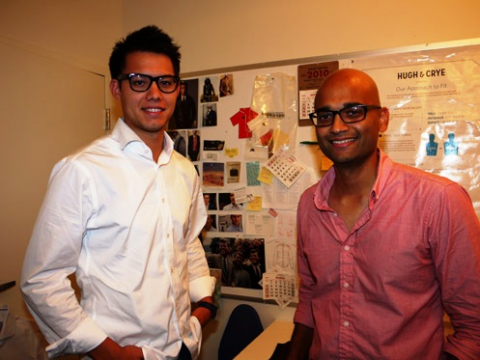 Committed to offering his discerning customers a great value, Vora always asks himself, "Do I feel bad selling to my friends at this price?" Current collection is reasonably priced at $85 to $115. Officially launched last December, Hugh & Crye sells on-line and out of their 3rd floor office. Last month, "For Shirts and Giggles" was their first pop-up retail event across the street from their 3307 M Street office. Not surprising, Vora named his personal favorite: a fine poplin of broad navy and white stripes, box pleat back, narrow, single button barrel cuff, squared, button-less sleeve packet shirt, the "33d & M."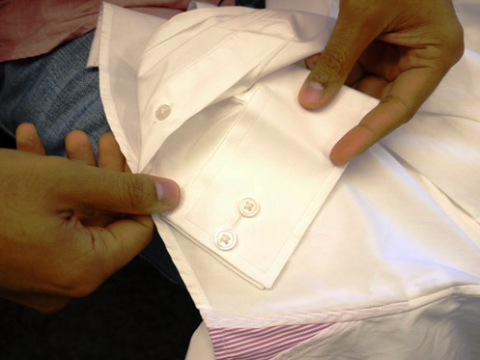 Recently introduced: a "high utility" buttons to cuff convertible cuff, a point collar, and the Jean-Pierre Pan (club) collar. Current collection numbers 21"classic American style" shirts (10 from their inaugural collection) in a variety of colorways. With 80% of their customers local and a 38% repeat purchase rate, no wonder sales are rapidly growing (presently at more than 100 a month). Introducing a new collection about once a quarter, Hugh & Crye continues to be informed by their customers' requests as they add colorways, cuffs, collars ... and new products. "Send us your ugly." Shirts, that is. One for one is a concept important to the business. Partnering with Martha's Table, a community organization helping local families, Hugh & Crye invites its customers to give back. For every buttoned, long-sleeve shirt, (which they donate to Martha's Outfitters), Hugh & Crye offers 10% off a new shirt.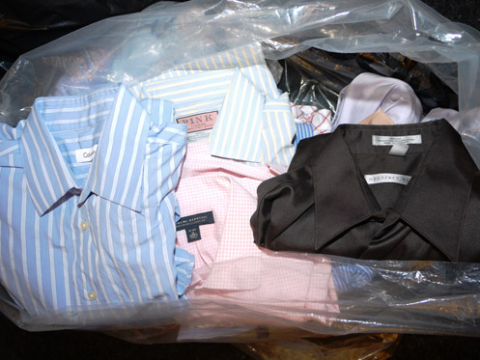 Hugh & Crye will be showing and selling their new collection with other D.C. based designers at the Temporium next weekend, August 13-15th at 1300 H Street N.E.