DC Mayoral Candidates Debate at Dumbarton House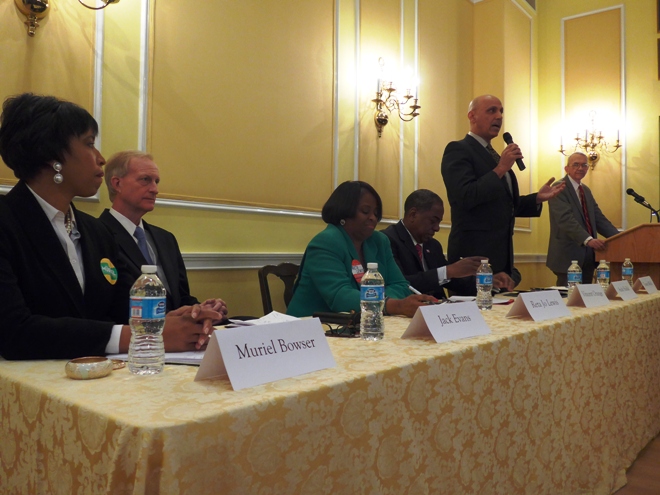 As a standing-room-only crowd of 250 District voters packed into the basement of Dumbarton House, moderator Davis Kennedy of The Current Newspapers introduced six candidates for DC mayor Thursday evening. The event was sponsored by the Citizens Association of Georgetown (CAG) and the Georgetown Business Association (GBA).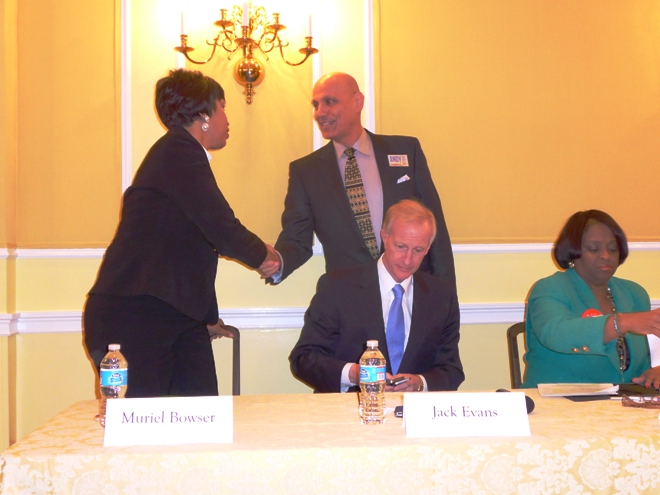 Incumbent Mayor Vincent Gray could not make it, explained Davis, "because he had to address an urgent public safety matter." Councilmembers Muriel Bowser, Jack Evans, Vincent Orange and Tommy Wells, ex State Department Official under former Secretary of State Hillary Clinton Reta Jo Lewis and restaurateur Andy Shallal offered their plans for the city and responded to questions posed by Kennedy.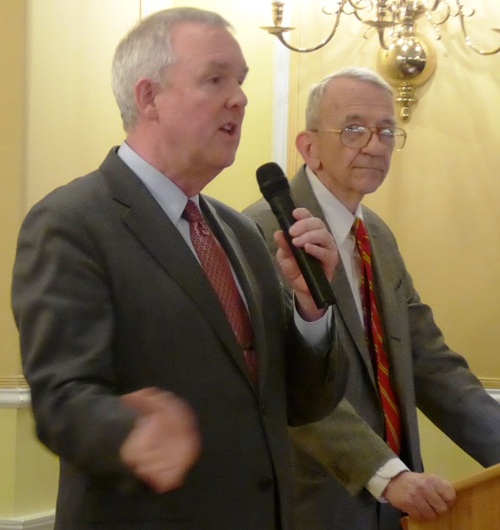 While each candidate cited their qualifications for the position, all agreed that the city needs more affordable housing, better neighborhood schools, a ban on corporate contributions, transit equity, parity across wards especially east of the river, and raising minimum and living wages.
Opinions varied on the merits of Large Retailer Accountability Act (LRAA), which would have required most of the district's big-box retailers to pay a higher minimum wage. Bowser was clear that she did not support the bill.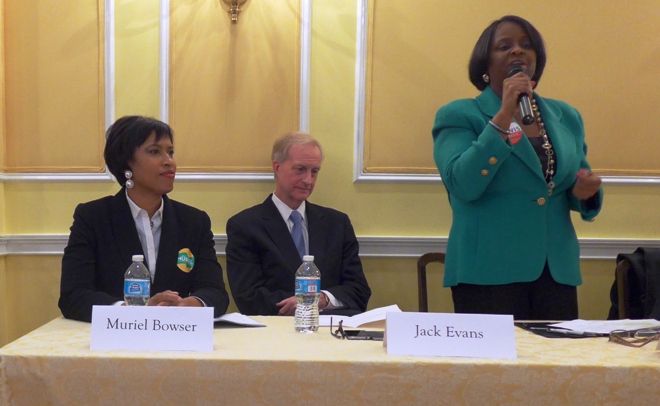 Shallal, owner of Busboys and Poets and Eatonville Restaurant, talked about a "tale of two cities" with DC being one the nation's wealthiest but also having the highest rate of childhood poverty.
With a general consensus that there was no need for new taxes, everyone vociferously agreed that sales taxes should not include gym memberships. Orange, Bowser and Wells, who had noticably dropped weight, looked trim and fit for the race.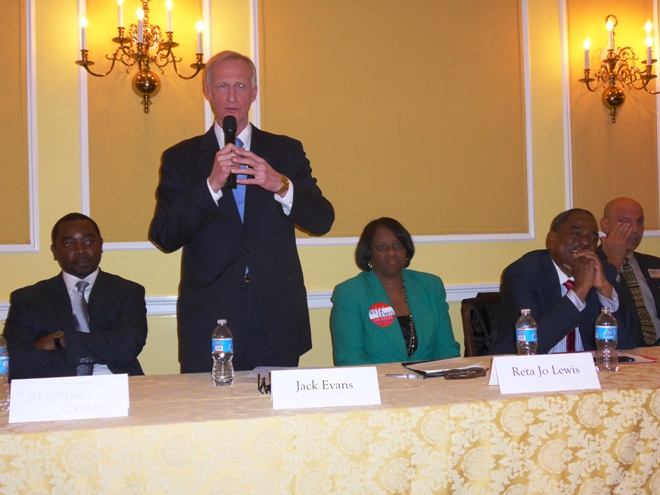 When it came to Georgetown issues including what should be done with the Whitehurst Freeway, candidates expressed more diversity. Smiling, Bowser noted that "This is when I should say I support Ward 2 Council member. Running for mayor I learned how long it takes to go anywhere. We should be very careful about losing capacity." Evans recalled a visit with former Interior Secretary Bruce Babbitt, "Standing underneath it, it's very ugly. But driving home it's beautiful." Eventually it will come down, he believed.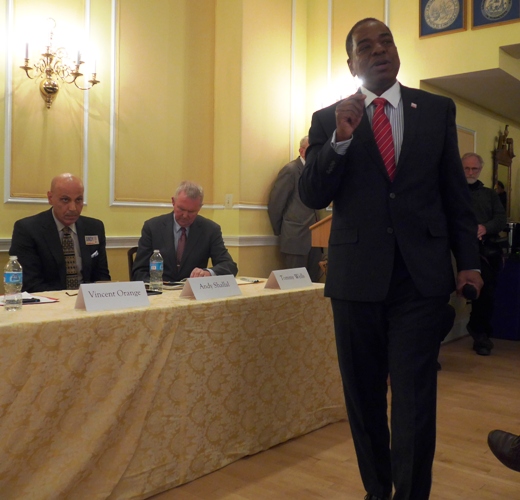 Evans announced that the Georgetown Department of Motor Vehicles office would be reopening in May and that Wisconsin Avenue would soon be reopening with three lanes.
On building a Georgetown metro stop, "Sounds like a whole lot of construction," said Shallal, who supports a robust city trolley system. Lewis reiterated her message of equal opportunity across the city, while Orange enthusiastically supported a metro stop and the BID's 2028 plan.
An hour into the debate, 31-year old Christian Carter, a seventh generation Washingtonian arrived and insisted on taking a seat at the table. Davis Kennedy pointed out that "all major candidates and fringe candidates with reasonable long shots were invited."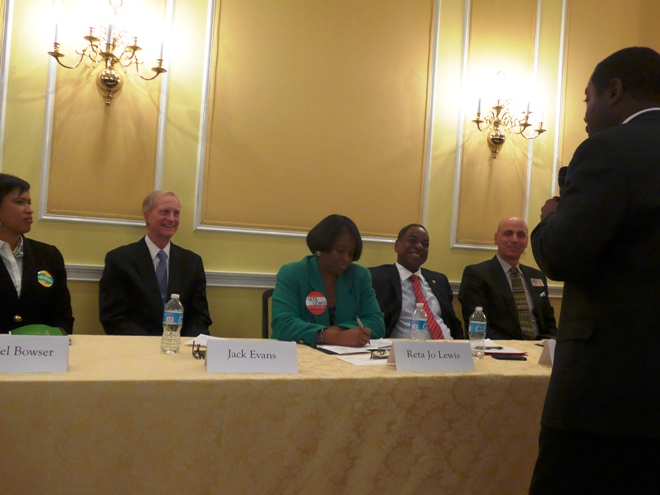 To Davis, Carter said, "Isn't it hard enough to run for mayor without dealing with you?"
Echoing audience objection to the moderator's characterization of her as a "fringe candidate," Reta Jo Lewis said about Davis, "That was an unacceptable comment. All I'm looking for is a fair shot."
Carter was then given an opportunity to address all questions.
Next, each candidate was asked "a series of ultra tough questions" tailored to them. To Evans, Davis asked about his initial opposition to Marion Barry's censure. Evans responded that he ultimately voted to take his chairmanship away but felt his being sanctioned was sufficient.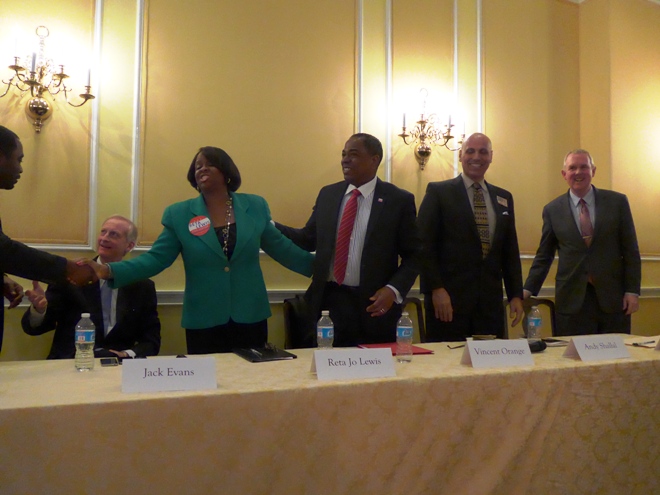 Wells was asked about his three or four major accomplishments, to which he cited creating Housing First, my stand on juvenile justice, and being champion for minimum wage.
Bowser was asked about her disagreement with Council member Mary Cheh's sponsored legislation that would have prevented gas distributors from also operating gas stations. She reiterated her disagreement with Cheh on the bill that was particularly aimed at one local distributor.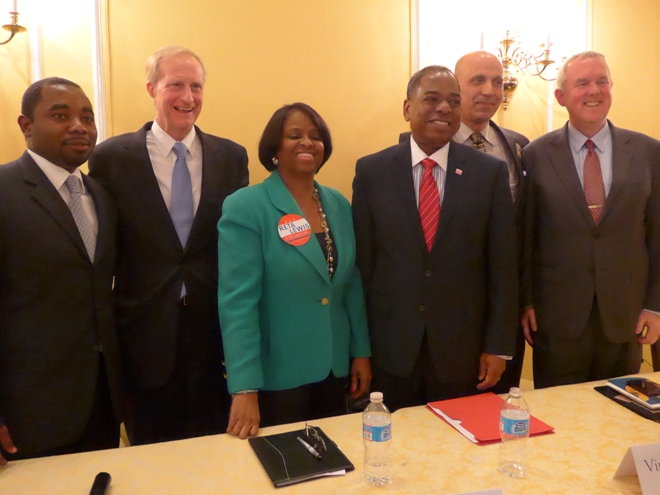 Lewis, who frequently cited her service in President Obama's administration, was asked about the disparity of her national versus local experience, to which she responded that her 35 years working on issues was local experience.
To Carter, Davis asserted he had trouble answering a number of the questions. Carter responded by inviting everyone in the audience to be part of his team. Turning to the candidates, "I think all of you should vote for me as well."
All were asked about their views on whether DC should turn over citizenship information to immigration authorities. Shallal, who was born in Iraq, answered that there are already mechanisms in place and applauded IDs for immigrants.
In closing, each candidate asked for residents' votes on April 1.