D.C. Highest Court: Alcohol Agreements Ok, George Expansion, 'No'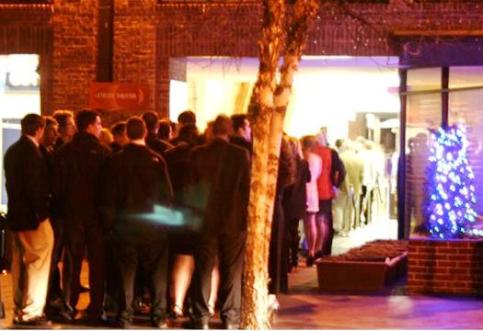 The push by George, a sometime nightclub in back of Café Milano on Prospect Street, to terminate its "Voluntary Agreement" with Georgetown Advisory Neighborhood Commission (ANC) 2E so that it could double its allowed occupancy to 200 persons, has been soundly rejected by the D.C. Court of Appeals, the District's highest court. George's request had been the subject of several contentious hearings last year, some of which were presided over by then-Chairman Charles Brodsky. George's request was based on economic necessity, support from its patrons and their contention that there is sufficient available parking in the area.
The ANC and the community worked to keep the Agreement, which had been signed by Georgetown Billiards, the previous holder of the liquor license for the space. ANC Commissioner Bill Starrels and neighbor Ed Emes testified that increasing the occupancy would unduly burden the neighbors with noise, trash and decreased parking. See The Georgetown Dish February 10, 2011 and May 13, 2011.
The court backed the D.C. Alcohol Beverage Control Board's decision to keep the Agreement, saying the decision was supported by "substantial evidence" and was correct. In its five-page opinion, the three-judge panel said that George, even when operating within the current, 99-patron limit, had "repeatedly subjected the neighborhood to excessive noise that adversely affected the peace, order and quiet of the neighborhood and [given] rise to complaints by neighbors, and occasionally (and unlawfully) exceeded [the] occupancy limit [of its] Voluntary Agreement."
The decision, handed down on March 14, was by a three-judge panel made up of Judges Stephen H. Glickman and Kathryn A. Oberly and Senior Judge James A. Belson. As with all D.C. judges, they were appointed by the President, from a list submitted by the D.C. Judicial Nominating Commission, and confirmed by the Senate – Judge Glickman by President Clinton, Judge Oberly by President George W. Bush and Senior Judge Belson by President Reagan.