D.C. GOP packs fundraiser for Jon Huntsman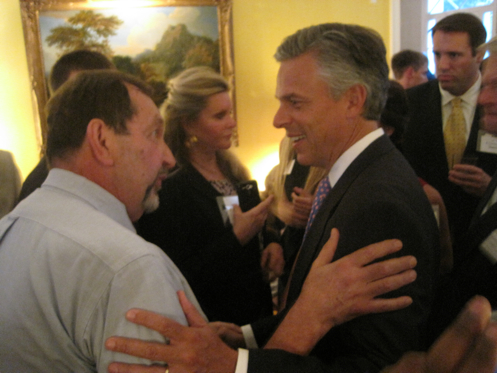 Over 190 guests packed the home of longtime D.C. Republican leader Julie Finley to meet presidential candidate Jon Huntsman in a standing-room-only, closed-to-the-press event to raise funds for the D.C. Republican Committee, led by Kalorama resident and Chairman Bob Kabel and executive director Paul Craney.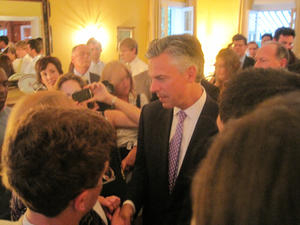 The candidate received a very warm reception from the young and diverse group, which also included local Republican stalwarts like former Reagan National Security Adviser Bud MacFarlane, D.C. school board member Patrick Mara, CAG President Jennifer Altemus, and D.C. voting rights activist Nelson Rimensnyder.
"Huntsman is business-friendly and his social views are moderate," said republican activist Christian Berle. "That's what a lot of people in the party are looking for."
Huntsman's wife Mary Kaye remembered that the last time the couple visited Finley a few months ago, the seats in the living room were taken. But Wednesday, the crowd filled the first floor and a large outside terrace.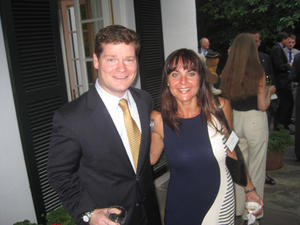 "I'm just overwhelmed to see how much this has grown," said the Orlando native, a mother of seven, wearing a red and white dress.
"We've got our kids deployed across the country on the campaign trail," said Huntsman, who said a new kind of leadership in Washington is needed to create jobs and economic recovery. "I have lived in Asia four times," Huntsman said. "They are developing their economies for the future. They are reforming education. They're getting ready and they are excited. China thinks the future belongs to them."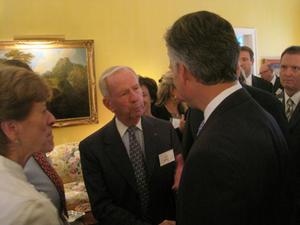 He said the U.S. is in a "deep funk" but has all the elements to return to its leadership position in the world. "We need a president with real private-sector experience because the number-one priority of the next several years is going to be to create jobs and economic expansion," Huntsman said. He said the next president also needs a thorough grounding in international affairs. "Our future is not in Afghanistan," he said, noting that two of his sons are serving in the Navy.
"It's going to take groups like this to change this country in 2012, and we're going to do it," Huntsman said, commending the group for supporting the local party in the largely Democratic District. "I saw you walking in the front door. It r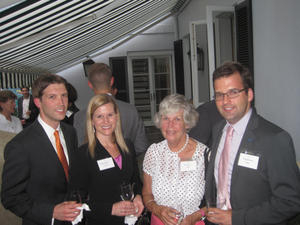 eminded me of dissidents walking into the American Embassy in Beijing," he joked.
"This is one of the most successful events we have ever had," said Finley, a Huntsman supporter.
"If I have what it takes to get Julie Finley's support, it must be 'The Right Stuff.'" he said, drawing smiles.