D.C. Councilmember Orange Introduces Bill to Expand Opportunities for Local Businesses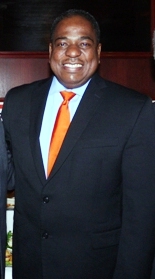 Tuesday, Councilmember Vincent B. Orange, Sr. introduced the "Small, Local and Disadvantaged Business Enterprise Development and Assistance Omnibus Amendment Act of 2012."
Chairman Kwame Brown and the following Councilmembers: Yvette Alexander, Marion Barry, Muriel Bowser, Michael Brown, Jack Evans, and Jim Graham co-sponsored the measure.
This bill expands opportunities for small and local businesses to grow within the District by adding clarity to the District's small business laws. This measure clarifies the original intent of the law which is aimed at giving bid preferences to certified small business enterprises; and if there are no adequate certified small business enterprises then the preference shall go to a certified business enterprise.
This measure gives the Mayor the power to suspend and debar contractors and developers who are consistently in violation of this law.
As Orange states, "This bill takes a profound step in the right direction by rewarding District-based businesses, who hire District residents, which in turn creates additional employment opportunities. Further, it improves contracting opportunities for District-based small businesses, which increases the amount of dollars that are circulated within the District's borders."