D.C. Council challenger questioned about baby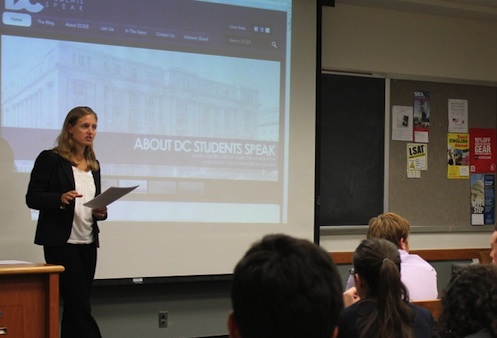 Georgetown resident and potential D.C. Council candidate Fiona Greig may be Harvard-educated, skilled in small business lending and committed to rooting out corruption in the D.C. government, but Washington City Paper's Loose Lips columnist Alan Suderman asked if she is "crazy" for challenging 20-year incumbent Jack Evans as a "new mom."
"One more thing," Loose Lips wrote, after noting Greig's PhD from Harvard ("gross, right?" he added), "Greig's daughter is six weeks old, which prompted LL to ask if she was crazy for trying to run a labor-intensive political campaign while trying to survive the sleepless nights that newborn's cause." (sic)
You know how women are about babies.
"He said, 'I don't know how to ask this question. I don't want to be sexist. How old is your baby? I have an eight-month old, are you crazy?'" Greig said.
"I don't think the comment would have been made in the press if I were a man," Greig told The Georgetown Dish. "We need more women in politics. We need more women running in general. That is an element of what is motivating me to run. I wouldn't want anyone stopping me for any reason. When Ella grows up to be a grown woman and has a reference point in her life that six weeks after she was born, her mother ran for city council, I think that's good. Let it be an example. I'm not going to let it offend me. I'm proud of it." Greig has more to say: "Incumbents are vulnerable. The Council has lost its moral compass."
Greig criticized Evans' use of constituent services funds to buy sports tickets and pay staff parking tickets. "Paying for sports tickets and staff parking tickets is inappropriate. It reeks of back-scratching and it needs to be investigated," Greig said. "In the same way that there are strict controls on campaign funds, we need the exact same controls on constituent services funds."
The smart-growth candidate says the Council should be thinking more long-term. "I want to see better representation, not just better moral leadership but also more in line with the preferences of Ward 2 residents. We've seen a demographic shift. There are younger residents. They may want to stay here, they may want to have a family here. I don't see as a robust a vision for Ward 2," Greig, born in 1979 in New York, said.
"I wan to see smart growth and quality education," Greig said. "I'm thinking about Ella -- I want public school options. We're a car-free family. There are a lot of households in this Ward and this city like me."
Greig, who has a Facebook page and a Twitter handle (@VoteFiona), is a manager at McKinsey & Co. -- advising federal agencies and nonprofits.