A Day in the Life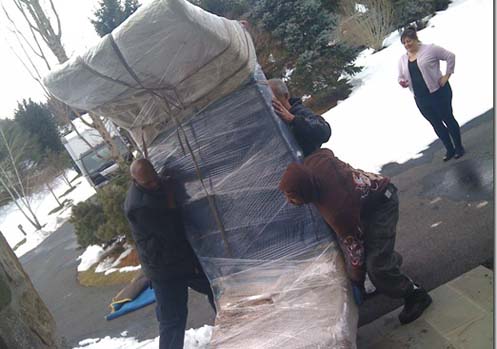 Ah yes. The glamorous life of an interior designer. Luxurious textiles, high-priced antiques,
trips to Europe and … hanging from a second story window in the middle of winter?
Yup, that's my life. I try to keep the minutiae and pedestrian aspects of my job "behind the curtain"
so to speak. There's no sense in exposing clients or the general public to the daily grind of the design
business. One, because the end result would lose some of its magic and two, because it can really
stress people out. However, sometimes my adventures in decorating are just too crazy not to share. So
for your entertainment, please enjoy the play-by-play of a daybed delivery last week. Now you know -
I don't spend my days lounging around picking paint colors and eating bonbons. This is work people!
10:15AM: NOT FITTING THROUGH THE DOOR
After 30 minutes of maneuvering, the guys give up.
I knew it wouldn't fit and planned accordingly, but sometimes the movers hope for a little luck.
.
10:30AM: DISCUSSING PLAN B
Preparing to carry the [very heavy] daybed back downstairs. We'll have to hoist it through a window.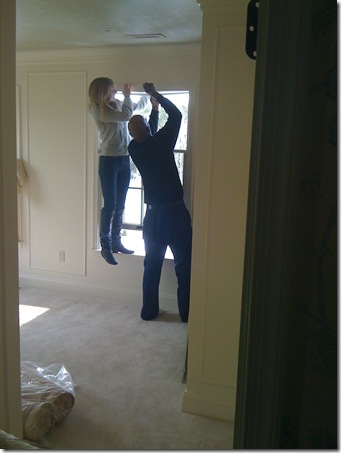 11:15AM: HOW DO WE REMOVE THE WINDOW?
... without completely destroying the window frame and adjacent walls.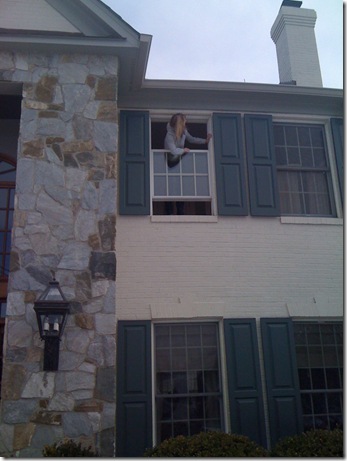 11:30AM: GETTING A BETTER LOOK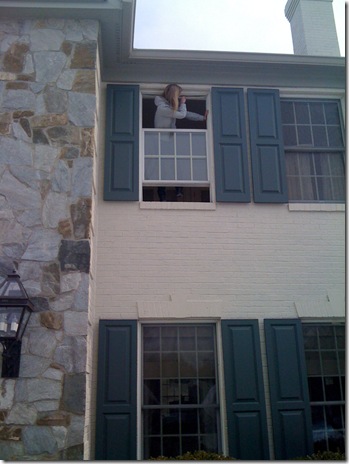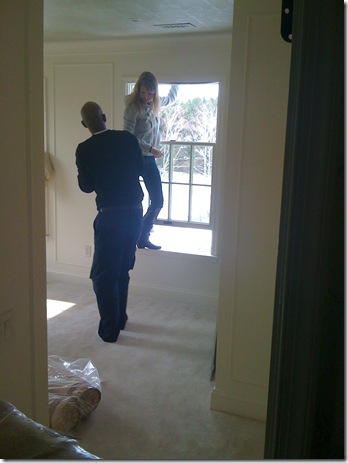 11:35AM: FIGURED IT OUT AND COMING BACK IN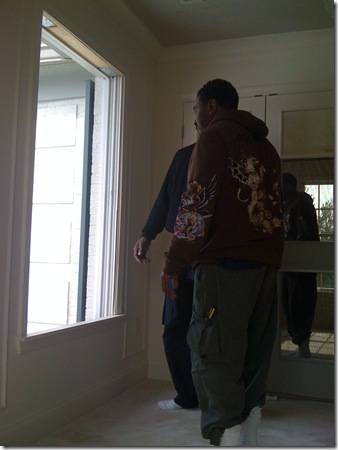 12:00PM: OVER THE FIRST HURDLE
The window is out and we can all breathe a sigh of relief.
12:30PM: OUT FRONT
Brian, Tony and Al plan their attack for the window while my incredibly patient client looks on.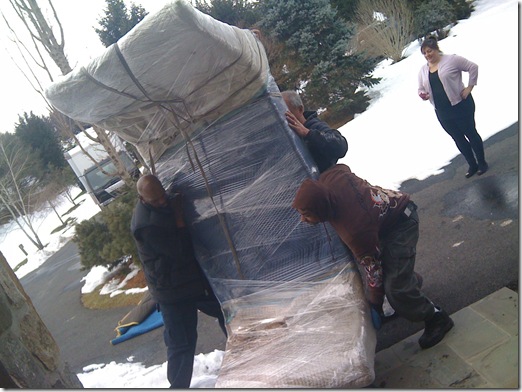 12:35PM: IS IT GETTING BIGGER AND HEAVIER?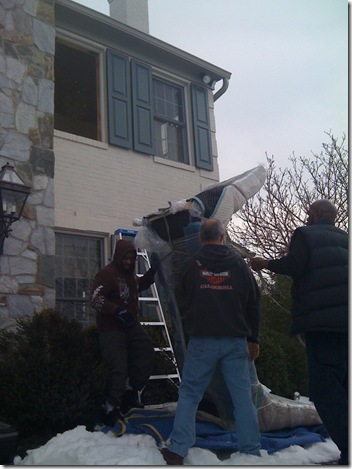 12:45PM: QUITE THE SPECTACLE
I advise my client to go inside; she does not want to watch this.
Now she knows why I had recommended that she and her husband go out for lunch during the delivery.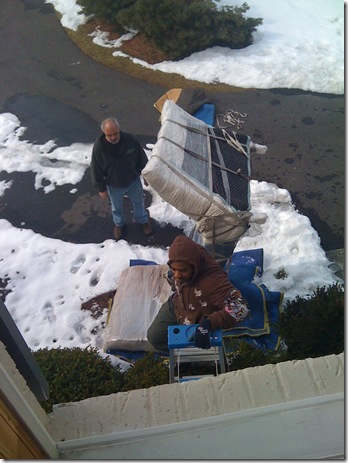 12:55PM: LOOKING VERY DICEY
In fact, I can't bear to watch and move to another part of the house.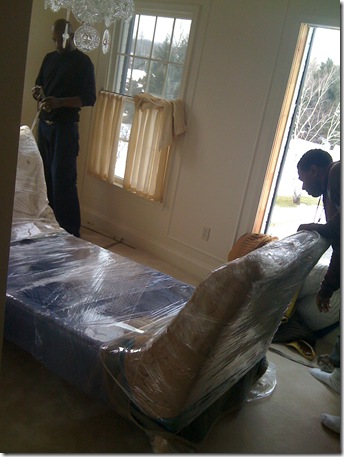 1:40PM: HALLELUJAH!
The daybed is in and all is right with the world again.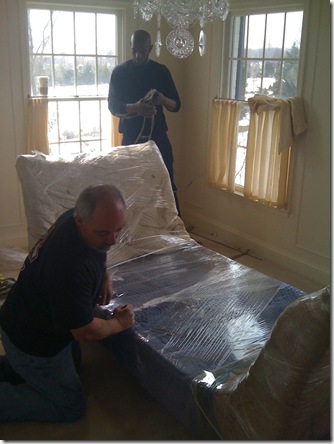 1:50PM: THE HOME STRETCH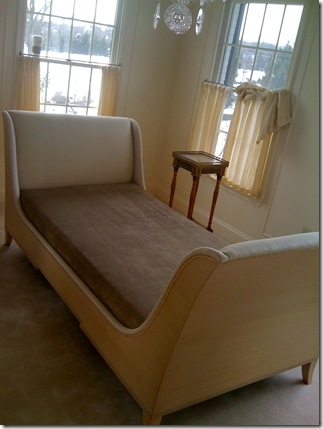 2:00PM: THE DAYBED MAKES IT'S DEBUT!
3:00: THE END RESULT. ONLY TOOK 5 HOURS!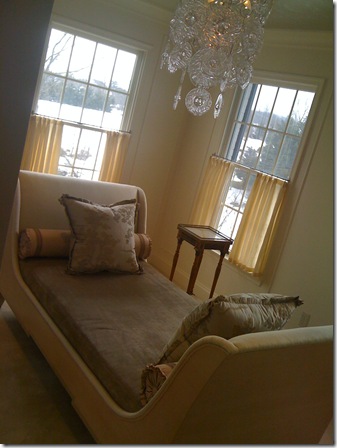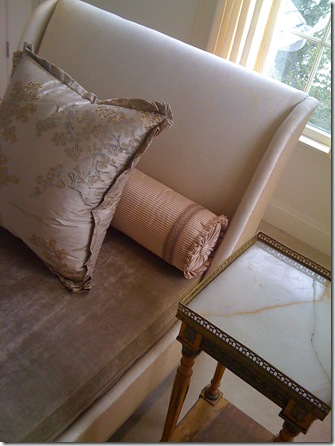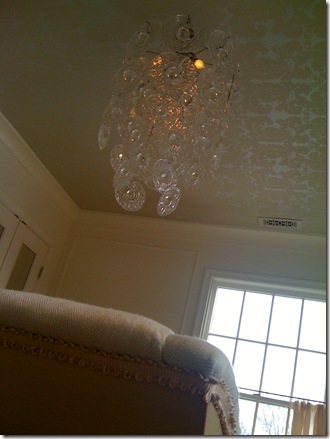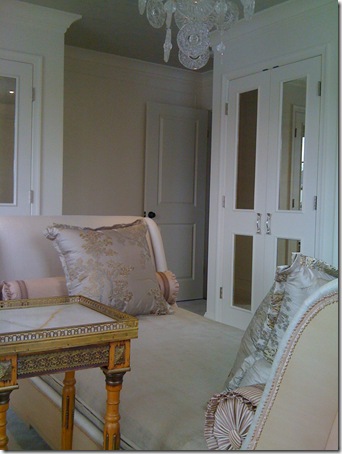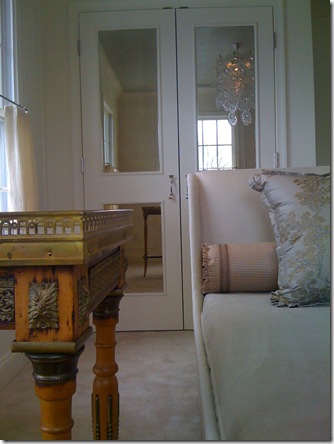 And this is why I love my job!
Thanks to 1st Class, Al Sousson and my wonderful clients!