Day of decision for at-large council candidates
The number of candidates running for the at-large council seat vacated by now Council Chair Kwame Brown got considerably smaller Wednesday. According to the D.C. Board of Elections and Ethics, Sekou Biddle (D), Tom Brown (D), Dorothy Douglas (D), Calvin Gurley (D), Arkan Haile (Ind), Joshua Lopez (D), Patrick Mara (GOP), Vincent Orange (D), Alan Page (STG), Jacque Patterson (D), and Bryan Weaver (D) met the 5:00 p.m. filing deadline to submit the 3000 plus nominating signatures required to get on the April special election ballot . That's 11 out of an initial field of 21 candidates and the number could get smaller when the Board releases its "preliminary determinations of eligibility" this Saturday.
So what does it take to run for office, this office or any office? It puts strains on families and that day job and most candidates pony-up personal cash. But would-be candidates have a story they want to tell, a position they want to get across and solutions they believe would lead to a better government, a better D.C.
Here the story of one candidate who didn't file those 3,000+ signatures..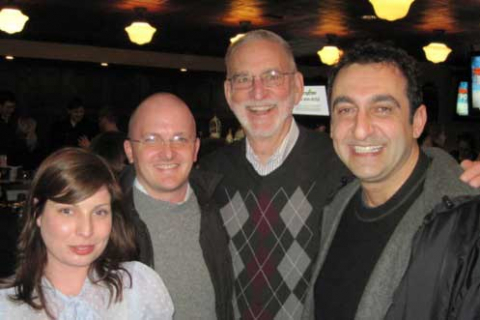 When Logan Circle Wayne Dickson activist and would-be at-large councilmember told The Georgetown Dish early on Wednesday that he wouldn't be filing petitions, it made us a little sad. After all, Dickson was a born-in-Brookland native Washingtonian and 72 years-old and "proud of it," seeing his "world of experience in management and organization" as a campaign asset. He had been in the public relations business for himself, including working for a national trade association with a "classic downtown K Street office." This evolved into acting as a retail consultant and service as executive director of the Committee for a More Beautiful National Capital for Lady Bird Johnson in the 1960s.
Now that he is no longer running for office, Dickson can go back to being a real estate broker with his wife, Carol Felix, enjoying the super successful Whole Foods to P Street, just west of the once run-down 14th Street in Ward 2, that they helped bring about. And he can also take advantage of the Uniontown Bar & Grill he helped bring to Ward 8.
Wayne Dickson did have a clear message for the few District voters likely to go to the polls for the April 26th special election He was pro-business, meaning he was pro smart growth, pro job-creating economic development and pro business expansion.
And he knew how to deliver his message. "This City needs development and a high level of density and a constant flow of new business to support its residential population and provide jobs," is the way he said it at a recent campaign event at the Laughing Man Tavern downtown. The former head of Ward 2 Democrats and Logan Circle Community Association was for transit-oriented development, streetcars, bike lanes, the environment and a high level of density, including looking at loosing federal building height limits "in the outer fringes of the city…not in the central business district and monumental areas."
But now we will never know if there was a constituency for this pro-business message.