Cut It Out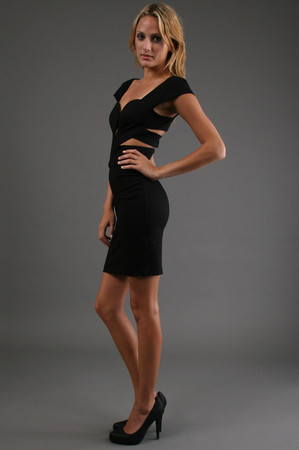 Looking from afar, I can't help but think someone took scissors to this dress and cut out a bunch of holes! Then I wonder, how on earth could this look good on me?!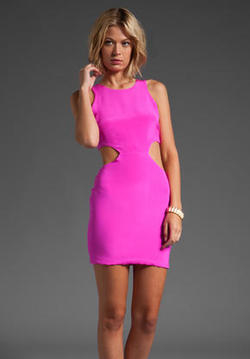 Well, these dresses seem to be all the rage right about now and are truly perfect for the sizzlin' summer months. The key is to find one that compliments your figure and shows off the amount of skin you're comfortable in showing off.
The featured black cut-out dress above is great for a night out on the town with friends or a vacation getaway and is available at Couture Candy.
There are varying degrees of sexiness you can go for with this style of dress - jump off the deep end and opt for a dress with cut-outs in the torso area, like the hot pink one shown, available at Revolve Clothing. This color will compliment your summer glow fabulously and paired with a sexy pair of open-toe nude heels and you'll be too hot to trot!
That's not to say that showing more skin will make you look sexy, but rather snippits of skin shown in unexpected places showcased in a tasteful way can be very hot! They're also highly functional in these humid summer months where we continue to sweat even when the sun goes down here in the Nation's Capital.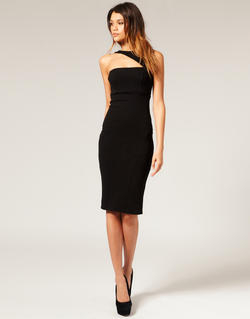 If you're going for a medium-hot temperature with your cut-out dress to wear for a date night out with your love, but don't want to be too over-the-top, try a dress with a cut-out neckline, like the black dress shown, available at ASOS. I love this dress because it offers the classic shape of a figure-flattering high-waisted pencil skirt with a unique and sexy open neckline. The dress also comes in a light tan color.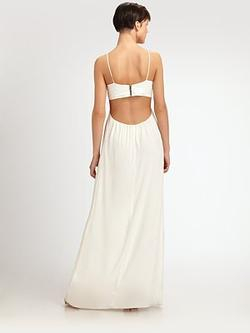 If you're looking to show just a bit of skin at an try a long dress with a subtle back cut-out like the cream-colored maxi dress shown, available at Saks Fifth Avenue. This dress will be sure to make heads turn and is certainly suitable for a formal summer soiree!
Remember that no matter what when choosing your cut-out dress, that it should compliment your figure. Not everyone works in the same style of cut-out dress, but as you can see there are plenty of different styles to choose from, so happy hunting!
XOXO
~MyDCStyle