A Culinary Journey With Chef Enzo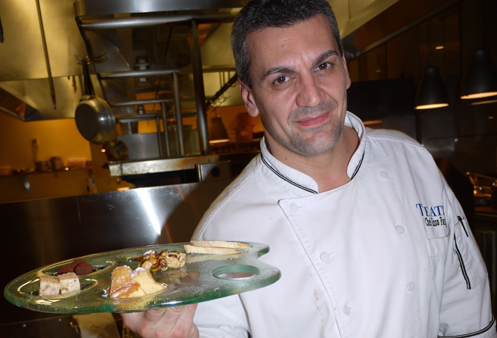 What does it take to turn cuisine into fine art? The clues take the shape of cones, clouds and arabesques at Enzo Fargione's Chef's Table at Teatro Goldoni.
It will be two years in March since Fargione arrived at Teatro Goldoni armed with the passion for cooking he acquired as a young boy (rather than play soccer, Enzo preferred helping his mother make gnocchi), and the talent to transform a fine Italian restaurant into high culinary art.
After finishing at the top of his class at The Culinary Institute of Turin, Enzo at 17 was recruited by two American restaurateurs to open an authentic Italian Restaurant in San Diego. From there, he came to Washington as Sous Chef at Roberto Donna's Galileo, and later joined his friend in a business venture that would recreate the idea of a Spaghetteria and Pizzeria and named it Il Radicchio. They opened in five locations in the area. Chef Enzo brought Barolo to Capitol Hill with his fine Northern Italian cuisine, and recently opened Atrium in Jupiter, Florida, where his innovative tapas-style Italian cuisine was awarded "Best New Restaurant" in Florida by the Palm Beach Post.
Since returning home to Washington, Enzo was named "one of four chefs to watch in USA in 2009" by Esquire Magazine and won three stars from Washingtonian Magazine's 100 Best Restaurants -- making him the best Italian chef, and Teatro the best Italian restaurant. In addition to revamping Teatro's Chef's Table, Enzo teaches young chefs, supports charity events, and appears regularly in the kitchen of James Beard House in New York.
With no predetermined menu and no shortcuts (everything is fresh and hand made) each dining experience at the Chef's Table is unique. Up to 18 different amuse bouche-sized courses are presented on a luxurious table of fine linens, Limoges china, hand-blown glassware, and paired with select wines from Italy, California and France.
What better way to embark on a world-class culinary journey than with a world-class journalist and longtime Washington social observer? I had the great honor of dining with Donna Shor last night. As most of you know, Donna writes the "Around Town" column for Washington Life, is a contributor to the Encyclopedia of Wines & Spirits, published articles on food and wine, and was a featured Washington hostess in Bon Appetit, Gourmet and House Beautiful. Her career as a journalist began during a 20-year stay in Europe, when she wrote feature stories for the Paris-based International Herald Tribune. Donna's writings on travel, personalities and lifestyles have appeared in a variety of publications, including the National Geographic and Esquire.
Cin cin! We began with my favorite drink, the dirty vodka Martini. Only this one, deconstructed with martini gel and Sicilian green olive foam, came with a spoon. Note to self: add molecular gastronomy to Enzo's many talents. With a little Ferrari sparkling wine, Donna and I were on our way.
The cornets (lightly sugared cones) arrived next with vinegar cured salmon belly, crispy fennel and California Osetra caviar.
Spinach foam, Manila clams, candied cherry tomato, caper berry and clam's broth poured from a tiny glass vessel was our next course. Then came the marinated wild Sockeye salmon filet with smoked spinach, crispy fennel, Sicilian green olives, pink grapefruit and licorice froth.
Gavi wine (from the Piedmont region's Cortese grape) was served with the porcini-dusted seared venison carpaccio with sherry vinegar dressing, wild (yes, sliced!) blueberries, chanterelles mushrooms, black truffles and parmesan shavings.
Before the Italian sushi roll with pickled carrot ginger is a good time to remind you to check out Enzo's Trompe l'oeil creations in the photo gallery before you leave.
White corn and parmesan cheese custard with red wine caramel was served next, followed by a snifter of roasted artichoke puree corn flake-like artichoke hearts in a black olive froth.
The finale arrived in 24 KARAT GOLD. Yes, really! Milk chocolate-coated virgin olive oil mousse lollipops were dipped in foccacia crumbs and gold shavings.
Each scrumptious "Appetite Opener" morsel with its seemingly contradictory ingredients was in perfect balance, leaving us with clean palates and ready for the next surprise.
Unbuckle your belt, we're about to start dinner!
Smoked Branzino carpaccio was presented in a cigar box, ready to be opened for us by Aziz, our wonderful server for the evening! Slices of goose liver, crispy brioche, balsamic vinegar gelato and hazelnut tuile came arranged single file on a long white plate. Butternut squash soup, spinach chestnuts, filled raviolioni, duck sausage, roasted pancetta, black truffles and Reggiano foam.
A lovely Barbera D'Alba joined us for the Maine lobster risotto and cherry tomato confit in a caviar tin.
Bread flake-crusted Coco salmon filet, acqua pazza arrucola pesto baby vegetable medley. (Of course I had to consult the written version of Enzo's special menu to be sure I don't leave anything out.) A glass vase contained braised veal cheeks in Port wine, crunchy corn, pancetta and mascarpone sauce, in a huckleberry broth.
A multi-compartment glass tea light holder was the chosen vessel for deconstructed sour apples with cinnamon fumes.
Ready for a little Vin Santo (Italian dessert wine) with 'breakfast'? Vanilla flavored pannacotta custard arrived sunny side up with virtual bacon and Enzo carrying an artist's palette of sweet samplings.
This was the most luscious trip ever, but don't take my word for it, see for yourself...
Buon Appetito!
Teatro Goldoni is at 1909 K Street NW. Tel. 202.955.9494. The Chef's Table meal is $125. per person exclusive of alcohol, taxes and gratuity.