Cruising on the New Norwegian Bliss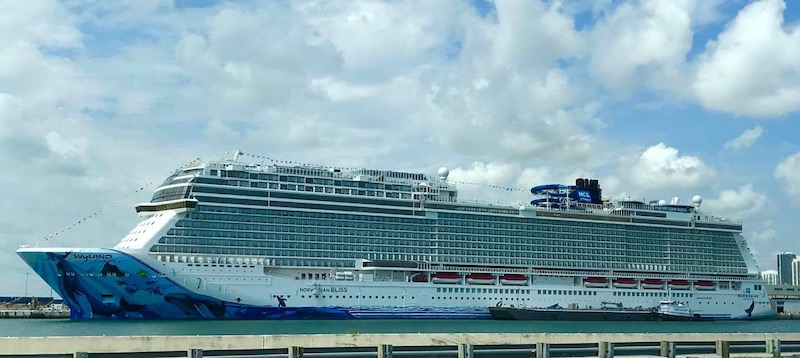 Embarkation day was here and upon arriving at the Port of Miami to begin my cruise to Los Angeles which would take me through the Panama Canal I had my first glimpse of the newest ship built for Norwegian Cruise Lines (NCL) the Norwegian Bliss. It is an impressive ship. Having been told boarding would begin at Noon my idea was to get a head start arriving at 11:15 only to find many others had the same idea. Considering all the people who would board that day, not only passengers but hundreds of visitors who were invited to take a look at the new ship before she set sail, all went really fast. Credit has to go to NCL staff. Only forty-five minutes after stepping out of my Uber and being met by a porter from the ship who took my luggage I was in my stateroom.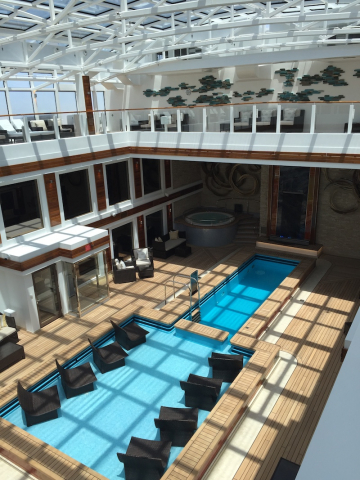 It was only on February 17th of this year that the Bliss was floated out from the covered building dock at the Meyer Werft. After a transatlantic cruise and a couple of days in the Caribbean those of us boarding in Miami were the third group to experience all this ship had to offer.
While the stateroom is small it is well planned. As a writer the first thing I noticed was there was no chair at the desk where I would put my laptop, rather only a small hassock. My room steward Derrick came to welcome me on board, introduce himself, and ask if all was ok. Turned out he had a great suggestion which was to use one of the chairs on my small balcony and he offered to remove the hassock from the cabin as there was no place for it once the chair was inside. His ingenuity was greatly appreciated. Friends who are traveling with me boarded shortly after and we made our way to the Garden Café, one of the apparently dozens of places to eat onboard. It offered a huge buffet with endless displays of very appetizing, and many very fattening, food. It was soon apparent we weren't the only ones hungry and again crew came to our rescue and suggested we take our full plates one deck down to the Observation Lounge to eat. The Observation Lounge is one of the most impressive rooms I have ever seen on a ship. I was to learn a little bit more about it from the Hotel Director Jovo Sekulovic who I would meet the following afternoon.
The travel agent who booked my cruise, Scott Moster, was already on board. He had been recommended by the friends traveling with me. He is incredibly nice and professional. He is from Houston and has a one-person business called My Lux Cruise. From the moment we boarded he and his husband were working hard to make the cruise great. They have a large suite in what is called The Haven, the most elegant part of the ship. His stateroom has a big balcony at the bow of the ship on deck 18. He invited us to a sail-away party in his suite. It gave me the chance to see how the other half onboard live and they live well. Not that everyone on the Bliss won't live well. Going into The Haven I was introduced to someone who said his name was Andy and who was holding the door open for a few of us. Seemed like a nice guy with a big smile and only later did I find out he was Andy Stuart, President and Chief Executive Officer, Norwegian Cruise Line. Would have been interesting to chat with him a moment.
The Haven has its own sun decks, swimming pool, dining room and lounges for passengers lucky enough and rich enough to afford those staterooms. One of the reasons I am on this fifteen day cruise is that it will traverse the Panama Canal and Scott has promised to host another party the day we go through the canal.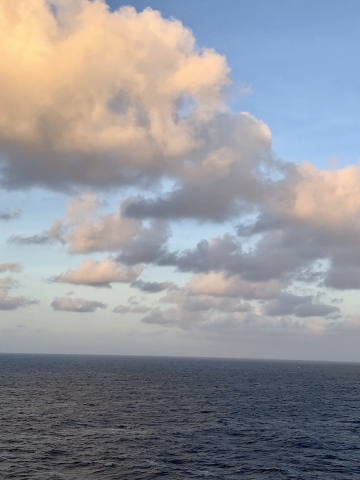 After the party my friends and I headed to an event that had been listed on the information page in our staterooms. Like nearly all cruise lines these days NCL lists a daily event for members of the LGBTQ+ community. On the Bliss it was funny to see it listed as Friends of Dorothy, LGBT event. Friends of Dorothy was how these events were listed many years ago before anyone wanted to use the words gay or lesbian. A group of young guys on the ship had no idea what that phrase meant. Maybe it's time to just list it as an LGBTQ+ happy hour.
In future columns I will share more about all the various activities and amenities on the ship. But I was grateful that Hotel Director, Jovo Sekulovic, took a little time out of his first incredibly busy day at sea to sit down with me and chat about the ship and his work. He is the person whose job it is to ensure the 4200 guests onboard are happy and having a great time; and that the 1700 crew members are both happy and doing their jobs. He is a charming man with a tremendous amount of experience. He shared that he first worked at sea in 1991 as a young man and fell in love with it. Before he took this job on the new Bliss among other jobs he worked for a number of years on the Norwegian Escape.
He also talked about the five years he managed a luxury resort hotel in Dubrovnik. He enjoyed it but kidded when he had the offer to go back to sea his wife told him all-in-all she and the family would see him more and get more of his attention if he was working for a cruise line than they did when he slept at home every night. As any manager of a resort hotel will tell you it is a twenty-four hour a day job without any real vacation. As Hotel Director on the ship he also has a 24 hour a day job but then with NCL he works four months and then is off for two. During those two he can totally focus on the family as he said it's a pleasure not being attached to his phone and waiting for the constant calls requiring his attention.
Most people on the ship may never meet Jovo formally, but without knowing it are seeing him constantly around the ship making sure everything is going well to ensure they enjoy their cruise. His office is behind the guest relations desk and I happened to chat with a couple a short time after my meeting Jovo who told me they had also met him when he personally helped them solve a small problem with their onboard ID cards. These cards serve as the key to everything including opening your stateroom door, ordering a drink, getting into the restaurants, and proof of who you are when getting on and off the ship for any excursion you might be taking at the stops the ship will make as we head to Los Angeles. They were clearly impressed that Jovo took the time to personally help them and ensure their cruise got off to a great start.
Walking around the ship investigating all its many nooks and crannies I took the opportunity to chat with many members of the crew. They have all been very professional and always shared a smile. As on every cruise I have taken the crew is from many different countries and speak many different native languages. But I think it is a tribute to Jovo who has clearly managed to instill a great esprit de corps in his crew on this ship in the short time it has been in the water. As an aside the NCL public relations department could take a hint from Jovo and the crew on the Bliss as to what it means to be helpful.
*/
Hopefully you will continue to follow my blog as I share my experiences on the Bliss as we make our way to Los Angeles where we are scheduled to arrive the morning of May 25th.