Crixus Hosts 'The Before Event'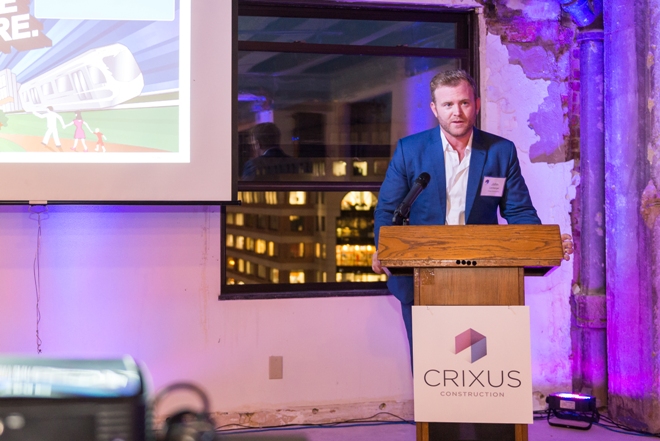 Last Thursday Crixus Construction, a fast-growing construction company owned by 29-year-old John Leinberger, hosted a "The Before Event," a networking cocktail party on an unfinished floor of the Ring Building in D.C.
As the sun set, Leinberger invited guests to enjoy a spectacular view of downtown D.C., and imagine what the space could look like after being transformed into a "dream office."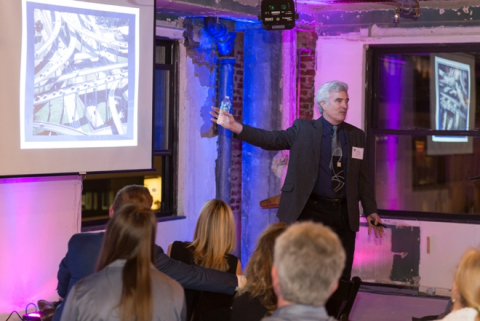 The barren setting provided a distinctly raw, urban feel, while blue and purple up-lighting and orchids (the colors of the new Crixus logo) added ambiance. Guests enjoyed drinks and appetizers while perusing posters featuring photos of recently completed Crixus projects. The floor offered guests a spectacular vista overlooking Connecticut Avenue and 18th Street.
Guest Speaker Chris Leinberger, John's uncle, a land-use strategist who teaches at the George Washington University School of Business, offered insight into real estate trends. His presentation included amusing references to predictions made in the cult film "Back to the Future," as he explained the correlation between walkability of a neighborhood and real estate value per square foot. Chris shared his projections about the concentration of economic growth in a tiny percentage of available land, citing recent developments in Tysons Corner, VA and Pike & Rose in North Bethesda, MD.
Notable guests included Bob Pincus, Vice Chairman of Eagle Bank; Bob Milkovich, Executive VP & COO of First Potomac Realty Trust; Justin Clark of Clark Architects; and Howard Bomstein, Advertising Manager for The Washington Post.
Chris Leinberger is President of Locus, author of "The Option of Urbanism, Investing in a New American Dream," a Senior Fellow at the Brookings Institution, and founding partner of Arcadia Land Company, a new urbanism and transit-oriented development firm.
John Leinberger is a graduate of George Mason University with a bachelor's in economics. He founded Crixus Construction in 2012 at the tender age of 26 and has since expanded operations throughout the D.C. metro area.