Crime on the vine: Burgundy fields forever?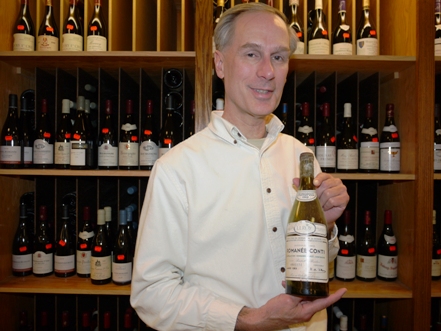 I didn't need a recent Vanity Fair expose on the poisoning of La Romanee-Conti's centuries old Burgundy vineyard to stir my interest in Pinot Noir, the Holy Grail of Wine. But it did make me want to find out more from my leading authority in Washington. When I visited Mark Wessels at Addy Bassin's MacArthur Beverages, he had just returned from his annual sojourn to Bordeaux. But we'll save that for another time.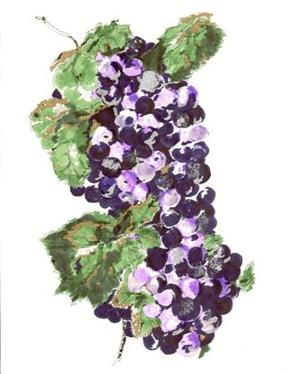 Last year, a French blackmailer attempted to extort two million dollars from the estate of Romanee-Conti, a sacred postage stamp-sized plot of soil where some of the world's most expensive wine is produced. If the ransom wasn't paid, the vine stumps would be poisoned said the extortionist in his ransom letter, underscoring his intent by including a detailed map of the cherished vineyards. To prove he was serious, he had already doused a few vines with a chemical (which later proved non-fatal). Fortunately the plot was foiled with the help of police and phony ransom money. The man was seized during the pay-off and awaits trial.
In France, where all gastronomy and libation is serious business, this story was front page news. As a proud Francophile, I completely understand. But what I didn't know (and sadly, can't afford to properly find out for myself) is what exactly makes Burgundy, and particularly Romanee-Conti's wine so special.
As Mark Wessels explained, "First it's the super special terroir (land) in a climate with relatively low temperatures and a longer cooler growing season." There's also a mineral called montmorillonite in Burgundy which facilitates the plant's absorption of elements from the soil and helps produce "small compact clusters of grapes, high in acid, moderate in tannin, not very deep in color and delicately scented." Add very old vines, a controlled limited yearly production, and "small French barrels only for serious Burgundy; no Yugoslavian oak at Romanee-Conti" and it's a recipe for a "finer rendition, more precise, more focused Burgundy." Unlike California, Wessels added, "where higher temperatures create a higher alcohol content which can lead to making fat, flabby wine."
On only 4.46 acres, Romanee-Conti produces a mere 500 cases a year. When it takes three vines to make one bottle, it's not surprising that a good vintage ("Does Romanee-Conti have any bad years?) can fetch as much as a small summer home in the Hamptons.
Granted, it was empty, and on a shelf too high for me to reach, but I spotted a bottle of 1962 (a VERY good year, I was told). At more than $5,000 a bottle (if you can find it) alas, I knew that any vertical Romaine-Conti tasting (tasting different vintages of the same wine from the same winery) was not in the cards.
But I did get some invaluable tips for enjoying affordable Burgundy wines.
First, Burgundy Appellations 101:
It started with only two in 1415 when King Charles VI declared in an edict that wines produced in Bourgogne were to be divided into "high" and "low." Since the early 20th century the territories are composed of "climats" (small villages) that include: Beaune, Chablis, Nuits, Meursault, and Pouilly-Fuisse.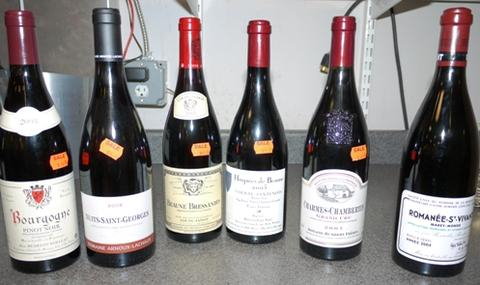 Now for the three main grades and Mark Wessel's recommendations:
1. Grand Cru Only 32 vineyards within the Cote d'Or and Chablis sub-regions. A Grand Cru wine label includes vineyard, appellation, producer/domaine, vintage, volume and bottling information. If the label says Monopole, it means the producer own the entire vineyard.
Charmes-Chambertin, Domaine Hubert Freres 2007 $89.99
2. Premier Cru About 600 vineyards merit this communal appellation. Designates wine from a single vineyard. The label includes name of the village, followed by the name of the vineyard.
Beaune Bressandes, Louis Jadout 2005 $49.99
Volnay -Santenots, Hospices de Beaune 2005 $79.95
3. Village Produced from grapes grown in vineyards of lesser quality than Grand Cru or Premier Cru.
Nuits'-Saint George Domaine Arnoux-Lachaux 2008 $34.99
Bourgogne Rouge and Bourgogne Blanc (under Village in grade) includes rose, sparkling wines and 'lesser' grapes like Gamay and Aligote
Bourgogne Pinot Noir, Hudelot-Noellat 2008 $14.99
For more information about wine, visit Addy Bassin's MacArthur Beverages at 4877 MacArthur Boulevard. Tel. 202.338.1433.