Crepe Amour, please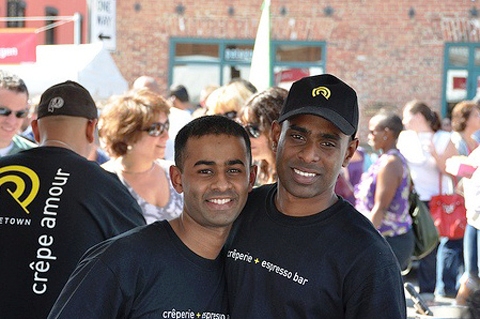 Sri Suku is part of a family that's been in the food business for decades. He grew up in Georgetown, witnessing first-hand his mom and dad's business, which has been around 25 years. It started with Indian restaurants around D.C . and over time more have evolved. When the space at 3291 M Street in Georgetown opened up, it was only natural for Suku's family to claim it. Coming from a diverse, ethnic Indian restaurant business background, they were interested in creating a more fun, easy, fast, casual concept for food. Thus, the idea for Crepe Amour, a creperie and espresso bar, was born.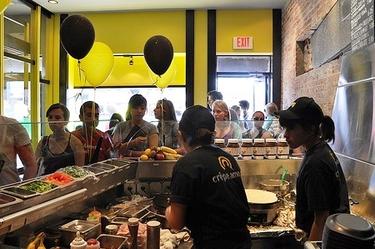 "This is a place for the neighbors, by the neighbors. I'm not so much of a commercial guy … I like the neighborhood feel, the old feeling," Suku said.
The M Street location has two floors: upstairs has a sit-down table service and is more of a college, bar scene, while the downstairs attracts more tourists.
Suku says they got the idea for crepes because in Indian cuisine, dosas (crispy pancakes) are a specialty. Dosas come from the southern part of India, which is Suku's family's cuisine. Dosas are similar to crepes, and Suku and his team decided to take this concept a step further.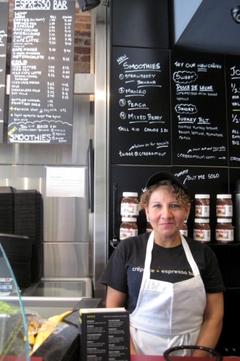 "We spend a lot of time on our batter. Lots of places use flour and water, but I think our batter stands out. That crisp, golden brown … it's all good stuff. We don't cut corners."
Savory or sweet, they've got both. Crowd favorites include: "The Georgetowner," (scrambled eggs, bacon, and cheddar cheese), "Bananalicious," (hazelnut chocolate and bananas), and the "Nutty Buddy" (hazelnut chocolate, peanut butter, and Reese's crumbles). Crepe Amour places creative twists on the typical crepe. For example, one could order a Tandoori chicken crepe, or one with macaroni and cheese. Are you hungry yet? Coffee, which Suku says they spend a lot of time on, and smoothies can also be found at Crepe Amour.
Kids and students come through for dinner, but Crepe Amour is a late night place, too, open until 4:00 am, which is great for its proximity to Georgetown University.
"One of the coolest things is that I can relate to a lot of our customers … I can relate to students," Suku said that he would rather talk to and know his customers.
Crepe Amour is interested in continuing their expansion to cater to college students. They'd like to do more promotions during exams, like free coffee for students. The company is already social-media heavy, but that is something they would like to expand further. Students and locals alike are encouraged to follow @CrepeAmour on Twitter for daily updates.
Crepe Amour has 'College Mondays,' where every crepe is half off for students with a valid student ID, and 'Retail Wednesdays,' which allow Georgetown employees to receive half off crepes.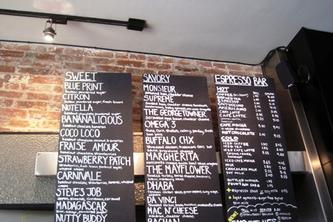 Crepe Amour collaborates with the Georgetown BID, but on its own offers baby showers and bridal showers, along with a variety of catering services including birthdays and graduation parties, retail/product launch events, corporate events and happy hours, university fundraisers, and weddings.
Crepe Amour is located at 3291 M Street. Tel: 202.625.6625