Create Your Holiday City Garden - In Pots!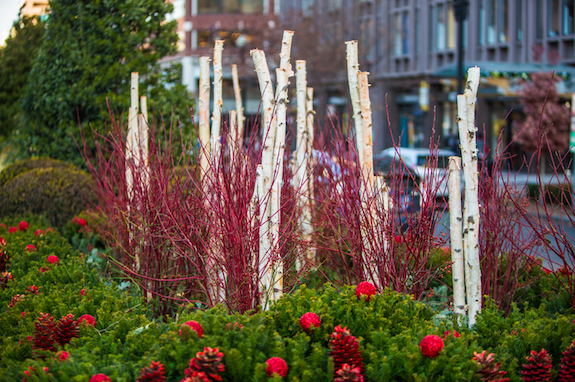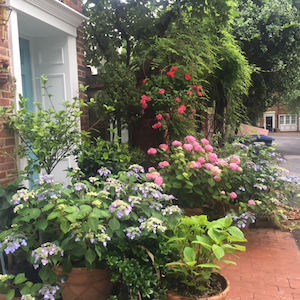 This is the first part of my series on container gardening, because not only is being in nature, among trees, flowers, and fresh air, beautiful - but it is also critical for your physical and mental well being. And, of course, you can create your own bit of nature on your own deck, front stoop, or windowsill... even through the winter, which can be especially challenging, but exciting! I've been inspired by my Swedish mother who literally created forests wherever we lived, including today on her condominium's back deck. Here's how you can do it... and stay tuned for more ...
Being a city girl - without a yard - I've made it my mission to create a beautiful and lush forest boundary, every season of the year, separating my home from the city's stark pavement just a few feet from my front door, and from the city's grit, trash, noise, wires, meter boxes and pollution. How? Now that I'm on my third container garden, I've realized: Anything can grow in pots! Who wouldn't love having a beautiful lush garden year-round no matter your circumstances? Imagine... sipping your coffee with the paper, looking out onto a serene sea of nature - from your own townhouse, condo or apartment!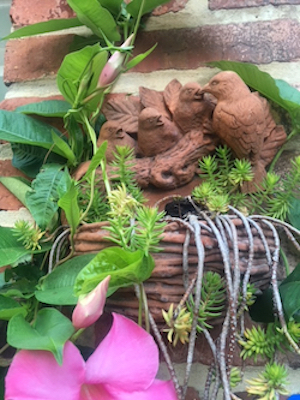 Would you believe I have filled my container gardens with huge evergreens such as six foot magnolias, mountain laurels, hollies, and boxwoods, with heavenly bamboo, and succulents. Also, deciduous trees and shrubs including a ten-foot weeping willow arching over the walkway to one of my decks, pink and white variegated Japanese maples, pink, blue, lavender and white hydrangeas, violet azaleas. All mixed in with an abundance of annual and perennial flowers and herbs. I concentrate on varying shades of green, contrasting textures, and diverse sizes of leaves and plants. I focus on pinks, blues, and lavenders for subtlety, which I beieve is more pleasing in a small garden.
Even if you only have a deck, a front stoop, or a few feet of brick, you don't have to lose out on this essential pleasure. You can create your own "secret garden."
"A garden is as necessary to the human spirit as water and food are," wrote Rebecca Cole in her book, Potted Gardens: A Fresh Approach to Container Gardening. "A garden is a place where much more than a seed can grow. It is a place of solace, exploration, and experimentation," wrote Cole. And research bears this out.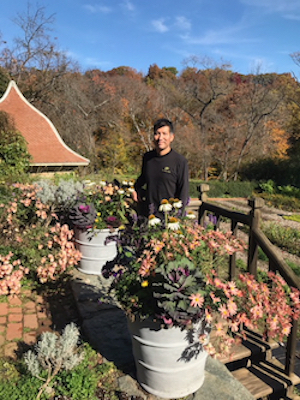 Studies show being among nature is critical for your health. For one, it "enhances immune function," according to a study in Frontiers in Psychology.
"The benefits of nature span a remarkable breadth of health outcomes with evidence for ... reductions in ... all diseases ... from cardiovascular disease, improved healing times, self-preceived general health, reduced stress, reduced respiratory illnesses and allergies... a reduced risk of poor mental health, improved social cohesion, and improved cognitive ability," according to the American Journal of Public Health.
Take these first 5 steps to creating your Autumn container garden, according to Luis Mármol, Horticulturist and Garden Designer:
1. Drainage: Either make sure your pots have plenty of holes on the bottom, or if there is only a small hole, raise the level of the pot with bricks, a piece of slate, or anything that will help the water drain through more freely. Potted plants need to be watered frequently, even through winter. If they dry out, since their roots have nowhere to go to find moisture, they will die quickly. If you don't have enough drainage, all of this watering causes deadly root rot, a common problem in pots. Proper drainage also wards off freezing the pot. This is especially important when you have expensive terra cotta containers.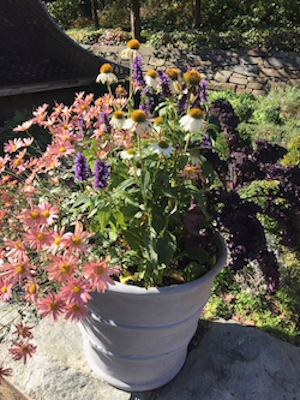 2. Mulch: It will protect the tender plants through the winter, but different plants might need particular protection. Surround tender herbs with gravel to help protect them from the cold winter and promote drainage. Use shredded leaves around the base of trees and shrubs, trying to keep the trunk free of mulch. "Don't create a mulch scarf for your tree," says Luis. For rosemary, if it is in one single container, place 3 or 4 bamboo sticks on the edge of the pot, then wrap the pot with burlap, making sure the top is open so the plant can breathe while reducing the chance of freezing. If the plant freezes, the strong winter sun, unprotected by tree canopies, can destroy the plant. An analogy Luis likes to use, "In the summer, you wake up with the drapes closed, but in the winter, the drapes are open."
3. Be Bold! "Think outside the 'container!'" as Luis says. Use colorful gourds, hay, cornstalks, pine cones or turkey feathers for Thanksgiving. Make the holiday theme be your temporary blooming flowers. Try holiday bulbs and use strings of lights through the darkness of winter. Add white birch branches to brighten, or red-twigged dogwood branches for colorful contrast, as did the Golden Triangle Business Improvement District (BID), "stretching from in front of the White House to Dupont Circle," an organization for which Luis consults. Make sure your decorations are organic. Avoid plastic, as it can crack or fade and make your display look less natural.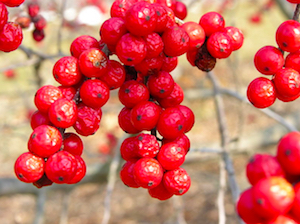 4. Color: Think of adding colorful seasonal peppers which last until the first frost and straw flowers, which tolerate some frost. Plant violas because they will come back in early spring (as opposed to pansies that are not as reliable). Protect the root systems with mulch, which could be as simple as shredded leaves.
5. Think ahead: Include plants that will bloom through the winter or will have winter interest, such as Skimmia, Heather, and Kale. Evergreens are important for your winter garden, and do well in pots, but keep them interesting... Little Gem Magnolias, Mountain Laurels and Boxwoods. Soft Touch Hollies and Nandinas splash red berries through winter, Sweet Box display fluffy white flowers, Pyracantha sport bright orange berries (but watch out for thorns!) ... I really love evergreen ferns, which can be placed wherever you need fillers, and to hide less attractive pots.
More next time ...