Coyote artist returns to P&C Art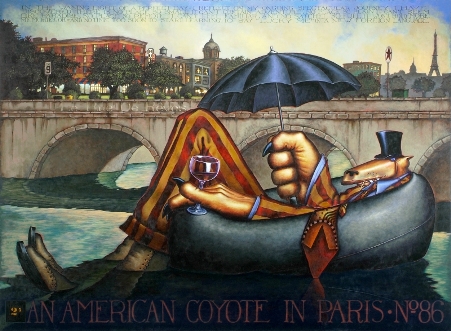 The inimitable "Coyote" artist, Markus Pierson will be back at P&C Art on Saturday, April 30, 2011 from 6:00-9:00 pm. This event marks the 25th anniversary for the artist and 36 years in Georgetown for P&C Art.
Included in this exhibition are many of the artist's finest mixed-media works, drawings, paintings and sculptures. In addition to offering his remarkable collection of imaginative, quirky and compelling artwork, the artist will present, in his own unique manner, a collection of stories, from his own life, sure to entrance listeners. Pierson's work is part of P&C Art's permanent collection but this special exhibition of his work will be on display for only 2 weeks.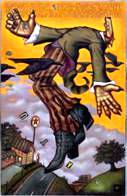 "It was just another day, nothing special. I was just cruising along, being alive, feeling the weight, when all of a sudden - the weight was gone. I floated up in the air, my soul as light as a feather. Euphoria - out of nowhere and for no apparent reason. It felt like a tiny bit of Saturday. Oh, how I love Saturday, and life being as it is, you've got to hold on tight to your bits of Saturday whenever they come, and on whatever day." - Markus Pierson
P&C Art is located at 3108 M Street. Tel: 202.965.3833