Councilmember Wells Helps Kickoff Library Book Sale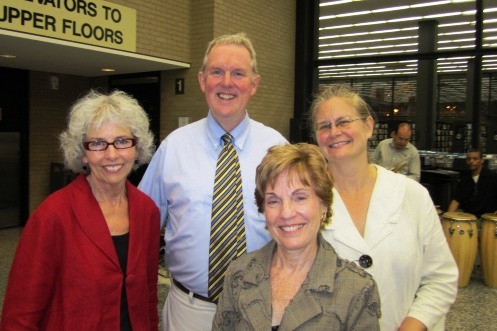 Hardcopy, ink-on-paper books are supposedly on the way of Saturday mail delivery and hard-wired telephones, but you wouldn't know it Thursday evening. Despite steady, heavy rain, there was a line to get into the kickoff reception and preview for the 9th Annual Fall Book Sale put on by the Federation of Friends of the DC Public Library in the Great Hall of the Martin Luther King Library, G Street at 9th, NW.
The booklovers, readers, collectors and dealers hurried to find that special low-priced book in the bookcarts and take to the checkout counter to pay. On their way in, hey were greeted by Robin Diener, organizer of the event. Councilmember Tommy Wells, chair of the Library, Parks and Recreation and Planning Committee was introduced by Ms. Susan Haight, head of the Federation of Friends of the Library. the councilmember promised vigorous advocacy by his committee and personal involvement in book reading.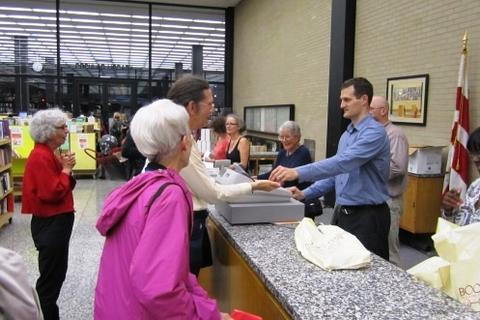 And Ginnie Cooper, chief librarian, circulated in the crowd while all enjoyed a generous spread of wine, cheese and hors d'oeuvre donated by CairoWine and Liquor, Pana's Gourmet Empanadas and Policy, Zaytinya and Busboys & Poets restaurants.
"It warmed the cockles of my old bookish heart, said Georgetownbook-fan Marcia Carter, the co-owner for 35 years of Booked Up, the former rare book store on 31st Street. "The books were to easy to look at. It made the MLK Library a very happy place, especially with the music. I hope it becomes and annual event"
The various branch libraries will have their own Saturday sales: October 1, Tenley, October 8, Southeast, October 22, Cleveland Parkand West End and Woodridgein December.
The Thursday MLK sale raised more than $2,000 to benefit the summer reading program and the collection operations of the Library.