Councilmember Cheh, the constituents' crusader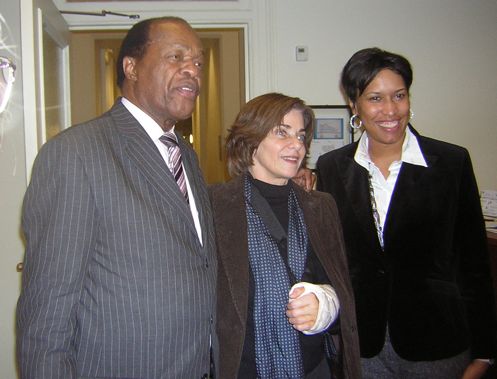 Second in a series.
An icy wind threw knives as the winter sun dropped into sub-freezing darkness, but it didn't stop dozens of Ward 3 activists from trekking down to the John A. Wilson Building on Pennsylvania Avenue to celebrate the inauguration of Councilmember Mary Cheh, their newly re-elected representative, at an early January open house in her office.
Neat squares were cut from a grocery-store-style sheet cake and a $2.99 Chardonnay from Whole Foods -- not quite chilled -- was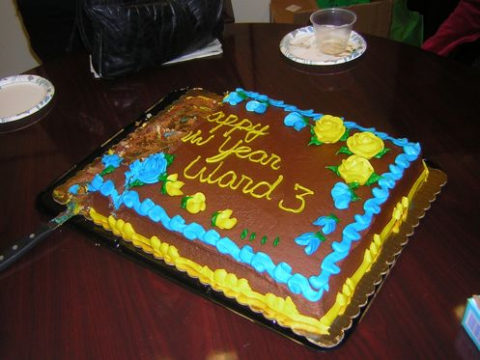 poured (self-serve) into plastic cups. But the lack of fancy trappings didn't hamper the party. Matching the style of the Councilmember, utter simplicity seemed part of the point.
Mostly white and casually dressed, community activists peeled off parkas as Cheh murmured in the hall with Councilmembers Marion Barry (Ward 8) and Muriel Bowser (Ward 4). The two Councilmember well-wishers could not demonstrate a clearer political contrast with Cheh's fans or with one another, for that matter -- the old lion, former mayor, federal prisoner and Civil Rights hero standing next to the clean-scrubbed, upwardly-mobile young woman elected on the coattails of her mentor and Ward 4 predecessor, Adrian Fenty.
Mary Cheh seemed equally at ease with all.
"She's more than our Councilmember, she's a friend," said Barbara Lappin, an elected Democratic party delegate who supported Cheh, 60, when the George Washington University law professor first ran for Council, and hasn't wavered since. "She's very honest, very astute. She's brilliant. Did you hear her speech? It was the most global, statesmanlike speech of the whole Council. She talked about democracy -- above and beyond the mundane."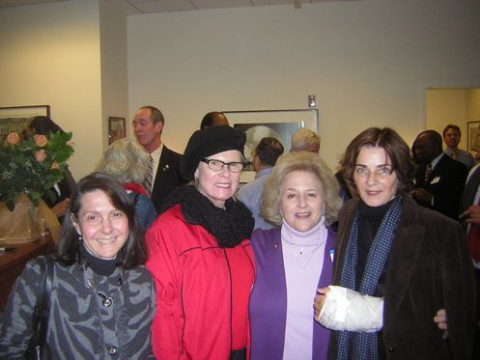 "I think Mary Cheh is one of the most, intelligent, forward thinking Councilmembers to serve on the City Council," echoed MaryAnn Miller, an activist from Van Ness.
"You may not always agree with her. Like the bag tax. I didn't agree with it at first," says Lappin. "Sometimes we think, 'Well that's Mary.' I may not think it's the best piece of legislation, but I understand her thinking. I respect it."
They admire her her ability, her education and her poise. "She knows how to talk to Ward 3," says a longtime political observer.
Yet, Cheh is not known for great legislative initiatives or victories. Her recent high-profile legislative accomplishments include a healthy foods bill aimed at children -- the funding mechanism for which, a proposed soda tax, was roundly defeated -- and The Wildlife Protection Act, which "creates basic protections for wildlife and residents to ensure responsible and humane practices" in the case of animal removal.
Cheh has not made her mark as a constituent services crusader, either. Elected the same year as the double-Blackberried Mayor Adrian Fenty, standing out in that arena would have been difficult.
Yet despite a bit of shyness, Cheh warms in conversation with individuals and courts small groups of consituents at her "Chats with Cheh" around the Ward. She is interested, listens closely and genuinely seems to want to help.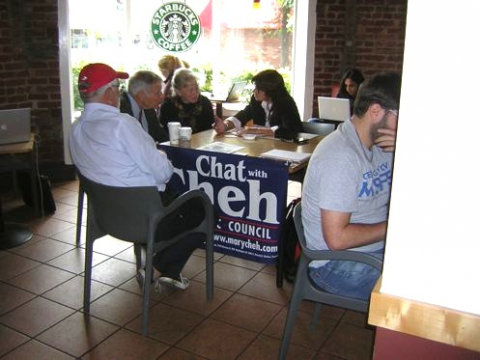 But it is her willingness to stand up with quiet determination against misused power and arrogance that lifts her out of the Council melee and attract fans who become life-long allies. "I admire her so much for standing up to Adrian Fenty's dishonesty," says Lappin. "She practically did it by herself."
Lappin is talking about fraternity brother cronies and controversial Attorney General Peter Nickles, who even deceptively thumbed his nose the city's residency requirement. "When they voted in Nickles, Mary was practically the only one who said, this is not good for the District," Lappin continues. "She's not afraid to tell you how it is or disagree."
But her support for longshot mayoral candidate Vincent Gray and the financially shaky Kwame Brown -- now Council Chairman -- were bet-the-company scale wagers that could have cost her enormously had she not come out a winner, and now offer unprecented position and potential.
"It was a courageous position she took," says Lappin. Indeed, Ward 3 was one of the few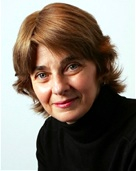 areas, along with Georgetown, where incumbent Mayor Fenty maintained strong support until the final votes were cast. "People disagreed with her," said Lappin.
The Washington Post wrote an unusually bitter editorial endorsing Cheh's Republican challenger, using the word "graceless" to describe her criticism of controversial schools Chancellor Michelle Rhee. "Ward 3 can do better," the paper fumed.
"I said, if you like Mary, if you respect her, you owe it to her to at least find out her thinking," recounts Lappin. "With Kwame Brown, there was some fiscal trouble. Mary had to explain it to people. He got caught up in the financial bubble like so many people did."
Her constituents, even if they differ with her, believe and respect her. "I have to trust what she says because she's down there working at the Council every day," adds Lappin.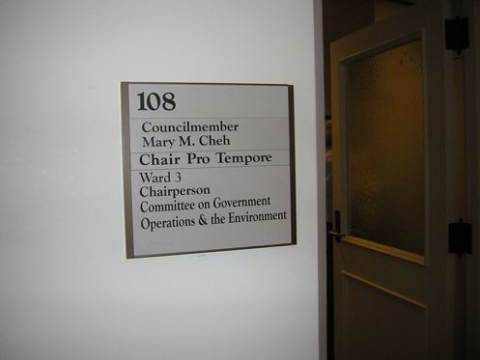 Cheh's promotion to Chair Pro Tempore, empowering her with the Chairman's authority in his absence, is a huge step up in profile, responsibility, and implied clout. "In one of his first official acts, D.C. Council Chairman Kwame Brown (D) on Monday removed member Jack Evans as council chairperson pro-tempore and replaced him with Mary M. Cheh (D-Ward 3)," wrote The Washington Post's Tim Craig. "The chairperson pro-tempore position is largely ceremonial, but Brown's decision represents a stinging setback for Evans (D-Ward 2), the longest serving council member. Evans, who declined comment on the change, has held the role for the past 12 years."
Some do not like the change, as it signals a significant reshuffling of power among 12 Councilmembers who need clout to win.
But it is not yet clear how or if Cheh will use her new authority. She has built neither a record of major legislative leadership nor a reputation for aggressive "good-government" oversight akin to that of colleagues Phil Mendelson (At-large), David Catania (At-large) and former Councilmember Sharon Ambrose (Ward 6). Nonetheless, comparisons to those respected veterans may be warranted.
"She's taken a big step," says one Ward 3 observer. "She needs a cause that resonates across the city like home rule, civil rights or good government. Her personality seems to be evolving in that direction. She's working with Councilmembers and doing things outside her ward." Whatever she does, it seems likely Mary Cheh will bring her fans with her. "She's been good to us, and generous with us," says Lappin. "She's included us in her entourage. I think AARP's magazine should do a story on her."
In this series, The Georgetown Dish examines the rise of Councilmember Mary Cheh (Ward 3).
Read Part I: "Councilmember Cheh: from fall to fastlane"
Next: A look ahead