Council holds up Gray noms questioned by Evans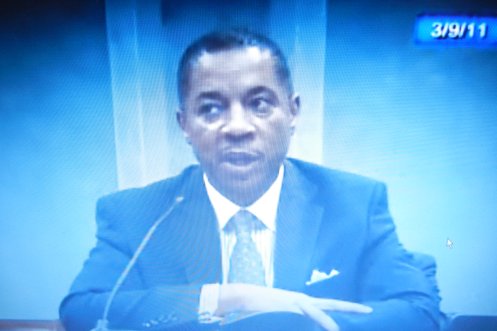 The D.C. Council held up the appointment of Gray administration appointee Lloyd Jordan to the powerful Board of Zoning Adjustment after Councilmember Jack Evans voiced concerns, The Washington Post D.C. Wire reports.
D.C. Council Chairman Kwame R. Brown (D) said Tuesday that the council was not going to immediately move on the nomination because residents have expressed worry about Jordan's experience and record in the D.C. government. Evans and Councilmember Mary Cheh reported an especially heavy volume of complaints after yesterday's report on Jordan by The Georgetown Dish.
My office "received an inordinate amount of emails because of how quickly this nomination moved," Evans said.
"I also received any number of emails with the concern about the speed" of the Council consideration added Cheh.
The Council action was praised by George Clark, head of the Committee of 100, a citywide planning and land-use organization. "The Council did the right thing," he said. "The short notice meant that citizens and citizen groups did not have an opportunity to weigh in."
Councilmember Phil Mendelson want a step further and asked Chairman Brown to postpone a vote on the second nominee, Nicole Sorg, that was also before the Council. "These nominations came to the Council less than two weeks ago and for us to be acting this quickly buys some unnecessary controversy," he said.
Chairman Brown promised to "hold another public roundtable to give the public an opportunity to come out and express their concerns."
Councilmember Marion Barry voiced his displeasure with the postponement. "It's not fair for Mr. Jordan that you take this off with no fault of his own," he said. "If we get into the habit of not moving ... people, then the public loses confidence of not doing this."
It's the second time in a week that the council has balked at one of Mayor Vincent Gray's appointees after Evans expressed concern. Last week, he announced that the Committee of Finance and Revenue was indefinitely delaying a vote on whether to appoint former campaign chief Lorraine Green to the Convention and Sports Authority. Green is at the center of allegations that Gray campaign officials paid Sulaimon Brown to attack former Mayor Adrian Fenty last year at forums and debates.
Green has denied the allegations and the Washington Post could not independently verify that payments were made.
Jordan, a well-known attorney and consultant, was a key strategist on Gray's successful primary campaign, reports D.C. Wire. But Brown and other council members stressed that their decision to hold up the nomination for at least month had nothing to do with the mayor.