Couching on Capitol Hill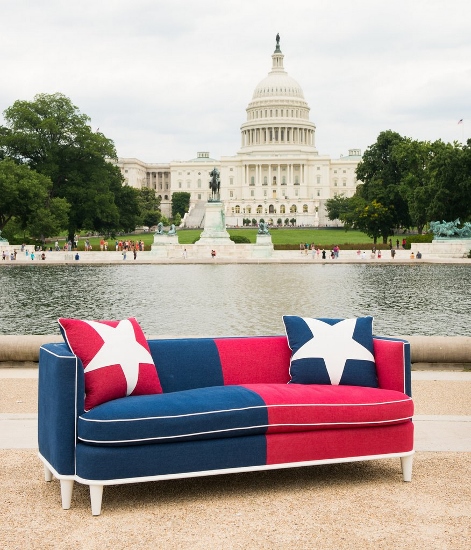 Neither an elephant nor a donkey was around to have a seat on this flashy sofa but, as intended, the PR gig did get some congressional derrieres.
Here's the story line: This red and blue bipartisan Made In America sofa was parked at the U.S. Capitol to showcase a campaign effort designed to: (1) call attention to job losses on American soil, and, (2) close the divide, at least for a while, between political parties.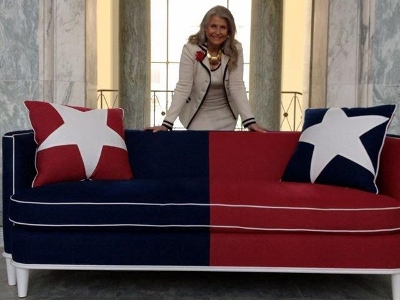 Members of all political persuasions were invited to sit on the sofa in a show of unity.
High-end furniture manufacturer Edward Ferrell + Lewis Mittman, winner of the 2013 "Best" MADE: In America award, handcrafted the sofa.
"Our manufacturing facility is located in High Point, North Carolina, where many, many companies have had to shut down or give in to overseas manufacturing," said Gregg Arrington, VP of Operations.
The Couch in Congress project was done in partnership with MADE: In America, a non-profit educational organization based in Washington, D.C. Although there wasn't a scramble to do so, a few members did pose on the sofa at the Rayburn Building foyer during the three hours it was displayed there last week. No political deals were reached—but it was a sofa, not a love seat.
MADE: In America, chaired by James DeLorbe, aims to foster a business climate conducive to the free exchange of ideas and information for the purpose of revitalizing and sustaining the competitiveness of American commerce and industry in a global economy.
MADE: In America is comprised of business leaders, public policy makers, educators and citizens dedicated to designing and articulating a new way to promote American enterprise.