Corcoran Announces Plan to Save the Nonprofit Art Institution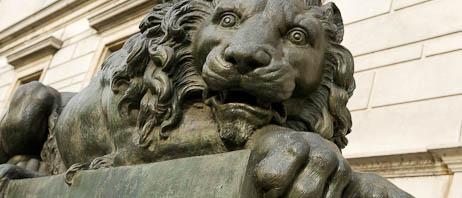 Corcoran Gallery of Art's Interim Director and President, Peggy Loar announced Wednesday a plan that would save the country's oldest privately supported art museum. The Corcoran, which first opened to the public in 1897, has been struggling financially and considered moving to the suburbs.
The deal with the National Gallery of Art and George Washington University (GW), which needs approval by the boards of the three institutions, would mean that the Corcoran's art collection would remain in its current 17th Street building. Corcoran's 124-year-old Corcoran College of Art + Design, one of Washington's only professional colleges of art, would continue to operate, but under the auspices of George Washington University.
In an open letter, Loar explained, "The collaboration would raise the stature of arts education in the District and expand the benefits, services, and interdisciplinary opportunities that both the National Gallery of Art and GW provide to students, museum-goers, and the Washington community.
Our three institutions are now entering a working period to set the definitive terms of a collaboration, under which the Corcoran College of Art and Design would become a part of the George Washington University. GW would operate the College, maintain its distinct identity, and assume ownership of, and responsibility for, the Corcoran building. The National Gallery of Art would organize and present exhibitions of modern and contemporary art within the building under the name Corcoran Contemporary, National Gallery of Art."
"All of us at the National Gallery of Art are excited at the prospect of working with the Corcoran and George Washington University in a unique collaboration that ensures the Corcoran legacy, keeps the core collection in the nation's capital and offers great opportunities for exhibitions of contemporary art and programming," said Earl A. Powell III, Director, National Gallery of Art.
"The George Washington University will work with the Corcoran to create a world-class arts education program in close affiliation with the National Gallery of Art. Such a program, situated in this iconic Washington landmark, will offer unparalleled opportunities for students and scholars, and provide a powerful new focus for the arts in the heart of the nation's capital,"said GW President Steven Knapp.
If the plan is implemented, all Corcoran exhibitions will be free to the public. Currently, there is a $10 adult admission fee.