Construction Zone Pulled From Park Entrance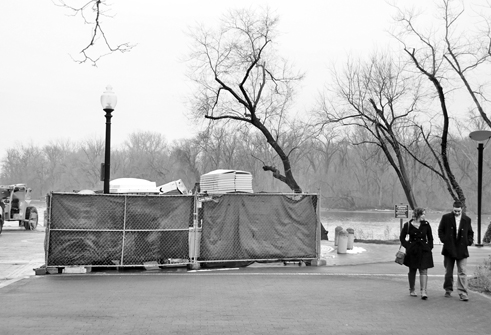 By Brady HoltCurrent Staff Writer
After spending well over a year occupying prime real estate at a riverside entrance to Georgetown Waterfront Park, an enclosure of construction materials was removed last week, as the D.C. Department of Transportation declined to renew a public space permit for it to remain.
The fenced site was originally on National Park Service land across from the Washington Harbour but was subsequently moved closer to the street into the city-owned right-of-way, according to Bob vom Eigen, president of the Friends of the Georgetown Waterfront Park.
Contractor Consolidated Waterproofing held a permit through Feb. 6 to use the spot, according to Transportation Department spokesperson Monica Hernandez, but overstayed it. The area, just feet from the Potomac River, was enclosed by a chain-link fence and green tarp, and marked "construction zone — do not enter."
The enclosure held a trash bin, a pile of materials, a portable toilet and, according to vom Eigen, sometimes parked cars.
The result: "an obvious eyesore," especially after the park finished its own construction in September 2011, vom Eigen said.
"There's no reason why [Washington Harbour] can't keep its materials on its own land," Stephen Crimmins, another park activist, wrote in an email to The Current last month. "You can't leave your car across the park entrance for your convenience, so why can they leave their junk there?"
Washington Harbour spokesperson Julie Chase said a condo owner at the complex was responsible for the site. "We have requested the materials be removed and have sought the support of other city government agencies to expedite its removal," she wrote in an email to The Current last week.
According to Hernandez, the Transportation Department had considered requesting that the construction staging area be "consolidated into a smaller and less obtrusive amount of public space." But public space manager Matthew Marcou said in an interview yesterday that the materials had already been there long enough.
"There was a permit, the permit expired, we issued them a notice to remove their material, and they did so," Marcou said.
The contractor applied for a renewal, but Marcou said that continued use of public space was "no longer warranted" and his agency denied the new permit. "We explained that their [earlier] occupancy was sufficient for their needs," he said.
Unlike some public space permits, temporary construction staging areas are determined by Transportation Department staff without public comment, according to Marcou.
Park activists said they were pleased with the result. Vom Eigen noted that he had been in contact with Ward 2 D.C. Council member Jack Evans' office. "I am not sure who did what, but the bottom line is great," he wrote in an email yesterday.
"This eyesore should have been removed long ago," added Crimmins. "We finally have a first-class waterfront entrance to this first class waterfront park."
This article appears in the Feb. 27 issue of The Georgetown Current newspaper.