Consider It Done Turns 20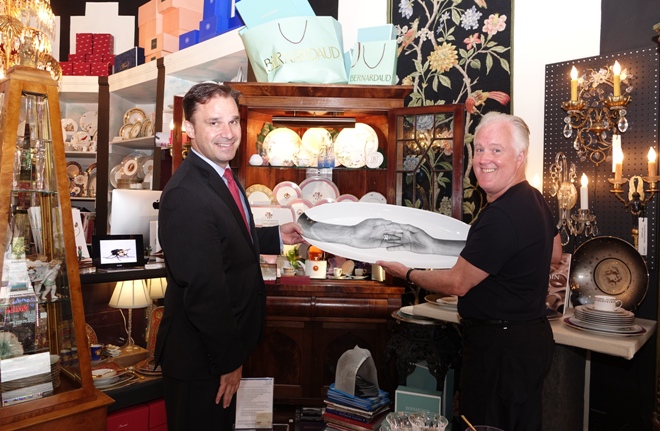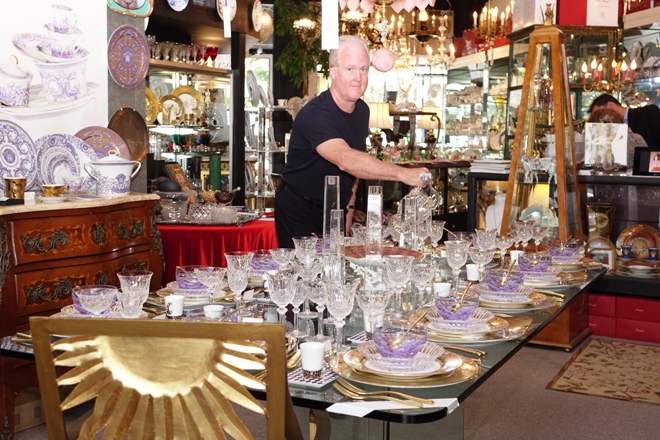 When The Georgetown Dish stopped in to congratulate Timothy Albrecht on 20 successful years at Consider It Done, it was a treat to find Bernardaud's regional sales manager, Yann Rowland there too.
For those not familiar with this treasure trove of museum quality tableware -- everything from exquisite antique and new porcelain and crystal to luxury lighting, Consider It Done is unique.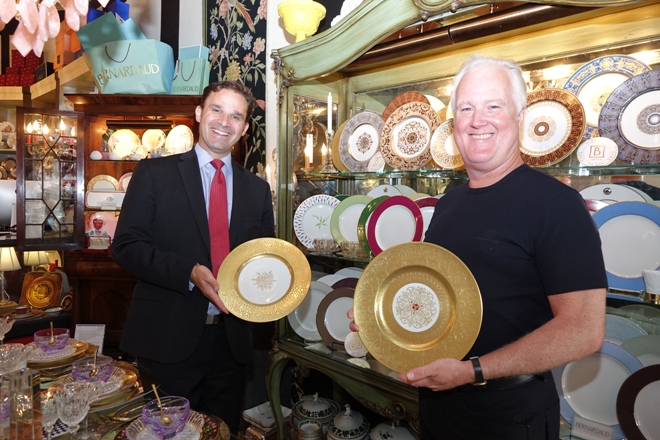 An authorized retailer of Baccarat, Crystal Saint-Louis, Bernardaud, Herend, Seguso, Versace and Moser, the shop is eye candy for the tabletop lover, but so much more. Thanks to the vision of its owner, who "concentrates on items that are art – that come from the soul and can be appreciated whether it's your style or not," there's a mix of Old World and modern at every turn. With decades of experience in showroom displays and interior design, Albrecht also helps clients find special pieces to update their own collections. "I believe in enjoying and using," he says.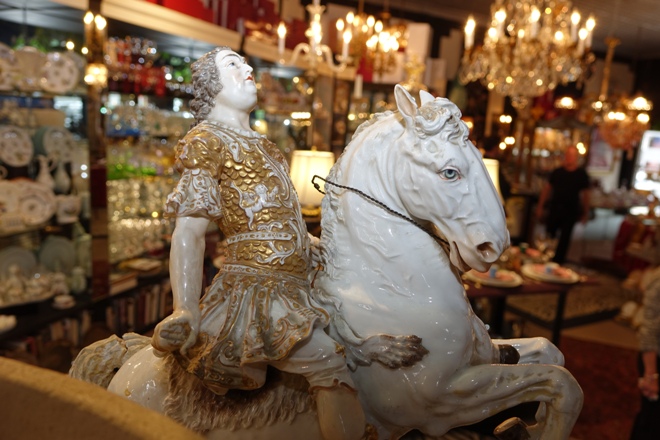 Since his start in the 1970s with a formal initiation into the culinary arts via an American Culinary Institute apprenticeship at famed Jean-Louis Restaurant in the Watergate, Albrecht hasn't left the table. "I've always been interested in the aesthetics and the food itself," this chef turned business owner/charity fundraiser/events planner explains.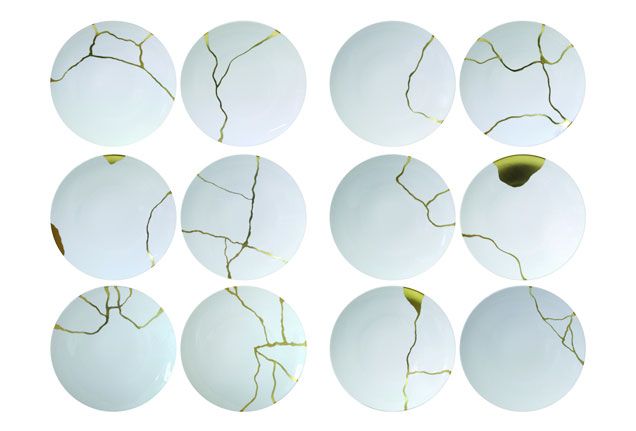 Partnering with family-owned Bernardaud means the boutique's walls are filled with this creative French company's plates.
To celebrate the company's 150th year, Bernardaud recently invited moviemakers, photographers and artists to express themselves through porcelain. One of the author's favorite designs is 'Kintsugi' by French artist Sarkis, an interpretation of the 16th century Japanese art of making visible repairs on ceramic with lacquer and gold. The collection includes 12 different plates and matching cups and saucers.
Dubbing it, 'charger cave,' Rowland explains that "every single service plate made by Bernardaud is carried here. Tim is the only one who has some of these pieces."
"We're very deep into the brands we carry," explains Albrecht. Dealing strictly with companies that don't outsource means Consider It Done carries only the world's most prestigious lines. "After Meissen, the hottest fired porcelain in the world is made by Bernardaud and Herend," he says. All the hand-painting will last. And last it does. Segusco (Murano glass) started in 1397, Baccarat in 1764, Herend has been active since 1829, Bernardaud since 1863 and Moser since 1857.
Consider It Done officially turns 20 on August 25th.
Consider It Done is located at 7806 Old Georgetown Road in Bethesda, MD. Tel: 301.654.8690