Connecting with Joe Sternlieb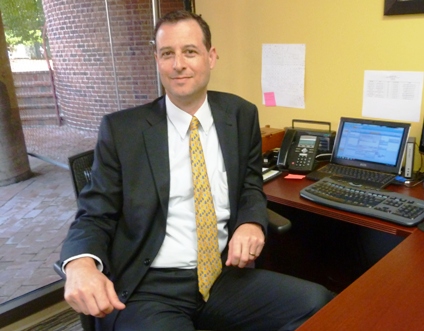 Day three in his new position as CEO of the Georgetown Business Improvement District (BID), Joe Sternlieb sat down with The Georgetown Dish.
"Spectacularly gorgeous, close to everything, incredibly diverse with a diversity of offerings … and portal to the C&O Canal," Joe's passion for Georgetown is matched only by his focus on the BID's biggest challenge: improving transportation and access.
"We're perceived as a place apart," explains Joe. "We need to improve transportation, and make getting here as easy as getting to Metro Center."
City planning is something Joe knows a little something about. A familiar and influential presence in D.C. since the 1990's, Joe began his career here as Staff Director of the D.C. Council's Committee on Economic Development where he managed legislative initiatives leading to the creation of the Washington Convention Center Authority, the MCI Center, Industrial Revenue Bond Forward Commitments. And, perhaps most foretelling, helping write legislation establishing the city's BIDS.
From there, it was a natural move to Deputy Director of the newly established Downtown BID overseeing economic development, transportation, physical improvements and homeless programs. Joe led initiatives including the DC Circulator, DC Wayfinding Sign System, and Downtown Homeless Services Center.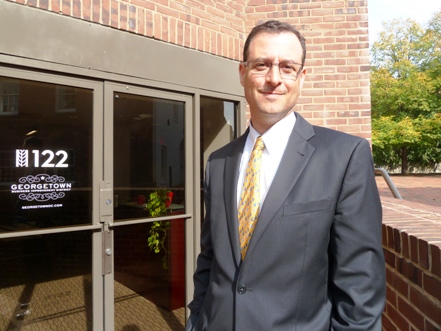 Now a popular and established mode of transport, the DC Circulator was an eight-year project that included endless testing of buses, signage and routes.
That kind of perseverance will come in handy as Joe tackles Georgetown's reviving streetcar system, working with the Mayor's Task Force. Ever optimistic, he says, "We'll have streetcars here in 10 years, maybe sooner … connecting Georgetown with K Street, Palisades and Georgetown University."
After 10 years, Joe left the Downtown BID to enter development as Vice President for Acquisitions at EastBanc, the Georgetown-based developer of high quality mixed use projects (including Cady's Alley) where he focused on the acquisition of transit- and service-friendly urban properties, mainly outside of Georgetown.
Encouraged by the level of occupancy and diversity of businesses here, Joe welcomes the news that T.J. Maxx and Home Goods are slated for The Shops at Georgetown Park. "Look at Friendship Heights, a nearby model," he says. "Neiman-Marcus and Bloomingdales … with Loehmann's and Nordstrom's Rack across the street."
When asked about the high rents forcing many small family-owned businesses off Wisconsin and M Streets, Joe expressed confidence in the region's economic stability, with flexibility to make room for pockets of new business growth, such as areas south of M Street.
"We've got 5,000 service sector jobs here that don't require a college degree. We need to connect employment centers with employees."
With over two decades of experience in city planning, Joe's learned that "tweaking little things can suddenly unleash enormous change." As he settles into his new job here, he's eager to "keep everything's that working well. I've always been lucky to work with people who are patient."
Before getting involved in local D.C. issues, Joe was the national grassroots coordinator at the Leadership Conference on Civil Rights, the national issues organizer at People For the American Way, and spent seven years working on nuclear arms control issues in New York and Washington. He holds a Bachelors degree from Connecticut College and a Masters degree in city planning from M.I.T.
Joe lives in Northwest with his wife and two teenage children who attend D.C. public schools.