Commentary: Has Fenty Campaign Turned the Corner?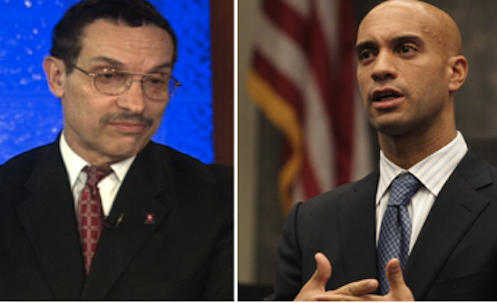 Mayor Adrian Fenty and his reelection team started to show signs of life again last week – after a somnolent campaign effort so far. In two end-of-week debates with D.C. Council Chairman Vincent Gray, Fenty delivered stinging, articulate attacks on Gray's Council actions, on his ethics and on his record as a top official in the Sharon Pratt Kelly administration.
The week began badly for Fenty. On Monday, The Washington Post delivered a long piece on the race in Ward 4, the mayor's home ward. It centered on "political matriarch" Ethel Delaney Lee and how she and much of the Ward have turned against their former favorite son.
But by Thursday, on the Politics Hour with Jonetta Rose Barras on WPFW 89.3FM, he was fired-up. Fenty hammered Gray for what he characterized as repeated failures as head of the Department of Human Services (DHS) in the Sharon Pratt Kelly administration and about Gray's ethical lapses surrounding a fence around his Hillcrest home, how the new D.C. Lottery contract was approved, and other Council actions.
The lucid, energetic Fenty of years past was on display again on Friday, at a morning debate sponsored by the Hotel Association Washington and hosted by NBC4's Tom Sherwood. At this session, Fenty brought up Chancellor Michelle A. Rhee, pointing out that she "has captured the imagination of the country" so how can Gray run for mayor "and fail to say what you are going to do with hiring or not hiring" her?
For his part, Gray gave as good as he got. He did not hesitate in his attacks, answering Fenty point-for-point, and throwing well-placed jabs. Gray assailed the Mayor for the "cronyism" of awarding city contracts to Fenty friends and fraternity brothers. The Chairman proudly defended his accomplishments at DHS during a very difficult time for the District government.
Gray, however, ended the week on a defensive, reactive note. On Friday, his spokesperson announced that a part of the fence had been removed, presumably to bring it into compliance with District regulations. Gray could have seized control of the issue much earliers by paying whatever fine was due, staging a media tear-down event at which he could have said: "When I make a mistake I admit it and take the consequences." He missed a chance to turn a minus into a plus.
As Katie Manning reveals in her excellent video report on The Georgetown Dish, Gray, starting from nowhere, has managed to make the contest a tight race – giving Washingtonians a real choice – despite having less money, less time, less organization and a relatively undefined public persona. Fenty has a serious record of accomplishment to run on, plenty of money, and an apparent lock on The Washington Post editorial page. He can be a superb campaigner – when he decides to campaign. For now, the race seems to be a referendum on Mayor Fenty – with sharp differences of opinion on display in different parts of the city. The next several weeks will reveal, literally, whether Mayor Fenty shows up – and how.