'The Comedy of Errors:' A Brilliant Night in the Theatre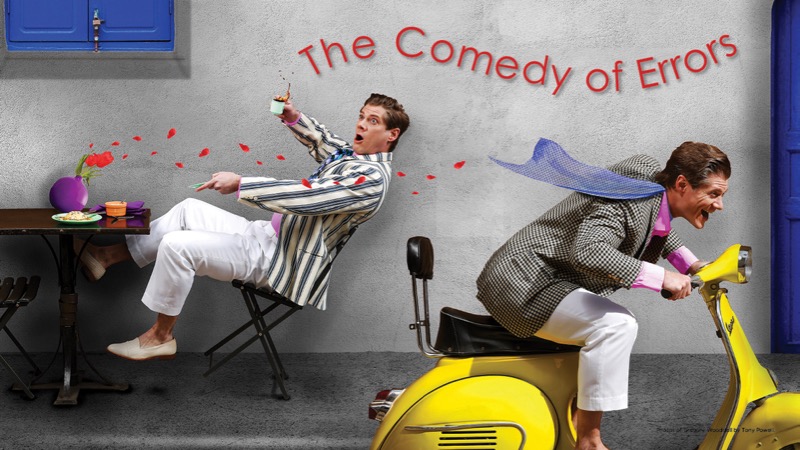 One of Shakespeare's earliest plays The Comedy of Errors is the story of two sets of twins, each with the same name—what could go wrong? Apparently everything that can. When you go to see this play you must leave your logic behind and enjoy an evening of music, farce and folly. Servants misplace their masters and wives overlook their husbands. Chaos reigns. What makes it so great is the joyousness of the entire cast and their brilliant acting.
The plot is simple. The mother and father of these two sets of twins are shipwrecked when the twins are children. They end up separated not knowing if each other survive. The twins become separated with one of each twin set being together. Their father only knows one of the pairs has survived and goes on a lifelong search for the other two, thinking his wife is dead. As the play begins we see they all end up in Ephesus, Greece and it takes the full one hundred minutes and a barrel of laughs for them to all find each other. We are living in difficult times and Alan Paul who directs so brilliantly, manages to get in a couple of references to today including 'a wall' but this play is a welcome respite from the reality we face. Paul uses the wonders of the setting in Greece and Greek culture to the fullest in this play from cries of 'opa' to the dancing.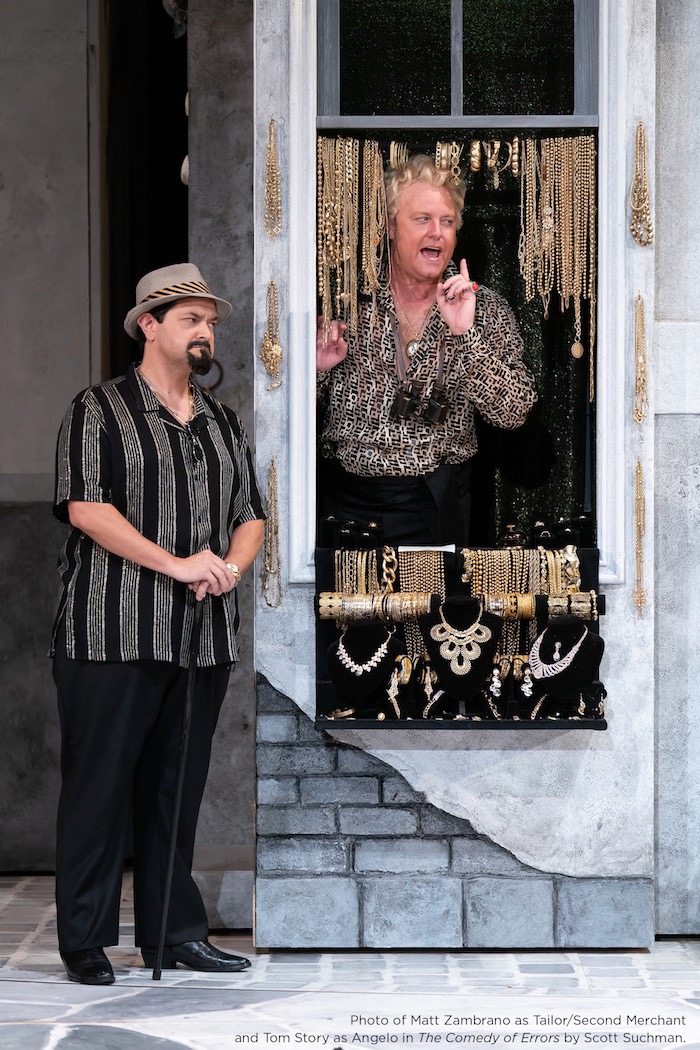 Those of you who are aficionados of the Shakespeare Theatre Company (STC) will recognize many in the cast. Paul has said this show is a tribute to Michael Kahn, finishing his final season as Artistic Director, and many of the actors Michael brought to DC audiences over the years are in it. They include among others Nancy Robinette (Emilia the Abbess of Ephesus), Tom Story (Angelo a goldsmith), Ted Van Griethuysen (Egeon Merchant of Syracuse), and Sarah Marshall (Dr. Pinch). Each one a standout on their own and better than ever. But it is Tom Story who from the moment he leads the cast in their entrance who plays his role to the hilt and shines in this production. He is funny, real and brilliant. He somehow manages to stop just short of going overboard as he minces his way through the play interacting with each character.
Alan Paul who has won numerous awards for his directing will certainly get another for this show. His creativeness shines through in every scene played without intermission. He uses every opportunity to give his actors the time to make a hand-motion, a slapstick moment, an eye roll, and a pratfall to grab a laugh and reel the audience into the farce with them.
Now on opening night there was an unscheduled half hour intermission when a woman in the audience needed medical attention. The theater staff handled the emergency quickly and efficiently. Michael Kahn took to the stage to inform the audience she was on her way to the hospital and that it appeared she would be ok. He then asked the audience to give the cast a few minutes to transport us back into the play. To their credit and total professionalism, the cast took only a quick moment to draw the audience right back with them; laughing and clapping at their performances.
The show opened with Eleasha Gamble (the Courtesan), sharing her beautiful voice in song, and the cast led by Tom Story (Angelo the goldsmith) making their entrance together. And so began the farce as we watched how they all managed to miss running into each other for ninety of the 100 minutes of the play. Much of the credit for their ability to do this is the incredible set, placed on a turntable to move each scene along, and designed by the very talented James Noone.
Since Paul is known for his musicals there should be no surprise the musical numbers including 'put a smile on your face' and the brilliant tap dancing routine choreographed by Karma Camp and performed by Matt Bauman, John Cardenas and Justin Nelson bring down the house.
The two sets of twins are played by Gregory Wooddell (Antipholus of Syracuse), and Christian Conn (Antipholus of Ephesus); and their servants Carson Elrod (Dromio of Syracuse) and Carter Gill (Dromio of Ephesus). Each brings a strength, distinctiveness, creativity and comic presence to their role and make you want to see much more of them.
The beautiful Veanne Cox (Adriana, wife of Antipholus of Ephesus) is wonderful and plays her role to perfection confusing her husband with his twin and then sleeping with the wrong one. Her physical acting is great to see. Folami Williams plays her sister to perfection. J. Bernard Calloway (the Duke) and Matt Zambrano (Tailor) both very talented add to the fun of the evening.
Each member of the team is crucial to bringing out the full wonder of this production. Gabriel Berry (Costume Designer) has created exquisite designs; Mary Ellen Stebbins (lighting designer) and Christopher Baine (sound design) each add a new dimension to the production. Michael Dansicker (Composer and Lyricist) manages to turn this farce of a play into a wonderful musical. He and Paul have worked magic together and are complemented by Victor Simonson (music director).
*/
The Comedy of Errors will be at the Lansburgh Theatre through October 28th.