Come out and play Georgetown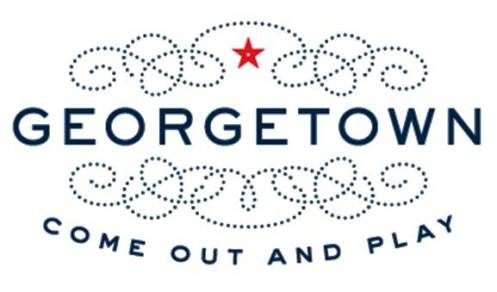 Beckoning residents and visitors alike, the Georgetown Business Improvement District (BID) wants you to "Come out and play." That's the new tag line behind the branding initiative officially kicked off June 10. The Georgetown Dish was invited to a sneak preview.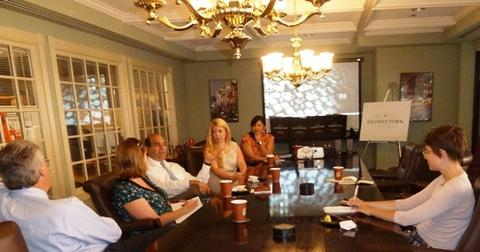 "When we started this thing a year ago, it came down to what you represent." Said Jim Bracco, BID president. "It's better to define yourself than wait for someone else. We think we've got what other people don't have in this city and we want people to make some memories, have some fun." After interviewing eight firms, they chose the Arlington-based The Roan Group to help define "Washington's IT neighborhood."
Nancy Miyahira, BID marketing director introduced a short video capturing the tony Georgetown experience under a backdrop of familiar historical landmarks, cobblestone streets, the waterfront, and exclusive shopping and dining venues.
"People work a lot these days. How you play as an adult really equates with how you live. Everyone has a different idea but there's something here for everyone." John Asadoorian of Asadoorian Retail Solutions, told the group. "Let's package it, define it and use it as a tool so we can achieve our potential."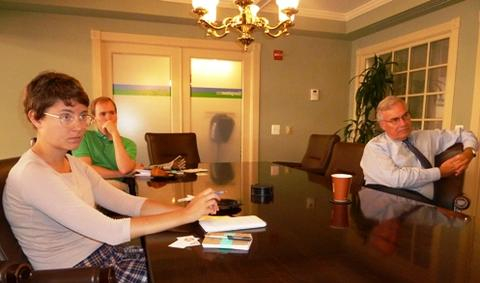 "Destination branding is an effective tool that builds loyalty." Dusty Lockhart of Three Lockharts, PR added. Integral to the roll-out, a new logo, which Miyahira described, "has a bit of whimsy. With a nod to historical details prevalent in the neighborhood, we included a star surrounded by scrolling calligraphic-inspired flourishes framing a simple 'GEORGETOWN' in Sackers Gothic font."
Starting Friday, you'll notice the BID's Clean Teams will be donning new uniforms, and you'll see an improved website including a mobile application featuring real-time bus information feed. Asked about parking, Bracco said, "We've got 3,800 parking spaces here, and we're looking into ways to capture that in real-time too."