Comcast Pulls Boxes from Historic District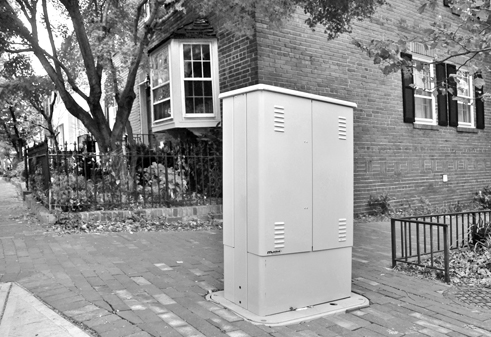 By Deirdre BannonCurrent Staff Writer
Comcast has removed all of the large metal utility boxes it had improperly installed in late October throughout historic Georgetown, a company executive said Monday, and will explore ways to replace them with underground units.
The move has radically improved the telecom company's relations with previously irate residents.
Comcast had received permits from the D.C. Department of Transportation's Public Space Committee to place seven green file cabinet-size boxes on public sidewalks, said Donna Rattley-Washington, a Comcast vice president, at this week's Georgetown advisory neighborhood commission meeting.
The boxes contained fiber-optic equipment intended to boost local customers' reliability and performance.
But by law, any proposed change to public space in Georgetown's federally protected historic district must be reviewed and approved by the Old Georgetown Board, part of the U.S. Commission of Fine Arts, before permits can be issued and work can begin. This stage of the process did not happen with the Comcast boxes.
"What we now know is that there's another process," Rattley-Washington said.
Public Space Committee chair Matthew Marcou was unable to clarify by The Current's deadline why this permitting step was missed.
But Georgetown commission chair Ron Lewis said the department's "awareness is acutely renewed" regarding protocol for public space applications in the neighborhood's historic district.
The new plan is for Comcast to install its enhanced fiber-optic technology in vaults underground. Rattley-Washington said those plans are under development and should be available for public review in about 30 days. She assured residents that Comcast would come before the neighborhood commission and Old Georgetown Board before re-initiating the permit process.
Rattley-Washington also apologized to residents for construction debris that was left on sidewalks when the boxes were installed, and said it would not happen again.
Residents and neighborhood commissioners were livid when the boxes began to pop up in October without explanation or proper permits. Once Comcast's regional executives became aware of the controversy in Georgetown, they met late last month with neighborhood commissioners, the D.C. Transportation Department, the Fine Arts Commission and the D.C. Urban Forestry Administration, and agreed to remove the utility boxes.
Commissioner Tom Birch said that within hours of that meeting's end, a construction work zone he complained about had been removed from near his home on 29th Street.
Neighbors told him that "Comcast really listened to us," Birch reported Monday night.
Birch expressed his appreciation to Rattley-Washington for the quick response, and she received applause from commissioners and residents at the meeting.
The Fine Arts Commission is also pleased. "It's a great outcome that these things, that were something of an eyesore in a historic district, have been removed," commission secretary Thomas Luebke said in an interview.
Comcast is designing an underground access panel with some sort of a hatch on the surface, Luebke added. While he's not sure what it will look like, the commission will review Comcast's plans once the permit application is submitted.
This article appears in the Dec. 5 issue of The Georgetown Current newspaper.