Comcast Boxes Cause Stir in Georgetown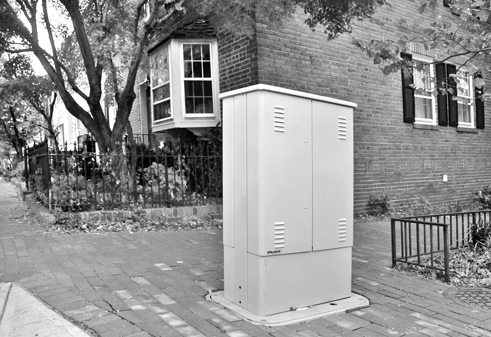 By Deirdre BannonCurrent Staff Writer
Comcast might be the least popular entity operating in Georgetown right now, according to Tom Birch. The advisory neighborhood commissioner, among others, is outraged over the company's recent installation of large utility boxes on several sidewalks around the historic neighborhood.
The green boxes, which are approximately the size of small refrigerators, started popping up about two weeks ago along 29th Street near both Olive and Dumbarton streets, and are now also on M and 31st streets and on Wisconsin Avenue near K Street.
Any change to public space in historic Georgetown must first, by law, be reviewed and approved by the U.S. Commission of Fine Arts and the Old Georgetown Board. Permits for the work were never submitted to either entity, according to the federal panel's secretary, Thomas Luebke, who said in an interview that there is "no question" that the boxes fall under the panels' jurisdiction. He added that the size of the utility boxes and the scope of the project were "unprecedented."
A Comcast spokesperson said that the company obtained city permits and didn't know the installation required further review. The D.C. Department of Transportation is looking into the matter and examining what went wrong procedurally.
"This business is coming into our community and just making an aesthetic wreck of what we try to preserve in the historic district," Birch said at the neighborhood commission's Oct. 31 meeting. One of the company's boxes is located about a hundred feet from Birch's home.
Another box, located on Wisconsin Avenue south of M Street, was placed in such a way that it rendered the sidewalk inaccessible for handicapped persons, according to commissioner Bill Starrels.
Chair Ron Lewis said the boxes are "growing like weeds," throughout the neighborhood, and that Comcast has been "unapproachable so far," in that the company hasn't responded to his emails or phone calls.
Birch added that a pile of debris the size of an automobile has been left near his house in what appears to be a staging area for the construction of Comcast boxes elsewhere in the neighborhood. To add insult to injury, workers are operating a backhoe that beeps loudly when put in reverse, and they are doing so as early as 5:30 a.m. and as late as 10:30 p.m., according to Birch, well outside the typically permitted construction hours of 7 a.m. to 7 p.m.
One resident at the meeting said construction debris, including bricks removed from the sidewalk, was left behind by workers, creating an invitation for vandalism after they installed what he described as an "icebox" in front of his home.
Despite the commission's frustration with Comcast's lack of response, Lewis said the D.C. Department of Transportation, which oversees public-space permit applications, has agreed to investigate the matter and arrange a meeting between the city and the cable company.
"DDOT is prepared to contact Comcast in a way that Comcast cannot ignore," Lewis said.
Matthew Marcou is heading up the Transportation Department's effort, and he said his office is looking into what kind of permits were issued to Comcast and why the permits weren't sent to the Commission of Fine Arts and the Old Georgetown Board for review.
In an email to The Current, Alisha Martin, a spokesperson for Comcast's mid-Atlantic office, wrote, "Comcast followed its customary process and protocol to secure permits through DDOT — which we received for our work in Georgetown. We were not aware of additional requirements. We are meeting with interested parties to better understand their concerns so we can work to address and find a mutually beneficial solution."
Comcast did not reply to The Current's questions about the purpose and contents of the boxes.
This isn't the first time the cable company has come under fire for installing large infrastructure boxes. In 2007, residents of Manassas, Va., engaged in a protracted fight with Comcast when the company installed boxes on the front lawns of private property in residential neighborhoods without prior notification.
Marcou said the boxes will now be reviewed by his agency as well as by the entities that oversee the historic neighborhood. Any installation would need to comply with the Americans With Disabilities Act, and he said his office would look into any box that could restrict accessibility. Work crews also should not leave behind construction debris, Marcou added, and penalties could be levied against the cable company. If residents see debris or restrictive boxes in the future, they are encouraged to take photos and call 311.
Marcou is confident city agencies will be able to agree on a course of action, and he said a meeting could happen this week.
Birch had one further question: "Why," he asked, "when technology is reducing everything to the size of a pin, did Comcast install something so antiquated it looks like it might have been seen in World War II?"
This article appears in the Nov. 7 issue of The Georgetown Current newspaper.