Coffee with an attitude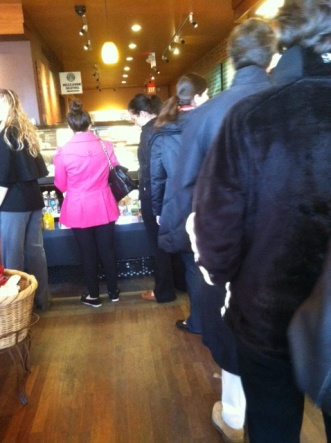 I can't properly function without coffee, so every morning after carpool, I race over to "my" Starbucks near 34th and Wisconsin.
I park on the street alongside the lot and groggily head toward the entrance. Inside, I know Amanda, Tameika or Emily will recognize me and get my latte started. Is there a more chipper person in the morning than Amanda, the manager at Starbucks? She deserves major credit for running--in my opinion--one of the best Starbucks in town.
But today there's a line snaking all the way to the front door. A well-coiffed blonde comes out as I'm entering and mutters to me, "It's a mob scene in there. I don't know what is going on today." She's looking svelte in a black suit and Tory Burch patent leather pumps. I'm clad in yoga pants and a long-sleeved T-shirt with a smear of toothpaste on the front, which I just noticed. It's a good look.
Feeling a little insecure and unkempt, I walk in and see a slew of well-turned out Washingtonians waiting in line for their lattes, macchiatas and mochas. Sun streams in through the windows and you can see eye shadow sparkling on women's eyes. My mood is not so sparkly.
I really just want things to speed up so I can take a swig of coffee. Please let me get out of here before I see anyone. Yes, I realize I could have made my own coffee, avoided the crowd, and saved the four bucks I'm about to shell out. But trust me, my home brewing does not compare. Plus, I've become accustomed--some might say, addicted-- to plastic lids.
I'm thinking all this while Tameika, another upbeat barista, walks along the line taking orders. She gives me a smile and says, "Venti latte, right?"
"Yep, thanks. It's really crowded in here today, isn't it?'
I expect to hear a complaint or heavy sigh, but instead hear this: "Yeah, and I LOVE it this way!"
It was hard not to be swept up in her cheerfulness. And I thought about that quote I see everywhere: "Our lives are not determined by what happens to us but by how we react to what happens."
Every so often we need an attitude adjustment. Tameika had a good one. And it gave me a wake-up call--even before the caffeine!