A Classy Swan Song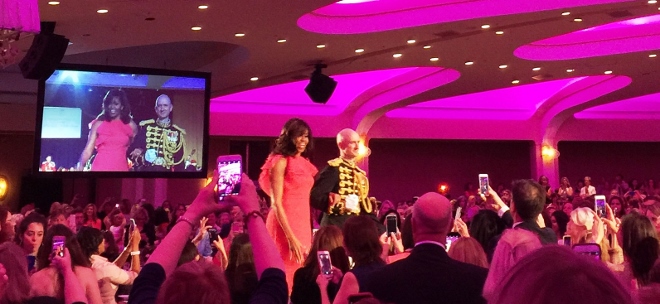 It was a class act, in all ways.
First Lady Michelle Obama was the guest of honor for her last time at Congressional Club's First Lady's lunch Thursday. But several times she made it clear that she would like to be invited back when she is just Citizen Michelle.
In stressing diversity, she delivered a flawless talk to the two thousand or so guests on how great it is that today's young people are so naturally attuned to the acceptance of all people -- of all origins and nationalities.
On the arm of a military escort, The First Lady, smiling broadly, traversed the long runway – from one end of the huge International ballroom at the Washington Hilton to the other – then on to the podium. She was attired in a peach-colored dress that gave a sartorial nod to the color theme of the event: anything to do with Georgia. The luncheon chair of the event, called "Georgia Posh, Peach Southern Hospitality," was Vivian Bishop, wife of Rep. Sanford D. Bishop Jr., Georgia Democrat.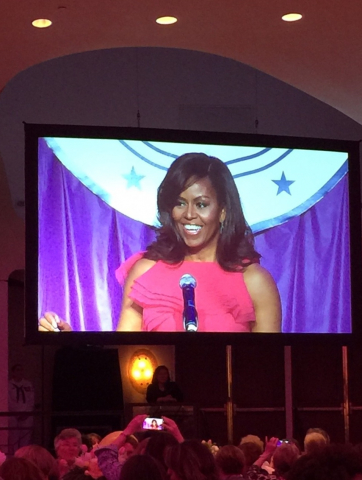 The club's membership includes spouses of members of Congress, ambassadors, Supreme Court justices and cabinet secretaries. The club, founded in 1908, nurtures and encourages bipartisan friendships.
Mrs. Obama has attended the yearly luncheon as guest of honor for the entire time she has been first lady, a long-standing tradition for all first ladies. She was introduced by club president Vera G. Davis, wife of Rep. Danny K. Davis, D-Ill.
"Today's luncheon pays a tribute to Mrs. Obama's dedication and work with military families and her program to encourage healthy eating and exercise," read the event program.
One of the gifts presented to Mrs. Obama was a painting of first daughters Sasha and Malia done by 13-year-old Columbus, Ga., student Barbara Joy Tillman, 13.
The charitable recipient of the 2016 luncheon is the Rosalynn Carter Institute for Caregiving, a service unit that provides support for both professional and family caregivers.
Among entertainers were Grammy Award winner Tasha Cobbs, Grammy Award winner Monica, and Timothy Z. Mosley "Timbaland." Into the swing of things, Mrs. Obama, from her chair on the dais, clapped in rhythm, gave thumbs up and blew air kisses to the performers.
Next year, the club president is slated to be Mrs. Jennifer Messer, wife of Indiana Rep. Luke Messer, R-Ind.
Guests included Cabinet spouses, Mrs. Janna Ryan, wife of the Speaker of the House; Mrs. Mary Kennedy, wife of the Associate Justice of the Supreme Court; Dr. Joanna Breyer, wife of the Associate Justice of the Supreme Court; Mr. Steven Hargrove, husband of the Attorney General, and Mr. Paul Pelosi, husband of the Minority Leader of the House of Representative.
Like each recent luncheon, Pelosi took to the runway with obvious glee and enjoyed every moment of his fame, even if only a minute or two, as he waived to the audience who cheered his presence.