City works on O and P parking pain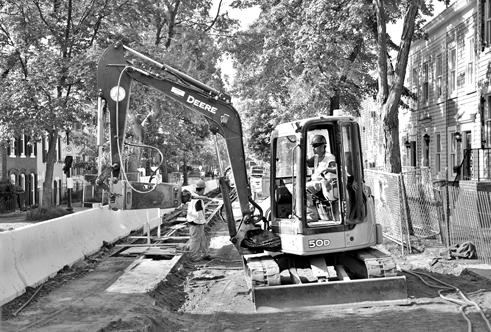 By Katie Pearce...Current Staff Writer...
Eight months into the rehabilitation work on Georgetown's cobblestoned O and P streets, parking issues have emerged as a major sore spot.
The $10.5 million project involves removing and restoring sections of historic trolley tracks in West Georgetown, while replacing old water lines and adding new streetlights, sidewalks and curbs. In the meantime — through a separate project — Washington Gas is upgrading gas lines in the area.
"It's a massive effort to do this on time and on budget," said local advisory neighborhood commissioner Jeff Jones, adding that, inevitably, "It's a tough scenario for residents."
Though the project has created a number of disruptions in the area, residents have seemed most vocal about parking issues.
Following recent criticisms and confusion, the city has carved out several areas to reserve as Ward 2 resident-only parking at all times. The project team has also vowed to send out daily email blasts about parking restrictions, in addition to posting general updates through a website, fixingoandpstreets.com.
"I do think people are trying; I think the intent is there," said resident Elizabeth Miller, who lives on the 1400 block of 33rd Street. "But the actual execution still feels a little disoriented."
Miller said the signs indicating resident-only parking areas have been confusing and uncoordinated. "Nobody can see the signs, and they look exactly like the other two-hour-only parking signs."
Last Saturday, she said, she spotted Maryland and Virginia tags on several cars parked on a block designated for residents only. Construction vehicles have also been parking in those restricted spots, she added.
Earlier, residents were complaining about getting tickets for violations they didn't understand. In a recent email chain, one resident said he'd amassed $200 worth of tickets despite following the rules of the temporary signs posted on his block. Another said she earned a ticket for breaking a rule that apparently went into effect between the time she parked her car at night and the time she returned to it the next morning.
"There are so many war stories that people here have with ticketing," Miller said.
In general, residents have reported problems with getting clear and steady communication from the D.C. Department of Transportation and its communications contractor, Stratacomm. "[T]he neighbors have NO IDEA what is going on day to day," wrote one resident in the email chain.
For example, Miller said, several "No Parking" signs were posted with an addendum: "Weather permitting." But "no one told us what 'weather permitting' means," Miller said, leaving residents unsure where to park on recent rainy days.
The D.C. Department of Transportation didn't respond by press time to questions from The Current.
Neighborhood commissioner Jones defended the project team. "There's a lot of good communication out there," he said, including the daily email updates on parking. "If a resident doesn't understand — if they're confused about something — they should reach out to the contacts on the website."
He acknowledged that "it's not a perfect system" but described that situation as inevitable for a project with "so many moving parts."
"There's a couple dozen subcontractors, there's Washington Gas," Jones said. "They have to replace all the utilities underneath the streets, and everything above ground as well."
The city kicked off the rehabilitation work last February after decades of debate and delays. The 1800s-era trolley tracks, left to deteriorate after the city's old streetcar system stopped operating in 1962, were the major point of contention. After many consultations with preservationists and transportation engineers, officials agreed to set the tracks on a firmer foundation and level them with the street to ensure a safer ride for drivers. That work was set to take place alongside a series of other streetscape and utility improvements.
The Federal Highway Administration is picking up the majority of the tab for the project, which involves P and O Streets from 37th Street to Wisconsin Avenue. Work is scheduled for completion by summer or fall of next year.
"Parking is going to be an issue for this entire project," said neighborhood commissioner Ed Solomon, who along with Jones chairs a community relations team that meets periodically to discuss the progress and impact of the work.
"This is an evolving situation," he said. "As I said from the first meeting, there's going to be pain along the way."
This article appears in the Oct. 19 issue of The Georgetown Current newspaper.