City expands bike-sharing program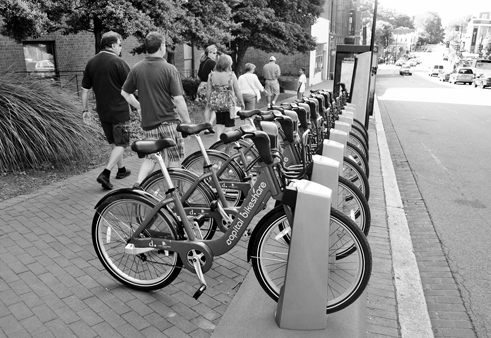 By Brady Holt...Current Staff Writer...
As Georgetown residents expressed satisfaction with a new Capital Bikeshare station the city plans to open this fall at M Street and Pennsylvania Avenue, officials said even further expansion of the bicycle program is likely within a year.
The new Georgetown station is one of 32 the D.C. Department of Transportation announced last week. The agency also hopes to expand 18 existing stations, including one at Wisconsin Avenue at the C&O Canal. Georgetown also currently has stations at Wisconsin and 34th Street, 37th and O streets, and 30th and K streets.
Capital Bikeshare members — who subscribe at rates ranging from $75 per year to $5 per day — can pick up a bicycle at any station and return it to any other. Today there are about 1,100 distinctive red bicycles at more than 110 stations in the District and in Arlington.
A new station is also planned for Glover Park, at 39th and Calvert streets near Stoddert Recreation Center. That station will join an existing Calvert Street station on the other side of Wisconsin Avenue, at 36th Street outside the Guy Mason Recreation Center.
The 32 new stations both expand the Capital Bikeshare network's range and add "infill stations" in neighborhoods that already have a bike-sharing presence, Chris Holben, the Transportation Department's bike-sharing program manager, said in an interview.
"All along we've been saying that we wanted to expand from our initial 100 stations, and this is sort of our first stab at that," Holben said. "Hopefully this continues over the years until we're saturated."
Outside the Georgetown area, new stations are coming to Adams Morgan, Dupont Circle, Petworth, Woodley Park and east of the Anacostia River, among other locations.
Tom Birch, a Georgetown advisory neighborhood commissioner who lobbied for the Pennsylvania and M station, said he was glad to see the expanded service.
"[Capital Bikeshare] certainly has taken off and is very popular in the city," Birch said. "By placing additional bike stations in Georgetown, not only are Georgetown residents given more opportunity to use bikes for transportation, but it also provides encouragement for people coming from elsewhere to use the bikes when they come to Georgetown."
Topher Mathews, who publishes the Georgetown Metropolitan blog, said he was also pleased to see the Transportation Department respond to community requests for a prominent Capital Bikeshare station at Pennsylvania Avenue and M Street. "The location they've gone with is fantastic; I think it's a perfect location for visitors and residents," he said.
"We would have liked a little bit more," Mathews added, "but we're happy for what we got."
Mathews said he would be particularly interested in a location near Hyde-Addison Elementary School, 3219 O St.; and Birch said he'd like to see another station along Wisconsin Avenue.
Residents may not have to wait too much longer for additional spaces: Holben said he expects most service expansions in future years to be timed to the annual renewal of the District's contract with Alta Bicycle Share, the private company that manages the local program.
But the next set of new stations might come even sooner. "There's always funding that pops up, and we're hoping to have another round before [the next contract renewal]," said Holben.
This article appears in the Aug. 3 issue of The Georgetown Current newspaper.