City Details Transit Options to Connect Georgetown, Union Station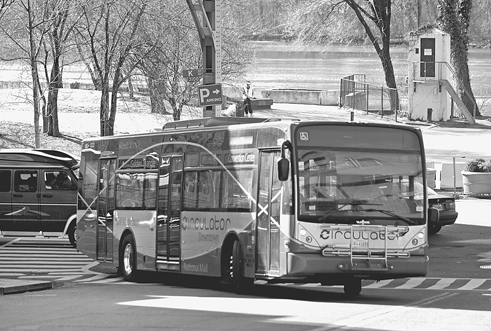 By Alix PianinCurrent Staff Writer
After several months of traffic analysis, the D.C. Department of Transportation last week presented three possible "premium transit" systems — two streetcar options and one bus system — that could connect Union Station with the Georgetown waterfront.
Using three months of data from more than 140 intersections along the K Street corridor between 33rd Street NW and 3rd Street NE, the Transportation Department anticipated a major increase in ridership for the route, now served by the DC Circulator and various Metrobus lines. The agency expects weekday transit ridership could jump from the current 7,000 riders to an estimated 13,500 in 2040, said project manager Lezlie Rupert.
"We're establishing that there is an actual need; you can actually quantify that," said Rupert. "There is a real demand for a premium transit service."
Last Thursday's event was the final in a series of public open houses that the agency has hosted since the start of the year to discuss options for rapid and consistent service for the corridor. The Federal Transit Administration had awarded the department a $1 million grant to conduct the analysis, and the local agency hopes to eventually land federal support to construct the new system.
The first option would install a streetcar line starting at K Street in Georgetown from Wisconsin Avenue and 29th Street. It would proceed east along K Street before cutting over to H Street NE via New Jersey Avenue NW. The route would end on H Street's Hopscotch Bridge.
This option would run 3.41 miles through eight stations and eliminate approximately 278 parking spaces, according to the agency. Estimates for construction costs are between $340 million and $370 million.
The second alternative, also a streetcar route, would begin on M Street NW between Wisconsin and Pennsylvania avenues. The streetcar would take riders along Pennsylvania Avenue around Washington Circle, on K Street to Mount Vernon Square, south on Massachusetts Avenue to Union Station, and then on H Street east to a final station at Hopscotch Bridge. Heading west, this line would pass Mount Vernon Square to take I Street back toward Washington Circle.
This second streetcar prospect would run 3.6 miles with nine stations, eliminate approximately 814 parking spaces, and cost between $380 million and $415 million, according to agency estimates.
The third option, a premium bus, would begin at the same location in Northwest D.C. as the first streetcar option and follow the same route along K Street — though the bus would continue east past New Jersey Avenue and turn south on North Capitol Street, to reach a final stop at Columbus Circle. Premium bus service generally has fewer stops, dedicated lanes and faster fare collection, all with a goal of reduced travel times, consultants said.
The bus line would wind 3.67 miles with nine stops. It would eliminate approximately 321 spaces, and it would most likely be the cheapest of the various proposals, with estimated construction costs of $210 million to $230 million.
Rupert said her team was pleased with the estimated travel times: Each transit option would typically be able to run the route either direction in 21 to 25 minutes during rush hour, according to the Transportation Department.
But Bradley Green, a Ward 4 resident who attended the presentations, said that he was disappointed that the study area didn't include the Georgetown University campus — especially since creating a connection with the university is a priority for many following the issue.
"There's a lot of benefit to be gained to having that included," said Green. He also encouraged the city to explore utilizing M Street as a possible transit artery to the school. "There's certainly a lot of concentration of potential riders along that corridor."
The agency's second streetcar option and premium bus plan may allay those concerns, though. According to the Transportation Department, both schemes could possibly be extended farther west along Canal Road in the future — right up to the driveway entrance of Georgetown University.
For forum attendee Howard Marks, president of the board of the 1150 K Street condominiums, the answer is anything but the first streetcar alternative. Marks said in an interview that his building's residents fervently object to that proposal, which would widen K Street from four to six lanes from 10th Street to 12th Street — right in front of his building.
The design would take away about 11 feet of sidewalk, Marks said, and would force the removal of a beloved shade tree and other landscaping, cut off part of the complex's driveway, and bring noise and air pollution closer to the building.
"Our condo board is not opposed to a streetcar at all — we are opposed to widening the roadway," said Marks. "We are going to use every legal recourse at our means to stop this widening from happening."
But Marks said his primary concern is actually the impact on Asbury United Methodist Church, located at 926 11th St. If the roadway were widened, the historic church could lose some of the trees and plants that grow in front of the entrance, as well as a railed stairway needed for handicapped and elderly parishioners, he said.
The Transportation Department is accepting public feedback about the three options. The selection of a recommended option is slated for June, and the release of a final report on its analysis this summer.
This article appears in the May 29 issue of The Georgetown Current newspaper.