City to Collect Unwanted Cans Soon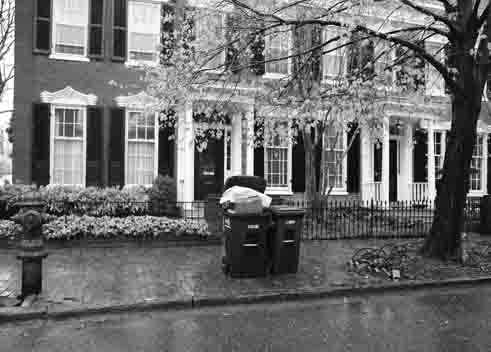 By Graham VyseCurrent Staff Writer
Unwanted trash and recycling cans sitting on properties across Georgetown and Burleith will be collected soon — no later than a month from now and likely within a week.
That was the assurance public works director William Howland brought to the area's advisory neighborhood commission meeting Monday night. Howland's appearance came following his department's early-April distribution of new 32-gallon trash cans and 48-gallon recycling cans in the neighborhoods. The trash receptacles have been redesigned, and the recycling containers are 50 percent larger than those distributed previously.
Howland said the Department of Public Works delivered 210,000 new containers to 105,000 residential customers citywide, with the goal of increasing recycling. According to its website, the Department of Public Works received feedback from residents that their recycling cans were too small. Howland noted that the city currently has a 28 percent recycling rate, but its goal is 45 percent.
But many residents of Georgetown and Burleith are upset, saying the bigger cans take up too much space in dense neighborhoods where it's scarce begin with.
"It isn't working at all," Pamla Moore, president of the Citizens Association of Georgetown, told Howland at the meeting. "The amount of … frustration is enormous."
The city has asked residents to call 311 or 202-737-4404 to make removal requests for unwanted containers new or old, and to place "Take Me" stickers on the unneeded cans. Many have done so, but the receptacles remain. In some cases, residents turned bins upside down to signal they were unwanted, but passersby have flipped them over and are now filling them with trash, Moore said. She was one of several community members to suggest that the city find a centralized location for residents to bring all their unwanted containers.
"That's not a bad idea," said commission chair Ron Lewis. "It's sort of the Georgetown equivalent of the western roundup."
Howland suggested that no roundup would be necessary, with the agency now prioritizing collection efforts in dense areas like Georgetown, Burleith and Capitol Hill. He said crews will be driving through the streets to find cans marked for pickup. Residents should still call the city to request removal, but once the city hears from a single resident on any given street, a crew will be dispatched to that road. Crews will collect cans that have stickers or spray-painted "Take Me" messages as well as those turned upside down.
The director acknowledged that there will be some difficulties, specifically with regard to residents who spend months away from their properties. Asked how he would deal with their cans sitting unattended for a prolonged period, Howard said, "I don't have a policy, to be honest. ... We probably just need to take them back."
Howland also said he understand that many residents with lighter recycling loads — or with particularly limited storage space — are still using the small rectangular bins that the city used to issue, as opposed to the larger Supercan-style containers. He said he recognized there was interest in new small bins and pledged to check his inventory to see if there were any available. Lewis pointed out that residents can always purchase other cans from private stores rather than accepting the city-supplied models.
This article appears in the April 30 issue of The Georgetown Current newspaper.