'Christmas on Wheels' with Bike and Roll DC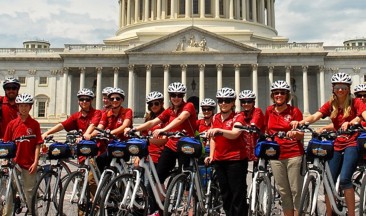 Bike and Roll DC will be offering Washington's first-ever Christmas tour by bike and Segway, aptly named "Christmas on Wheels," the tour and rental company announced today. Christmas on Wheels will be offered every Friday, Saturday and Sunday beginning December 4 through December 20 from 4:00-6:30 pm.
Tour highlights will include the Botanical Gardens Holiday Showcase; a hot chocolate stop; the exquisite decorations at the Willard Hotel and of course, the Capital and National Christmas Trees. The cost for the bike tour is $39 for adults and $34 for children 12 and under and $64 per person for the Segway tour.
"For over a decade, Bike and Roll DC has provided Washington visitors and locals alike with one of the most unique ways to experience the city's profound history, culture and beauty," said Stephen Marks, Managing Member of Bike and Roll DC. "We're so excited to add Christmas on Wheels to our tour offerings and look forward to providing another unique way to see the city—at its most magical. This tour will be the first of its kind in Washington and we can't wait to help deliver the spirit of the season to all of our guests!"
Similar to Bike and Roll's signature "Capital Sites" and "Monuments" tours, Christmas on Wheels will be led by professionally trained guides and filled with historical anecdotes—of the festive variety—as riders arrive at each tour stop. Families and children of all ages are welcome on the bike tour, trailer tandems and burleys are available for younger children. Riders must be 16 for the Segway tour. Riders will be able to walk around and take photos at each stop and will enjoy a hot chocolate break mid-tour. Complimentary water bottles and festive end of tour treats will also be provided.
There are a very limited number of spots available for each tour, so Bike and Roll strongly recommends making reservations as soon as possible. Reservations can be made online here.