'Choir Boy' at the Studio Theatre: Don't Miss this Play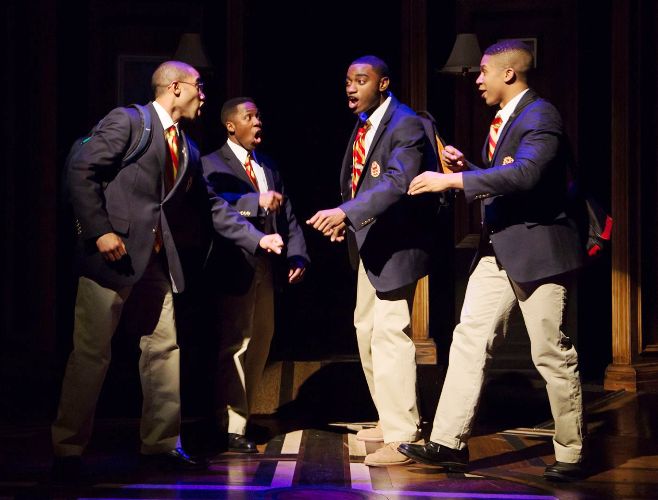 I hadn't heard much about Choir Boy before friends asked me to join them at the theater. My comment after the show was WOW! This is a powerful and well-acted acted piece of theater.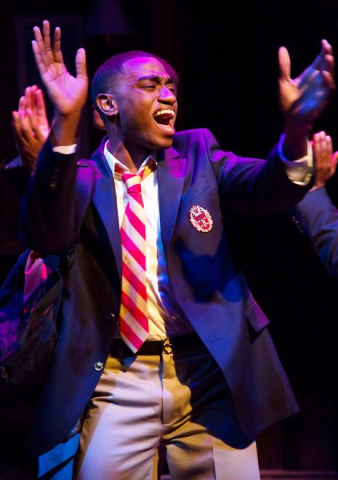 David Muse, the brilliant Artistic Director of the Studio Theatre writes "The play is written by Tarell McCraney, a celebrated American Playwright who has received a prestigious MacArthur 'genius' fellowship. He has had his plays produced at the Studio Theater more than four times and this past August received an honorary doctorate for his body of work from the University of Warwick. The amazing thing about all this is McCraney is only 34 years old."
Choir Boy takes place in the fictional Charles R. Drew Prep School for Boys; an elite historically Black boarding school preparing young men for greatness. Pharus (acted to perfection by the very talented Jelani Alladin), struggles with his dual goals of becoming the lead in Drew's legendary gospel choir and his need to belong. His character's struggle plays out against the other students who are dealing with issues of faith, sexuality, legacy and race. Pharus is trying to reconcile this being gay with wanting to be accepted by the other students in the choir who do what so many young men do and call anyone who appears at all feminine unprintable names. His new roommate Anthony Justin 'AJ' James (acted with startling perception and feeling by Jaysen Wright) is openly and proudly heterosexual, has the best physique of all the students and is on the baseball team. But of all the boys in the choir he shares the most empathy with Pharus and is an example to everyone what it means to be a person of grace, decency and understanding.
Then there is David (Jonathan Burke) who wants to be a preacher but has to deal with his being gay as well. His interactions with Pharus are unfortunately so real that many young men trying to deal with their own sexuality in a world that still doesn't accept being Gay may see themselves.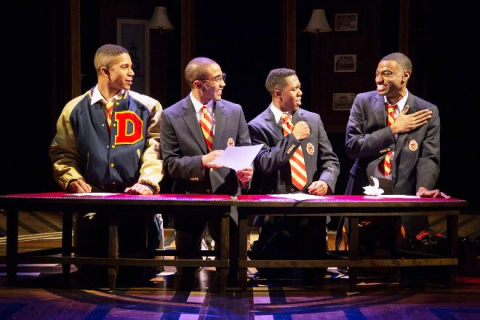 All in all, this is a play that needs a wide audience because it talks of the human condition. It is the story of too many boys trying to grow up in a world in which they don't quite fit and wanting desperately to be accepted by their peers and their parents. The rest of the cast especially Keith Antone as Bobby and Eric Lockley as his sidekick Junior are wonderful. Alan Wade as Mr. Pendleton and Marty Austin Lamar as Headmaster Marrow pull the production together and share with the audience how some adults try to deal with, and not always successfully, young men trying to find themselves and reach maturity.
This is a play that makes you think and makes you want to do something to help all young people find an easier route to adulthood. That may not be possible but it leaves you wanting to try. The production has been extended through March 1. Tickets are available at Studio Theatre.