That Chichie look: a half century of grooming Washington's finest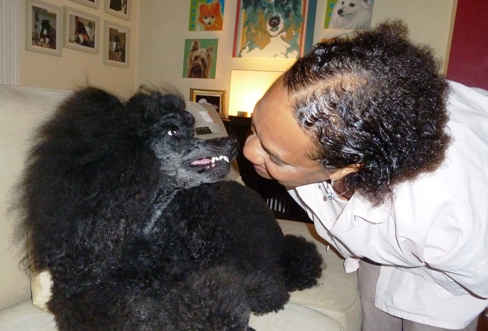 "One day I looked across the street and said to myself, I swear I've got some competition. My heart was beating fast, but it turned out it was one of mine."
She's been a character witness for the plaintiff in a case of dog bites dentist's hand, given Bo Obama his first haircut, and attended Leader's birthday party at the Watergate home of his owners, Elizabeth and Bob Dole. The walls of her elegant Georgetown grooming spa are filled with six decades of remembrances.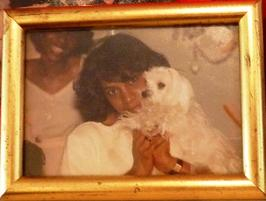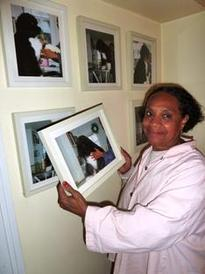 Chichie, born Lowaunz 'Saint Teresa' Koger, has been transforming family pets into Chichie runway stars for over 50 years.
"I just don't notice people. I think I'm a dog. I like people the way dogs like people."
By the time she had opened her first Capitol Hill shop in the early 60's with then husband, Earl, Chichie had perfected her grooming arts starting with Roy, her dad's German shepherd guard dog.
Sunday was her first true inspiration, a cocker spaniel her mother found by the side of the road when she was 10. "She was a wreck but I thought she was beautiful." After taking her to be cleaned up by the local vet, and finding her returned "with no hair, white flakes and a big knot on her head," Chichie was appalled at the botched grooming but pleased to notice Sunday was already feeling better. With her own combs and manicure scissors, she set to work. From that time on, her vision was to "have a place where people could bring their dogs and not worry that anything was going to happen, and they would get a great hair-do."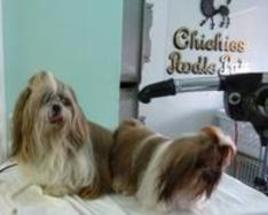 Then there was Chico, the family's capuchin monkey. "She was really funny," Chichie laughed as she recalled her easily breaking into the homes of their Italian Philadelphia neighbors. Her dad had built a cage for Chico but she preferred sleeping with Chichie.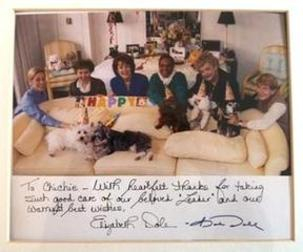 At 24, she discovered poodles. While volunteering at an animal hospital, a "beautiful black standard" mated with "a Rastafarian-looking one," produced a "gorgeous litter of 12" and Chichie was thrilled to be given her pick. Gypsy was the first in a long line of show-worthy beloved family poodles.
One of Chichie's earliest fans (still to this day) was Georgetowner, Katherine Evans, who owned Hubert, a standard poodle named after vice president Hubert Humphrey. Katherine, (widow of Roland Evans, journalist best known for his syndicated column, the 'Evans-Novak Political Report' with Robert Novak) urged Chichie to move the shop closer to her. "She parted the waters for me," Chichie explained how Katherine helped her find her first Georgetown location in the 2900 block of M Street. At the time, two competing dog shops were nearby, but not for long.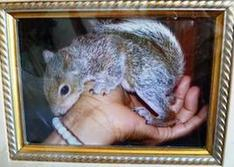 Her passion was not confined to canines. "I raised three squirrels," one so tiny she fed with an eyedropper, "If he's alive in the morning, he's my squirrel." Pointing to the gold-framed photo, "I cried so hard when that squirrel died. Missed him more than when Earl left."
When she moved to her current location on P Street in 1994, the first thing Chichie did was knock on the office door of neighbor, world-renowned architect, Hugh Newell Jacobsen.
"What color should I paint my house?" Hugh was on his way to the airport but came across the street and quickly jotted down a shade of Benjamin Moore yellow and midnight green for the shutters and railings. They soon became friends, and Chichie on more than one occasion could hear Hugh call out, "Chichie's got the only real business in Georgetown."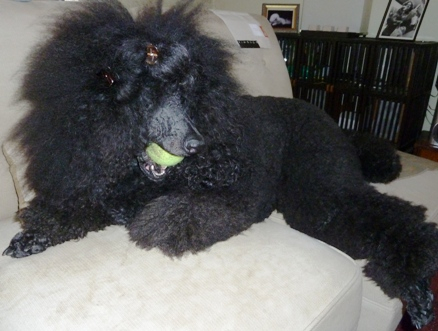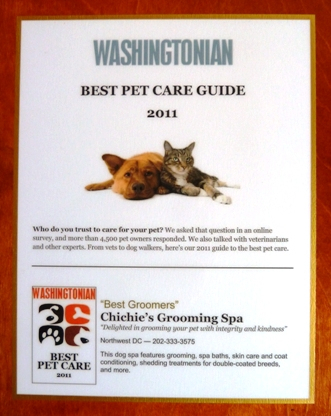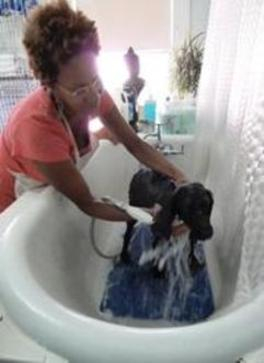 "People say they can tell it's a Chichie dog. The all have beautiful haircuts, the cut, the style and all different breeds."
Her clients come from every part of the city, the country and beyond. "Madame Chichie, my wife really loves you. We come all the way from the south of France." Every three months, the couple would fly with Putsi, their apricot miniature poodle for that "Chichie look." When she died, they bequeathed her belongings to Chichie and shipped them to Georgeotwn.
And what does Chichie do for fun? "I love to walk Paris and Bandit."
Chichie's Grooming Spa is at 2614 P Street.